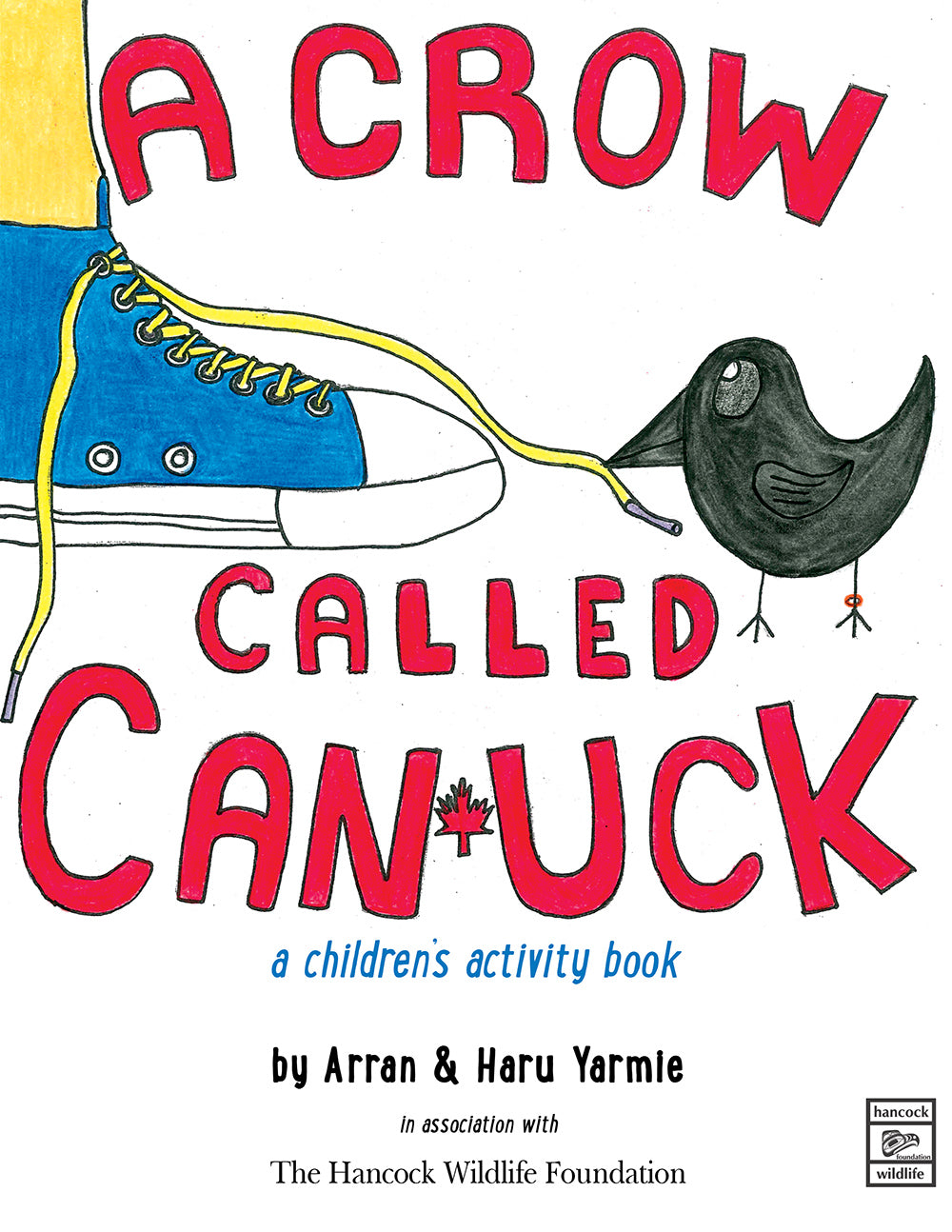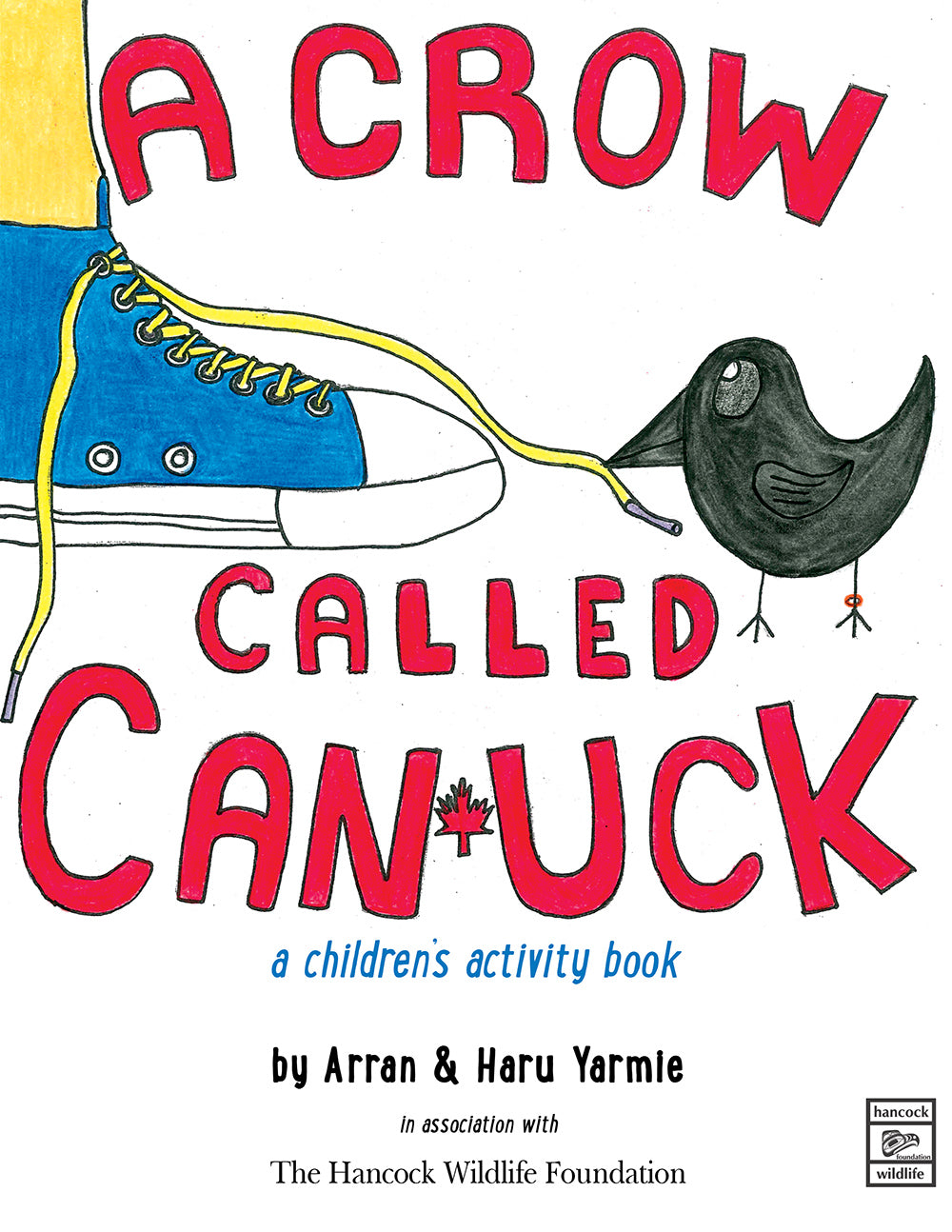 A Crow Called Canuck: a children's activity book
Partial proceeds from this title will go to further education and research programs of our sister organization- the Hancock Wildlife Foundation. We thank the authors for their support in this endeavor. For our Canadian customers, please note our website is only able to bill in US dollars, so please email or call our offices to arrange payment in Canadian currency.
sales@hancockhouse.com or 604-538-1114
Details
By: Arran & Haru Yarmie
ISBN: 978-0-88839-106-3
Binding: Trade Paper
Size: 8.5" X 11"
Pages: 48
Photos: 0
Illustrations: 34
Publication Date: 2018
Description

He's been called "Vancouver's famous crow", "a sought-after film star", and "East Vancouver's bad boy bird". Canuck, the orphan crow who rose to fame is now the subject of a kids colouring and activity book. It documents Canuck's life from a fledgling chick to his adventures as an adult. With 34 story and colouring pages and 10 activity pages, A Crow Called Canuck will not only entertain, but educate children about the importance of peacefully coexisting with urban wildlife. Hancock House Publishers and the authors of this book are dedicated to this mission and partial proceeds from the sale of the book will be donated to the Hancock Wildlife Foundation to help continue with its education and conservation programs.

Author Biography
Just like Canuck the Crow, Arran Yarmie and his daughter Haru are residents of East Vancouver.  Arran is a high school teacher and Haru is in elementary school.  After having memorable encounters with Canuck, they decided to create this book to tell kids about this remarkable crow and the importance of respecting urban wildlife.
Book Reviews
"What a treat to have an activity book that activates our imagination while immortalizing the unique urban legend of Canuck the Crow. Vancouver's favourite feathered ambassador comes to life through these charming drawings paired with simple text. These pictures and words, along with the activity section, help us understand the beauty and the pathos of the intersection of human and animal life. Canuck's tale of survival and adaptation is engaging and educational but more importantly, its telling includes an open invitation to young readers to actively question the human impact on wildlife in urban settings. A wee gem of a book!" -- Sand Northrup
"Not every person is fortunate enough to experience the joy and humbling emotion when interacting with a wild creature. Canuck crow has spread his friendly personality afar and inspired this talented father and daughter to produce a wonderful book about
him
so that others can share the magic of this special bird. The pages capture the reader with charmingly naïve illustrations that tell the story along with the simple but eloquent text and clever activity section. Canuck's adventures display the often perilous life of wild creatures living close to urbanization, a serious lesson to humans delightfully told." 
-- Mary Page
"A Crow Called Canuck is a wonderfully whimsical book that allows children to understand the important role they play in relation to the animals and nature around them. Arran and Haru Yarmie have created a visually appealing and educational book that provides insight into Vancouver's Unofficial Ambassador Canuck the Crow's life, and how we can help protect the wildlife around us for future generations. The book also includes a variety of activities for children to complete at the end of the story. A lovely book that children and adults alike will enjoy reading, especially if they have ever had an encounter with a crow!"
-- Shelley Deacon
Media Coverage
Article by Jessica Kerr, Vancouver Courrier
There are T-shirts, legions of fans and even a short documentary, and now Canuck the crow is the star of his very own children's book.
Nine-year-old Haru Yarmie has always liked creating books. "Haru had always really enjoyed writing her own stories at home, even when she was in kindergarten and Grade 1 she started writing her own little books," says dad Arran Yarmie. She had even started talking about getting a book published. "She kept saying 'I'd like to get a book published. I want to publish a book. Do you think we could get a book published?'" So then we came up with the idea of Canuck the crow because he's such a popular bird and we both had some really memorable encounters with Canuck, so we thought it would be a great idea."
The Yarmies live in East Vancouver not far from Canuck's neighbourhood and about a year and a half ago Haru had a run in with Vancouver's most famous feathered friend during a baseball game at the Hastings Community Little League eld. "He came and took my ball while I was playing catch… and then he untied my friend's shoelace a couple of times," she says.
Arran had a different kind of encounter with Canuck around that same time, but it was one that inspired the idea to create a children's book. He was riding home from work and saw Canuck and about 10 other crows gathered on a grassy area in the neighbourhood, and he stopped for a moment to take in the scene. "I was just on the side of the road on my bike observing them ip over leaves with their beaks and pick at the grass," Arran said. "It was so quiet, serene and very relaxing to just observe Canuck and his crow friends doing what crows do." The scene was quickly disturbed when a group of children running along the stretch of grass intentionally ran up to the crows, scaring the birds away. "I asked them 'Why did you do that?'" said Arran, who teaches English at Burnaby North secondary school. "They just looked at me with very confused expressions as if to say 'Why wouldn't we do that?' "That experience really made me want write the book with Haru to spread the message to kids and adults that it is important to respect urban wildlife," he said. "I feel really strongly that animals we encounter in our daily lives in the city have as much right to live their lives peacefully."
In the book Canuck flies around the region visiting other animals. He flies to North Vancouver and talks to the black bears, who tell him they have to look for food in garbage cans because the forest is disappearing and fewer salmon are returning to Capilano River. He flies to Delta and talks to the bald eagles, who tell Canuck about how they are losing trees to nest in because so many are being cut down to make way for houses. "We wanted it to be about Canuck but also more than that we wanted a book to also talk about the other issues that urban wildlife face…"
Arran said. "We wanted to give them a voice too and raise awareness about some of the problems they're facing as the population continues to grow in the Lower Mainland."
In addition to the story, the book also includes several pages with a crossword puzzle, word search and other games and activities. Arran said the book aims to not only entertain but to also education youngsters about the importance of peacefully co-existing with urban wildlife. They pitched the book to several publishers, including Hancock House Publishers, which responded right away, he said. The publishing house largely publishes non-fiction regional works with a focus on wildlife, natural history, folklore, and Indigenous art and culture. Arran and Haru also decided to donate any profits from the book to the Hancock Wildlife Foundation. "As part of our contract we could have just kept the profits but, you know, it's a story about Canuck and about wildlife and we really wanted to give back," he said.
A Crow Called Canuck will be available starting Dec. 17 and can currently be ordered online at www.hancockhouse.com/products/a-crow-called-canuck. Arran said it should also be available to order on Amazon started Dec. 17. "We're hoping to get it into some local book stores and things like that, and of course we'll donate some copies to the library," he said.
Photo Dan Toulgoet
CBC Article by Claire Hennig
Vancouver's Canuck the Crow is back — in a book created by a 9-year-old
Vancouver's infamous Canuck the Crow is back in the limelight, this time starring in a children's storybook written by a father-daughter duo. The cunning corvid, voted Vancouver's unofficial ambassador, has made headlines in the past for stealing a knife from a crime scene and breaking into a McDonald's and riding the SkyTrain.
Nine-year-old Haru Yarmie has so many stories about Canuck that she decided to write a book about him. She co-authored A Crow Called Canuck: A Children's Activity Book with her father, Arran Yarmie, after first meeting the mischievous bird while playing outside.   
"I was playing catch with my friend. He came and stole my ball and untied my friend's shoe," Haru said.
 "I thought it was really funny."
They could tell it was Canuck because of the distinctive orange band on his leg.

Yarmie said his daughter has always shown a strong interest in writing and drawing. "She said, 'Dad, I'd really like to get a book published," he told Stephen Quinn, the host of CBC's The Early Edition.

"I thought, well, Canuck the crow is an amazing crow that we've had some encounters with, so why not try to make a book about him." Haru came up with the stories and drew the illustrations, with some help from her dad on the background scenery. It took them about a year and a half to finish. "It was really great working together," Yarmie said. "Haru really did have some great ideas when it came to the stories and some really creative vision when it came to doing the illustrations."
He pitched it to Hancock House Publishers because of their involvement with wildlife preservation. Partial proceeds from the book — any profit the two authors would make — are being donated to the Hancock Wildlife Foundation.
The book is now on shelves at stores around Vancouver. "It's really exciting to see a book that I made [on the shelf] with other books that I really like," Haru said.
West Coast Reader

Media Files
Interview on 17 December 2918 with CBC Radio 1, Early Edition with Stephen Quinn. Click below to hear the interview.
Free Supplement
Click here
to download additional activity pages for free!