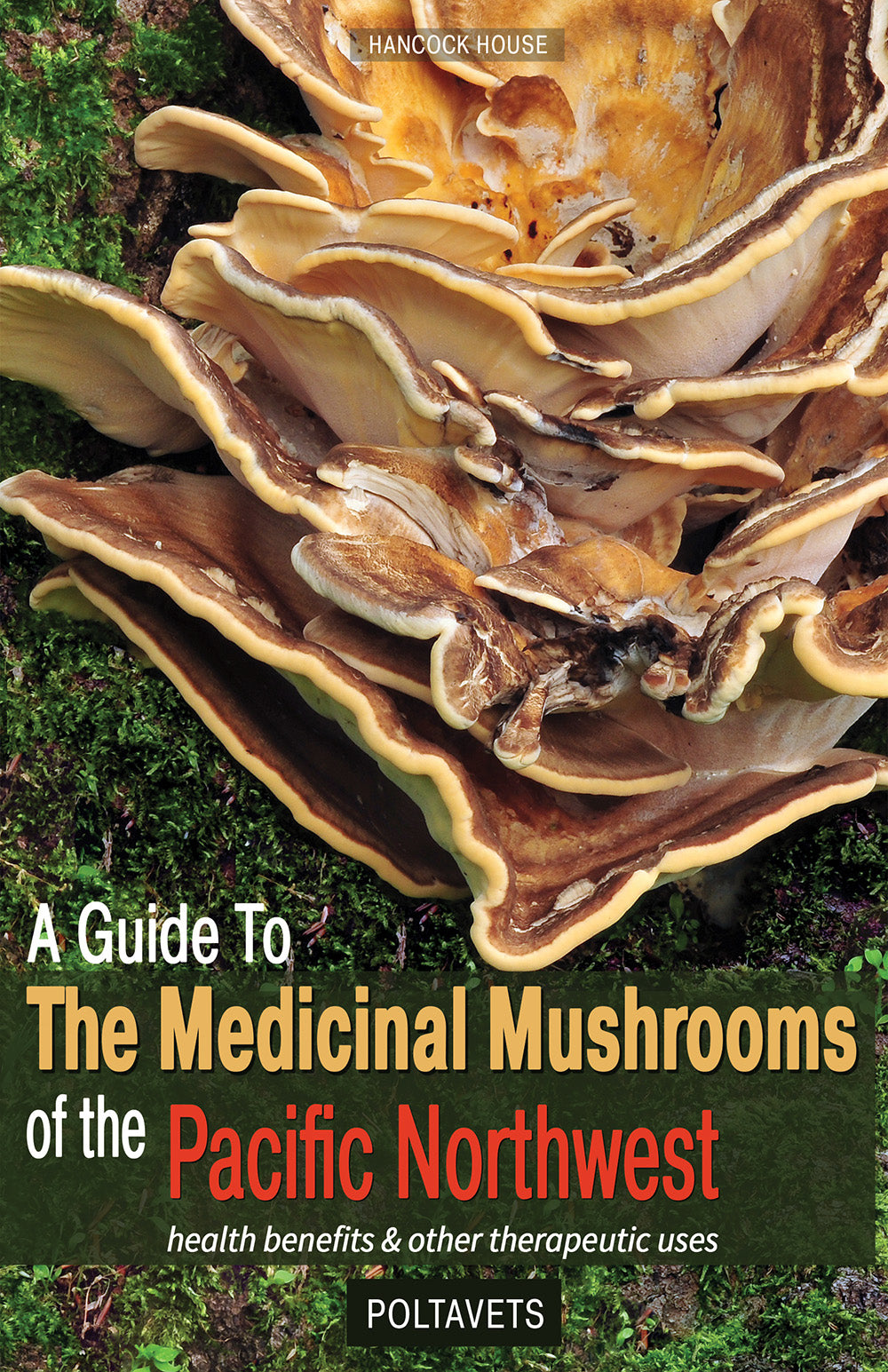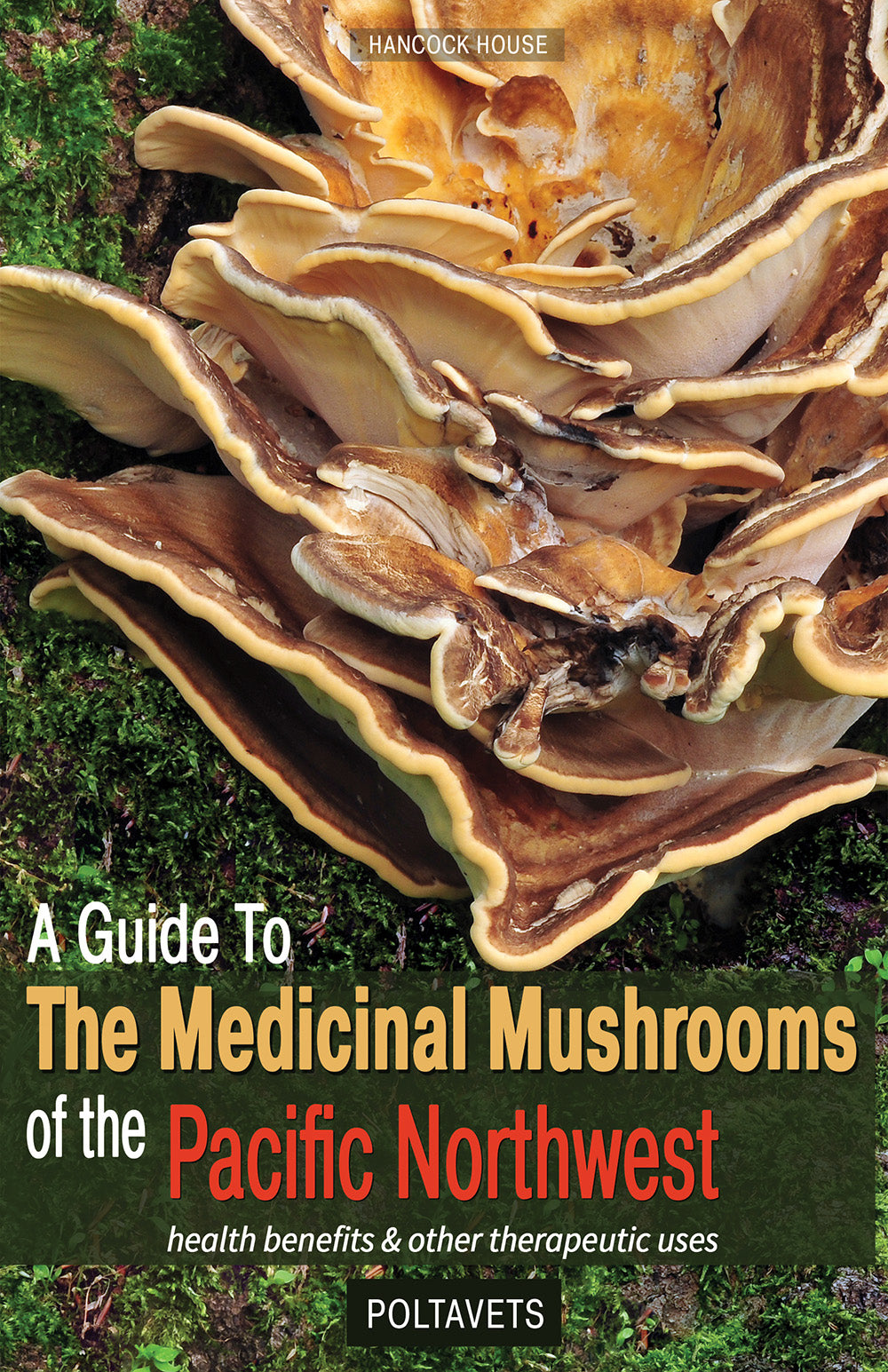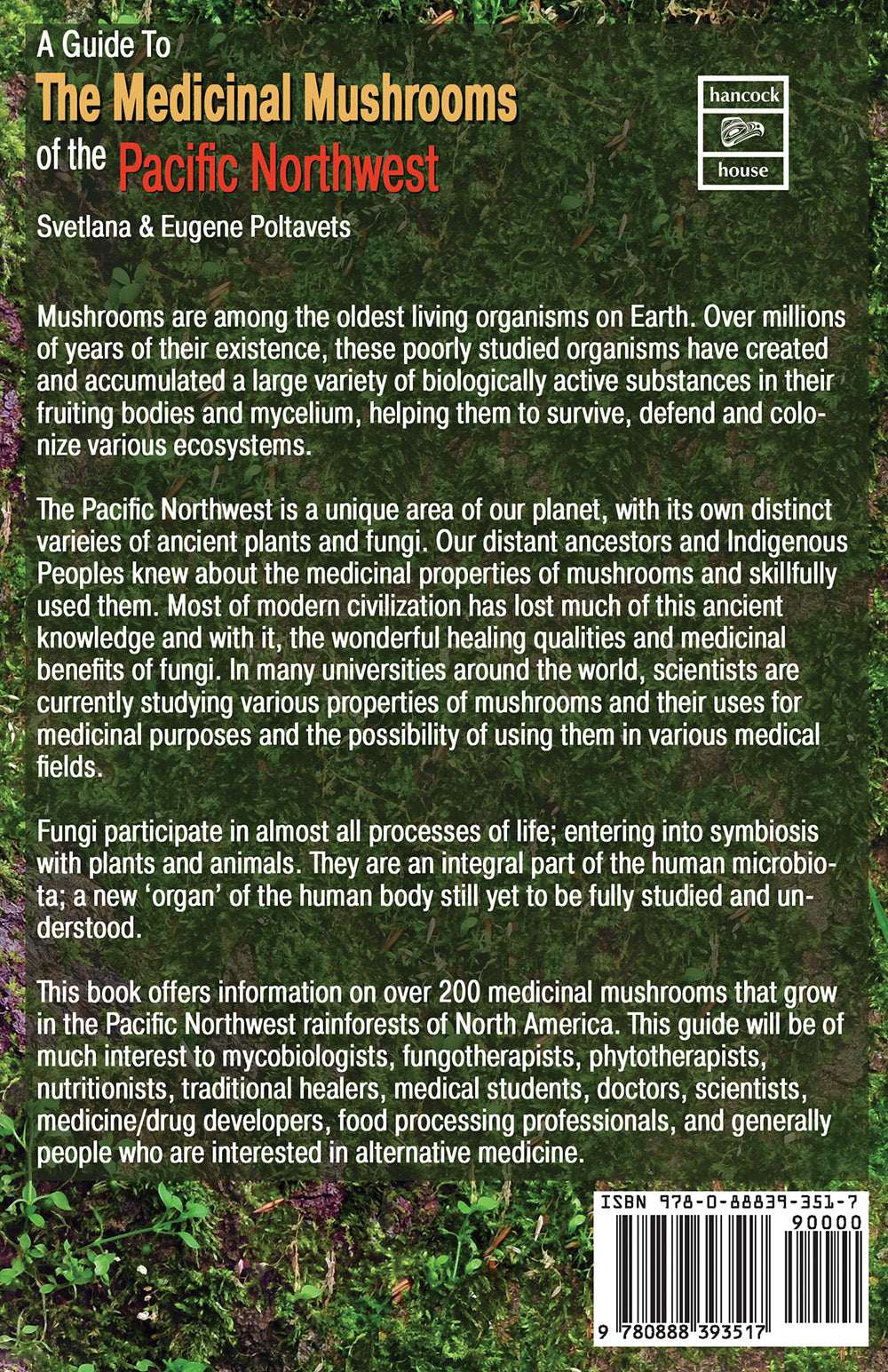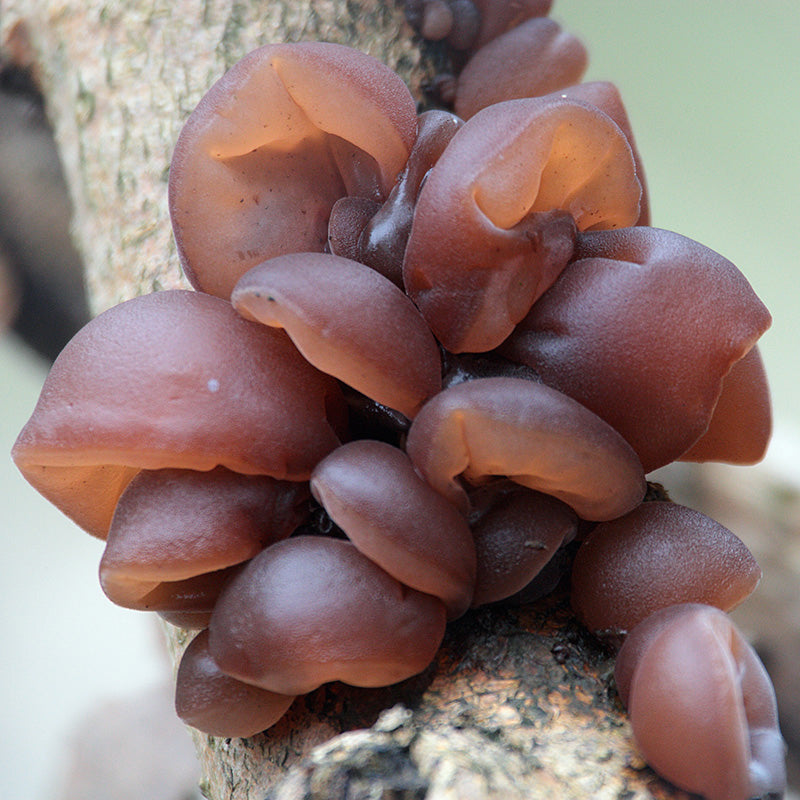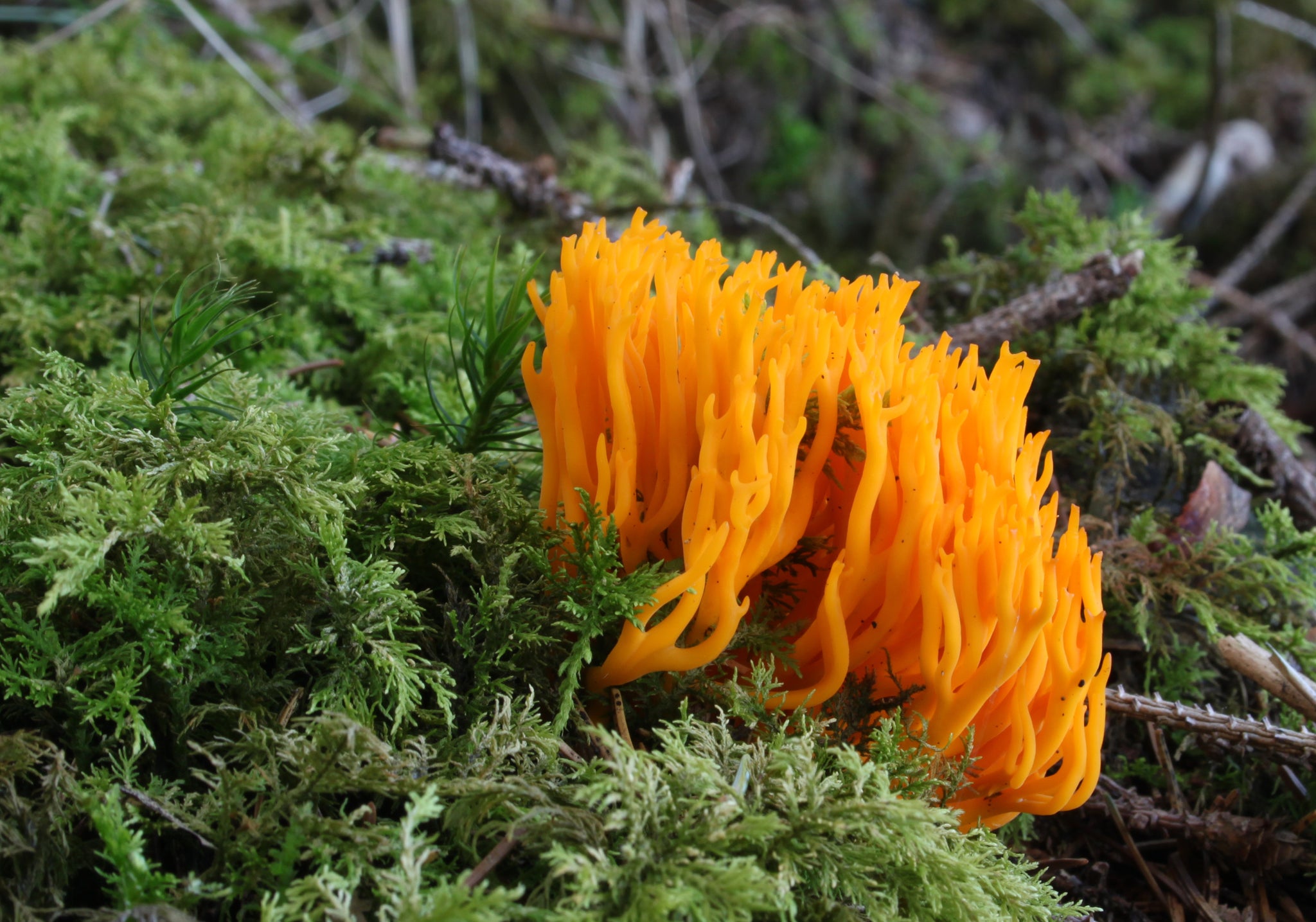 A Guide to Medicinal Mushrooms of the Pacific Northwest: Health Benefits and Other Therapeutic Uses
Newly Released!
Details
By: Svetlana & Eugene Poltavets
ISBN: 978-0-88839-351-7 [paperback]
ISBN: 978-0-88839-354-8 [epub]
Binding: Trade Paper
Size: 8.5" X 5.5"
Pages: 96
Photos: 180
Publication Date: Fall 2021
Description
Click Here for Sample Pages
Mushrooms are among the oldest living organisms on Earth. Over millions of years of their existence, these poorly studied organisms have created and accumulated a large variety of biologically active substances in their fruiting bodies and mycelium, helping them to survive, defend and colonize various ecosystems.
The Pacific Northwest is a unique area of our planet, with its own distinct varieties of ancient plants and fungi. Our distant ancestors and Indigenous Peoples knew about the medicinal properties of mushrooms and skillfully used them. Most of modern civilization has lost much of this ancient knowledge and with it, the wonderful healing qualities and medicinal benefits of fungi. In many universities around the world, scientists are currently studying various properties of mushrooms and their uses for medicinal purposes and the possibility of using them in various medical fields.
Fungi participate in almost all processes of life; entering into symbiosis with plants and animals. They are an integral part of the human microbiota- a new 'organ' of the human body still yet to be fully studied and understood.
This book offers information on over 200 medicinal mushrooms that grow in the Pacific Northwest rainforests of North America. This guide will be of much interest to mycobiologists, fungotherapists, phytotherapists, nutritionists, traditional healers, medical students, doctors, scientists, medicine/drug developers, food processing professionals, and generally people who are interested in alternative medicine.
Author Biographies
Svetlana Poltavets graduated from St. Petersburg State University, specializing in biology and writing a thesis on this topic. She has been fascinated by nature since she was a child because her grandmother often told her about the plants and trees in their garden and nearby forests. When she visited her grandma they often together went to the forests, groves, fields. From a young age, she used to go to the woods with her parents or neighbours for edible mushrooms in the Carpathians Lowland forests in Ukraine. Love for nature had passed on to Svetlana through several generations from her great-great-grandmother, who knew plants and fungi well and its usefulness for health.
Eugene Poltavets, as a child was never truly interested in nature and biology in particular. Although he, together with his father and brother, spent a lot of time in the forests of the Karelian Isthmus. And only in adulthood, under the influence of his wife, genuine interest for nature came to him. 
The Poltavets began studying the application of fungi as one of the alternative methods of cancer prevention and treatment after the sudden death of Svetlana's younger sister a few years ago, who had been diagnosed with breast cancer. They studied literature, scientific data about the use of various types of fungi as an alternative method of treating severe forms of cancer and other diseases. The result of this was this work. The world of mushrooms is huge and diverse. This book covers just its tiny part.
Book Reviews
"The authors collected comprehensive and unique information about different groups of mushrooms and fungi and share it with the reader. The book introduces the medicinal properties of amazing living organisms that were traditionally considered mostly as food or poison. It can be useful to all medical professionals (naturopaths, nutritionists, homeopaths in particular) and everyone interested in natural medicine. Due to great illustrations the book is also a portable guide for nature lovers, helping them to identify mushroom and fungi types and to distinguish (with caution) between edible and no-edible species."
--Inna Dolgopolsky, DIHom, P. G. Hom, M.Sc, M. Eng, Registered Homeopath, FMCHO
"The use of mushrooms for medicinal purposes has been known throughout Eurasia since ancient times, but it has received the greatest distribution in Southeast Asia. The most oldest manuscripts on healing mushrooms date back several thousand years, they were created in China and Japan. Therefore, many modern reference books and manuals devoted to medicinal mushrooms, primarily consider those of traditional types of mushrooms that are widely used in oriental medicine - shiitake, reishi, maytake, enoki, cordyceps, etc. In this regard, regional guides, which contain information on the healing and adaptogenic properties of local mushrooms, are of particular value. Using those reference books the reader can independently identify and pick medicinal mushrooms in his region. Such books include the remarkable work of Svetlana and Eugene Poltavets, which provides easy of access information and colourful images of more than 200 species of medicinal mushrooms of the Pacific coast. Many of them are little known to the American reader, and the discovery of new species will be a pleasant surprise. I am sure that this guide will become a reference book for those users who seriously think about their health and prefer to extract medicinal raw materials on their own."
-- Mikhail Vishnevsky, PhD, mycologist.
"I have been practicing as a Natural practitioner for over 20 years (Nutritional  Practitioner, Register acupuncturist, and herbalist). I have been using medicinal mushrooms in my practice as an immune system supporter ( for Cold/ Flu, atopis conditions, like allergy and asthma); to balance cholesterol, improve blood cells counts, and many other conditions. This book gives you many very interesting information, but before using any medicinal mushroom you need to consult with your health adviser." -- 
Inna Aslanian, RNCP, RMT, R.Ac,  Doctor of Medicine.