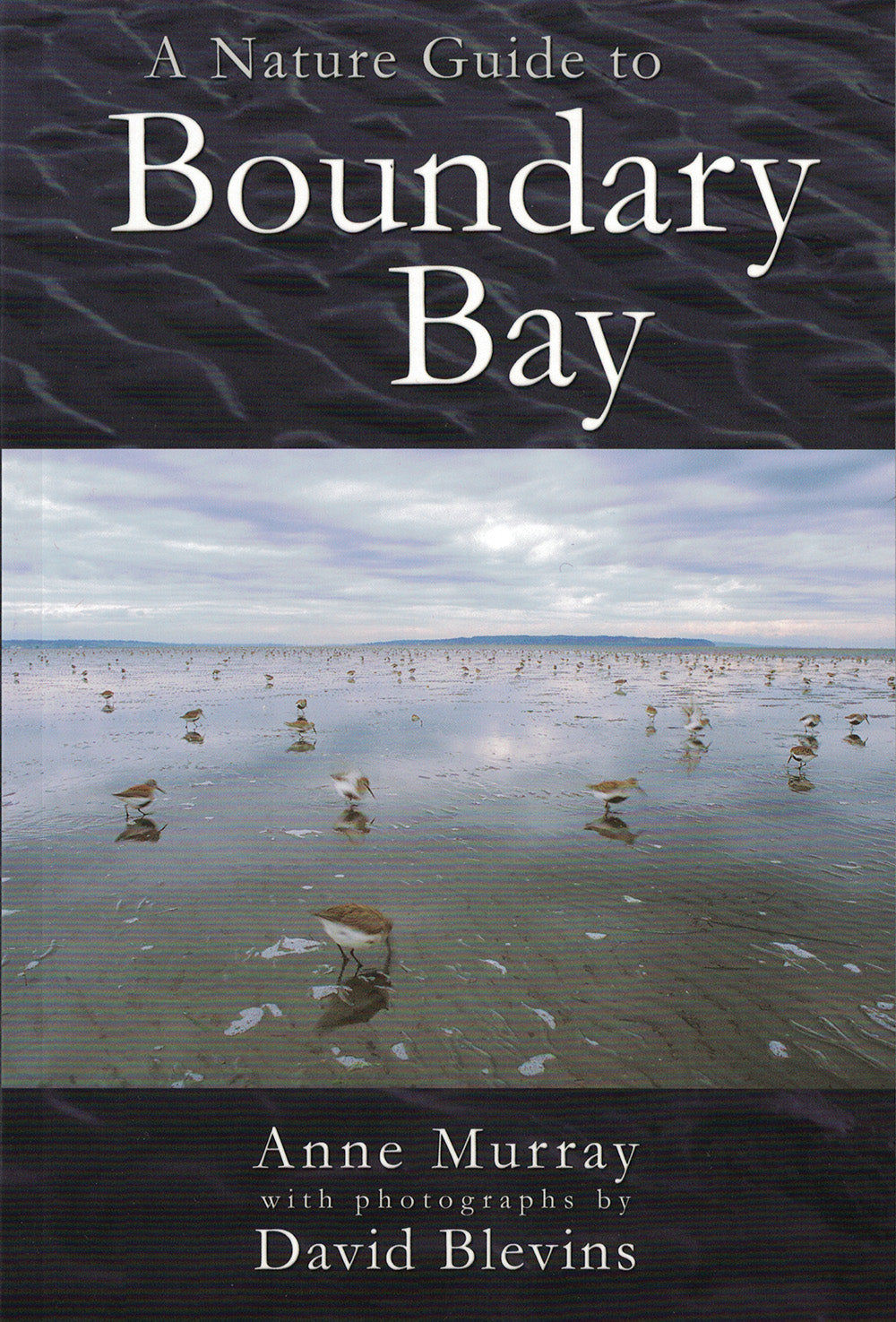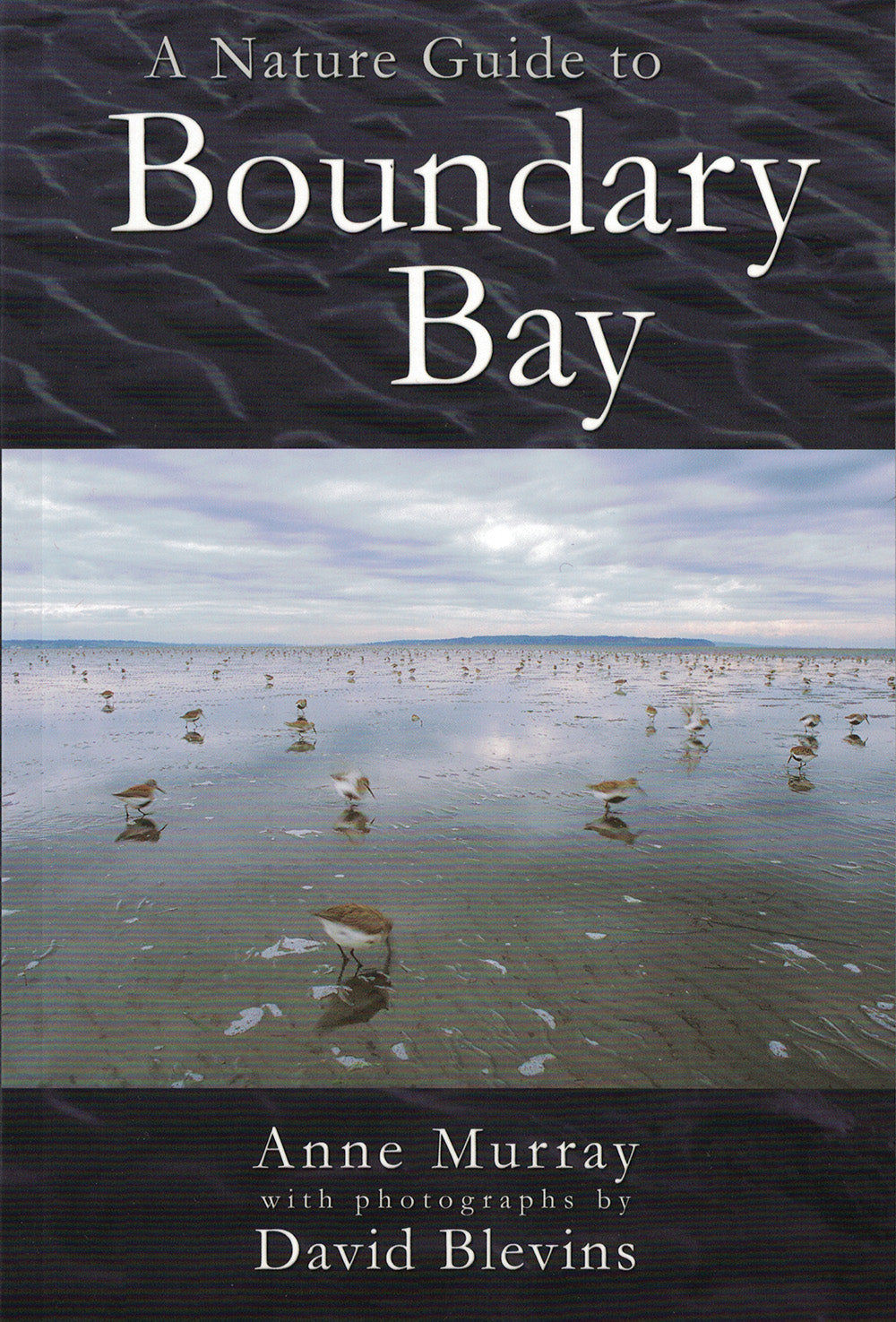 A Nature Guide to Boundary Bay
Details
By: Anne Murray (author) and David Blevins (photographer)
ISBN-13: 978-0-9780088-0-2
Binding: Trade Paper 
Size: 6" x 9"
Pages: 214
Photos: 170
Illustrations:
Publication Date: 2008 reprint (Orig 2006)
Description
Boundary Bay is a premier birding area and wildlife destination in the heart of the Fraser River estuary. A Nature Guide to Boundary Bay is the first comprehensive book about the wildlife of this dramatic and diverse coastal landscape that connects British Columbia with Washington State. Over 170 colour photographs by David Blevins illustrate the plants, animals, and landscapes that can be found here. Use this guide to learn about nature in Boundary Bay, including where and when to go and what to see. Find out about bird migration on the Pacific Flyway, life in the intertidal zone, nocturnal creatures, local nature destinations and much more. The book covers all of Boundary Bay and its watershed, including Burns Bog, North Delta, Tsawwassen, Ladner, Surrey, White Rock, Langley and Richmond in British Columbia, and Blaine, Point Roberts and the Drayton Harbor watershed in Washington State.
Author Biography
Anne Murray has had a lifelong interest in birds, nature, history and different cultures. Born and educated in England, where she received her BSc, she has taught mathematics and science to every age group. She has lived in Papua New Guinea, Thailand, Alberta and for the last two decades, in Tsawwassen, British Columbia. Anne volunteers with a number of nature organizations, including Nature Canada, B.C. Nature and the Delta Farmland and Wildlife Trust. Among other awards for her conservation work, she was a recipient of the Queen's Golden Jubilee medal. Anne is married with three daughters. She is the winner of several awards for nature conservation and a lifelong birder and naturalist.

David Blevins is a forest ecologist and award-winning nature photographer. His photographs have been published internationally in magazines, calendars, and books. His academic and photography work both come from an appreciation of the natural patterns that can be found in what at first seems to be a chaotic world. Wildlife behavior, the organization of a plant, or the natural patterns of landscapes are all sources of inspiration for his photography. David created most of the photographs for this book while completing a PhD. in forest ecology at UBC. he now lives in North Carolina where he continues to work on both science and photography projects.
Book Reviews
"A Nature Guide to Boundary Bay is one of those rare local guides that informs you about the broader world as well as your own backyard. Everyone in southwestern British Columbia should have this book on hand."
- writer & naturalist, Richard Cannings
"Anne Murray ... has figured out a way to bring the beauty and wonder of the nature of Delta's Boundary Bay to people's homes" 
- Dawn Hanna, in BC Nature
"If you don't love Boundary Bay now, you just might after reading 
Anne Murray's new book" Chris Bryan - Black Press