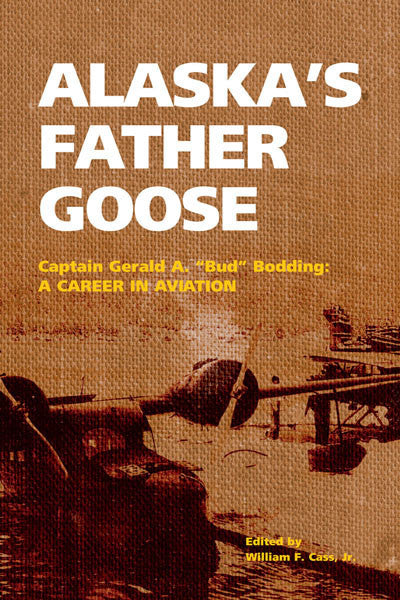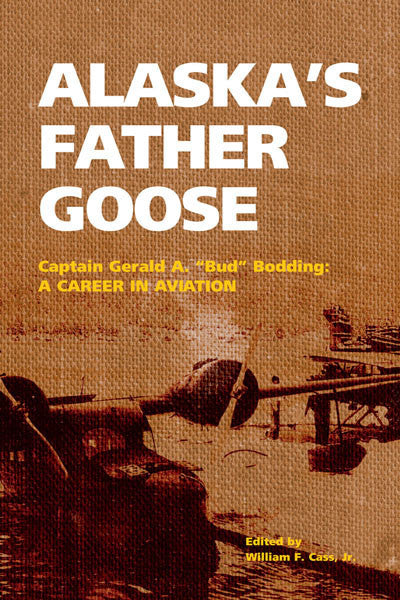 By: Bodding, Gerald
ISBN: 978-0-88839-651-8
Binding: Trade Paper
Size: 8.5" X 5.5"
Pages: 176
Photos: 122
Illustrations: 3
Publication Date: 2010
Occasionally tense, frequently humorous, and always straightforward, Alaska's Father Goose is a celebration of flight, a wartime memoir, a history of airline growth, and ultimately a quintessentially Sourdough success story. Nicknamed Father Goose because of his many thousands of hours piloting the Grumman JRF Goose, Captain Gerald A. Bud Bodding's career began in the age of the Curtiss Jenny and lasted through Alaska Airlines' jets. Graduating as a commercial pilot in 1939 from the then premier flying academy in America, the Ryan School of Aeronautics in San Diego, Bodding began a remarkable aviation career as a junior pilot with three of Alaska's flying legends: Shell Simmons, Bob Reeve, and Bob Ellis. Bodding's logbooks read like a roster of the great planes from aviation's Golden Age, and include time in the Ryan STA, Fairchild 71, Lockheed Vega, and Waco YKS-6, among many others. After surviving a horrific crash at sea and stranding on an uninhabited island, Bud returned to bush flying before being caught up in World War Two. As a Navy pilot, Bodding flew in the North Pacific theater's Aleutian campaign where the weather posed every bit as much danger as the Japanese. You are in the cockpit with Father Goose as he flies some of the Navy's most memorable wartime aircraft, such as the Consolidated Catalina, Vought Kingfisher, Grumman Duck, and Alaska's immortal Grumman Goose. With the war won, Bud returned to Ketchikan, building a family, an airline, and a reputation as Alaska's Father Goose. 
Author Biography:

Captain Gerald A. Bud Bodding was of one of Alaska's legendary bush pilots, and his moniker Father Goose came about because of his extensive experience flying the Grumman Goose amphibious aircraft, itself a legend in Alaska's post-WWII, commercial aviation history. Growing up in Juneau in the 1920s, Bud was bitten by the flying bug at an early age and could not wait to learn to fly. Shortly after earning his private pilot's license, he was off to the San Diego-based Ryan School of Aeronautics, then the pre-eminent flying school in the country. After receiving his commercial license at Ryan in the summer of 1939, Bud returned to Alaska and worked with three other legends in Alaskan aviation: Shell Simmons, Bob Reeves, and Bob Ellis. Early in his flying career, Bud survived a horrific crash at sea, nearly giving up hope for the eventual rescue that came just in time, and afterwards served as a Navy pilot in the North Pacific where the weather could be just as fatal as enemy fire. After the war, Bud returned to commercial flying and was one of the founders of what eventually became Alaska Airlines. After his retirement from flying in October 1972, the following year he embarked on a second career conducting fishing charters on his 40-foot cruiser for eleven years, after which he finally truly retired, although he remained busy with various activities throughout his life. Bud passed away at age 88 in Ketchikan, Alaska in 2006, and is survived by his three children and many grandchildren and great grandchildren.