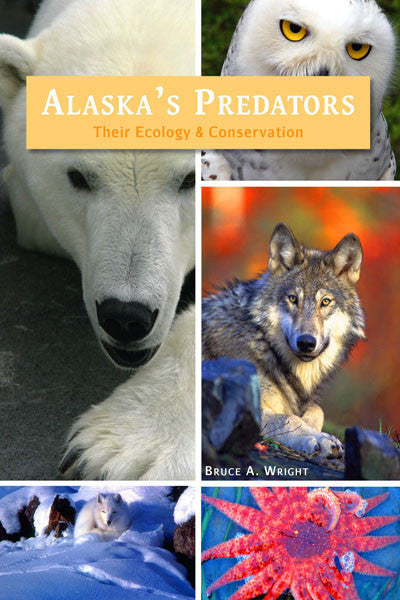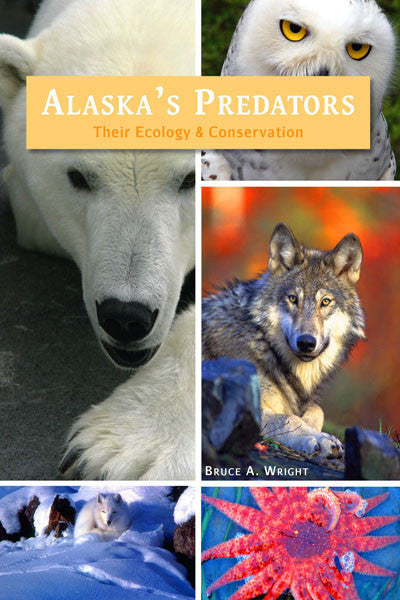 Alaska's Predators: their ecology & conservation
By: Wright, Bruce A.
ISBN: 9780888396228
Binding: Trade Paper
Size: 11" X 8.5"
Pages: 120
Photos: 186
Illustrations: 0
Publication Date: 2011
PR Highlights: A biologist dispels myths surrounding predators.
PHOTO Highlights: Stunning color photos throughout.
Table of Contents

Description: A look into the world of 22 fierce and often misunderstood predators inhabiting Alaska. Predators are charismatic animals that most people find fascinating and repellent in equal measure. Visitors to Alaska are mesmerized witnessing a bear or wolf moving across the tundra in search of its next meal, or watching salmon sharks leaping out of the water in pursuit of prey. Seeing a bald eagle swoop down to snatch an unsuspecting fish from the water fascinates onlookers, awed and impressed by this raptor's flight and sight capabilities. Alaska's Predators helps readers gain an understanding of these magnificent animals, their function in Alaska's ecosystems, and how and why they should be protected. The Alaska marine and terrestrial ecosystems are dynamic and complex, and predators are central to stabilizing these systems; they are important indicators of the health and observed changes to the ecosystem. While Alaska has thousands of predatory animals, and all have essential roles in the ecosystem, this book focuses on twenty-two representative species, grouped into terrestrial, avian and marine sections: the arctic fox, wolf, black bear, brown bear, lynx, mink, marten, wolverine, bald eagle, gyrfalcon, great horned owl, snowy owl, sunflower star, giant Pacific octopus, salmon shark, Pacific sleeper shark, Pacific halibut, sea otter, Steller's sea lion, polar bear, orca and great white shark. Each species account includes information on size, color, speed, longevity, reproduction, social structure, distribution, movements and migration, habitat, prey, predators, predatory characteristics, current status, ecology and conservation. The book's introduction provides explanations of many ecological concepts that will help to shed light on how predators survive. Topics discussed include Ecological Roles of Predators; Ecosystems, Food Webs and Indicator Species; Keystone Species: Top-Down and Bottom-Up Control; Predator Control; Regime Shifts and the Northeast Pacific; Optimal Foraging Theory and Relationships of Predators and Prey; Home Range and Territory; Landscape Ecology and Gene Flow; Patches and Hot Spots; Niche and Interspecific Competition; and Conservation. While the author has minimized the use of technical terms, there is a glossary at end of the book; additionally, there is an index and references. With information that will be useful to both the general reader and the scientist, this is truly a book for both the classroom and the home library. There are beautiful color pictures throughout.
Author Biography:

Bruce Wright earned a master's degree in ecology studying birds of prey at San Diego State University, and became a professor at the University of Alaska where he taught courses about bald eagles, orcas, humpback whales, and brown, black and polar bears. He was also the president of the board of directors of the Bald Eagle Research Institute. 
When Bruce was a section chief for the National Oceanic and Atmospheric Administration (NOAA), he continued his work with predators in Alaska by managing the Alaska Predator Ecosystem Experiment and the Alaska Shark Assessment Project. He was actually bitten by one of the 350-pound sharks his crew landed during the field research. Bruce was selected as the chief science advisor to Alaska's Governor Tony Knowles when the governor worked with the Pew Ocean Commission on ocean's issues. Bruce is currently the executive director of the Conservation Science Institute, www.conservationinstitute.org.