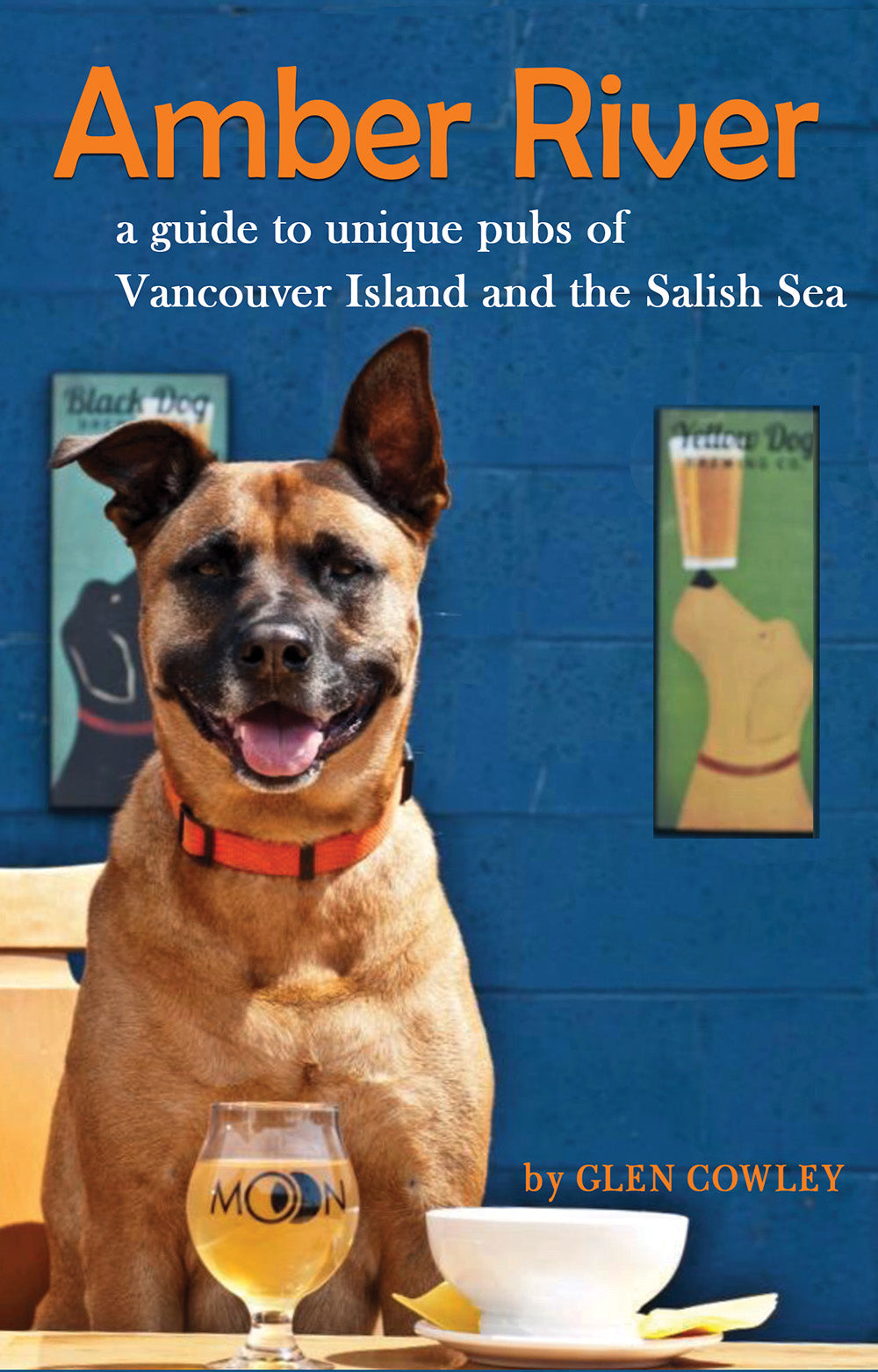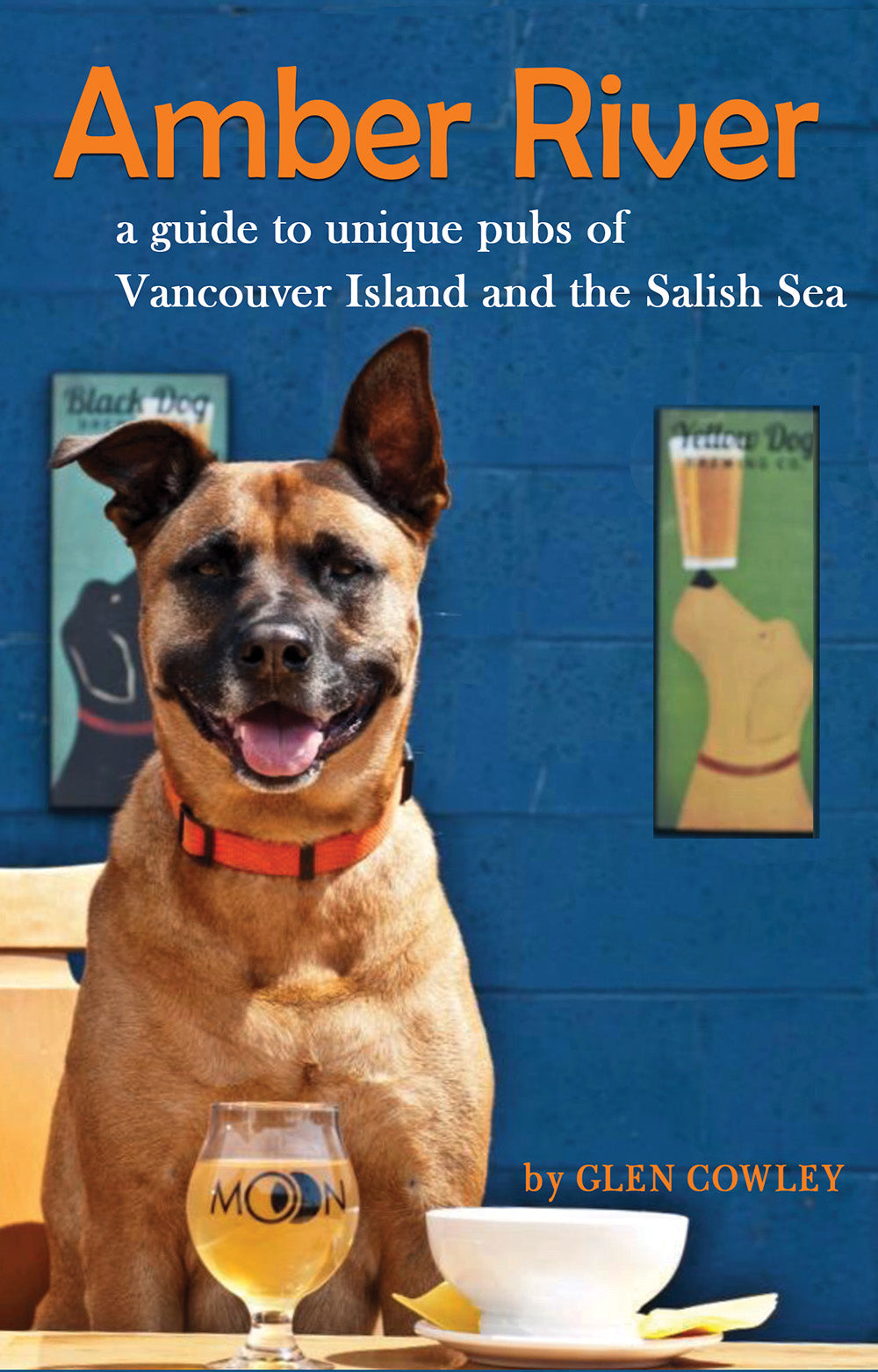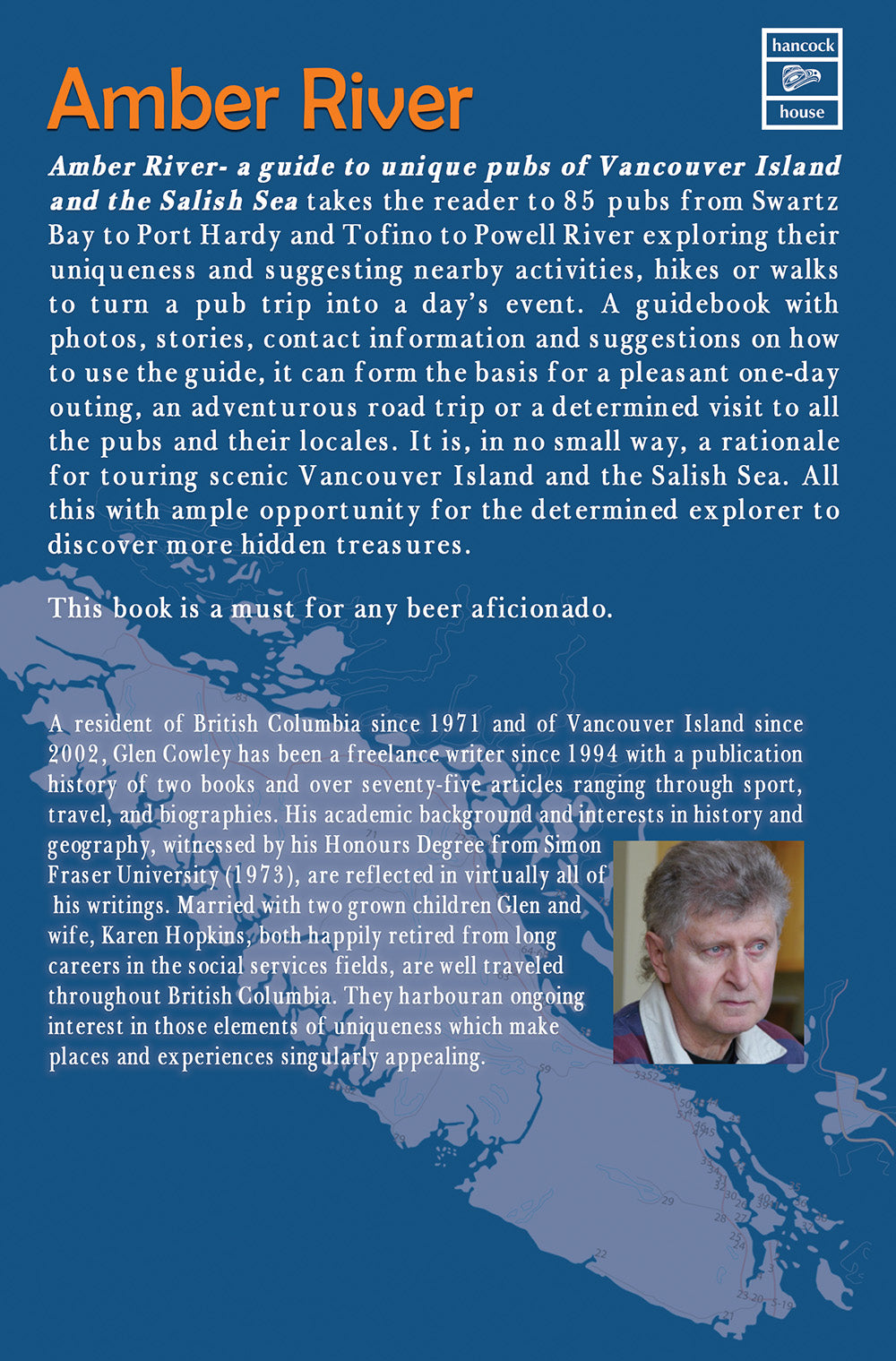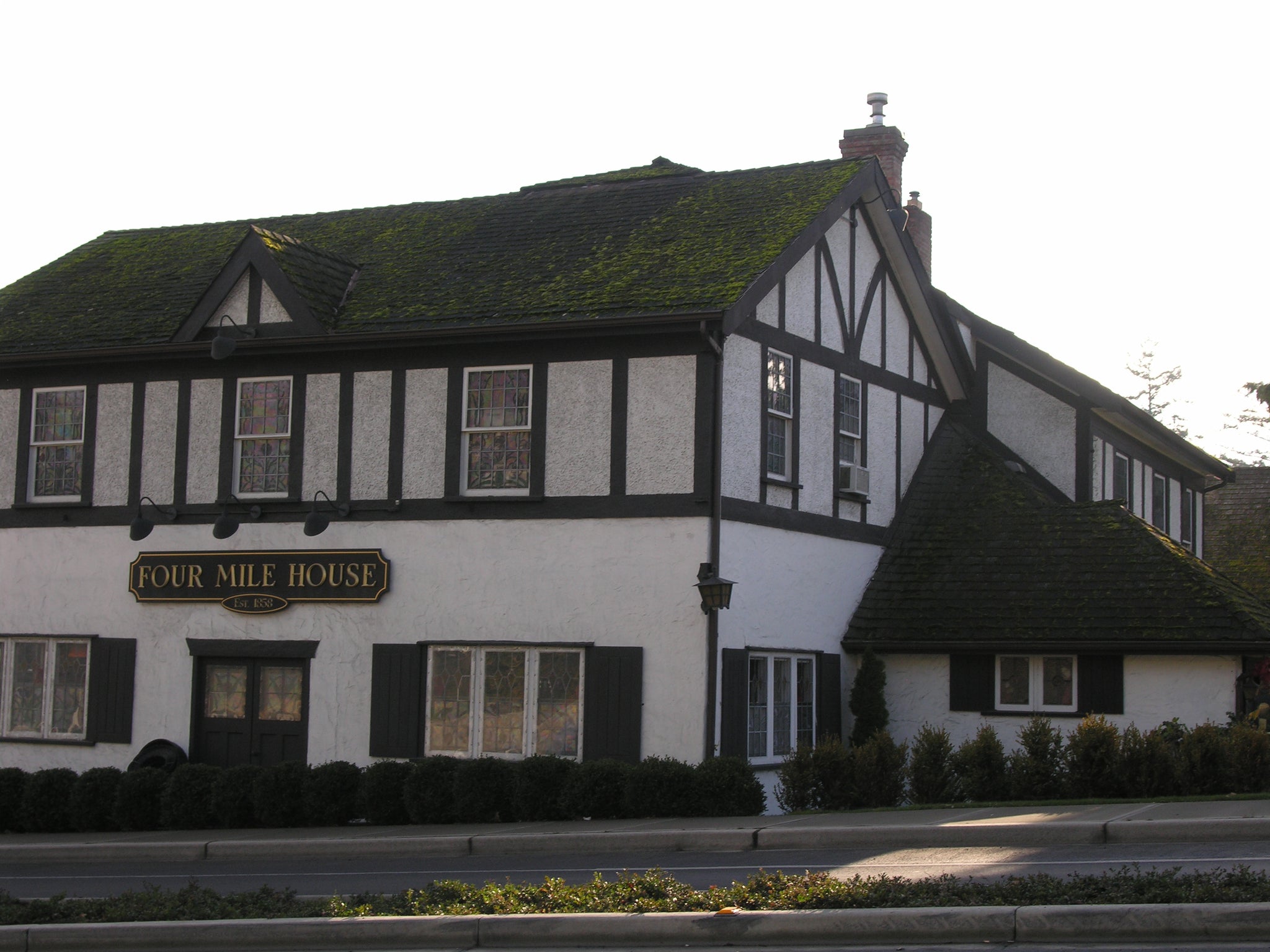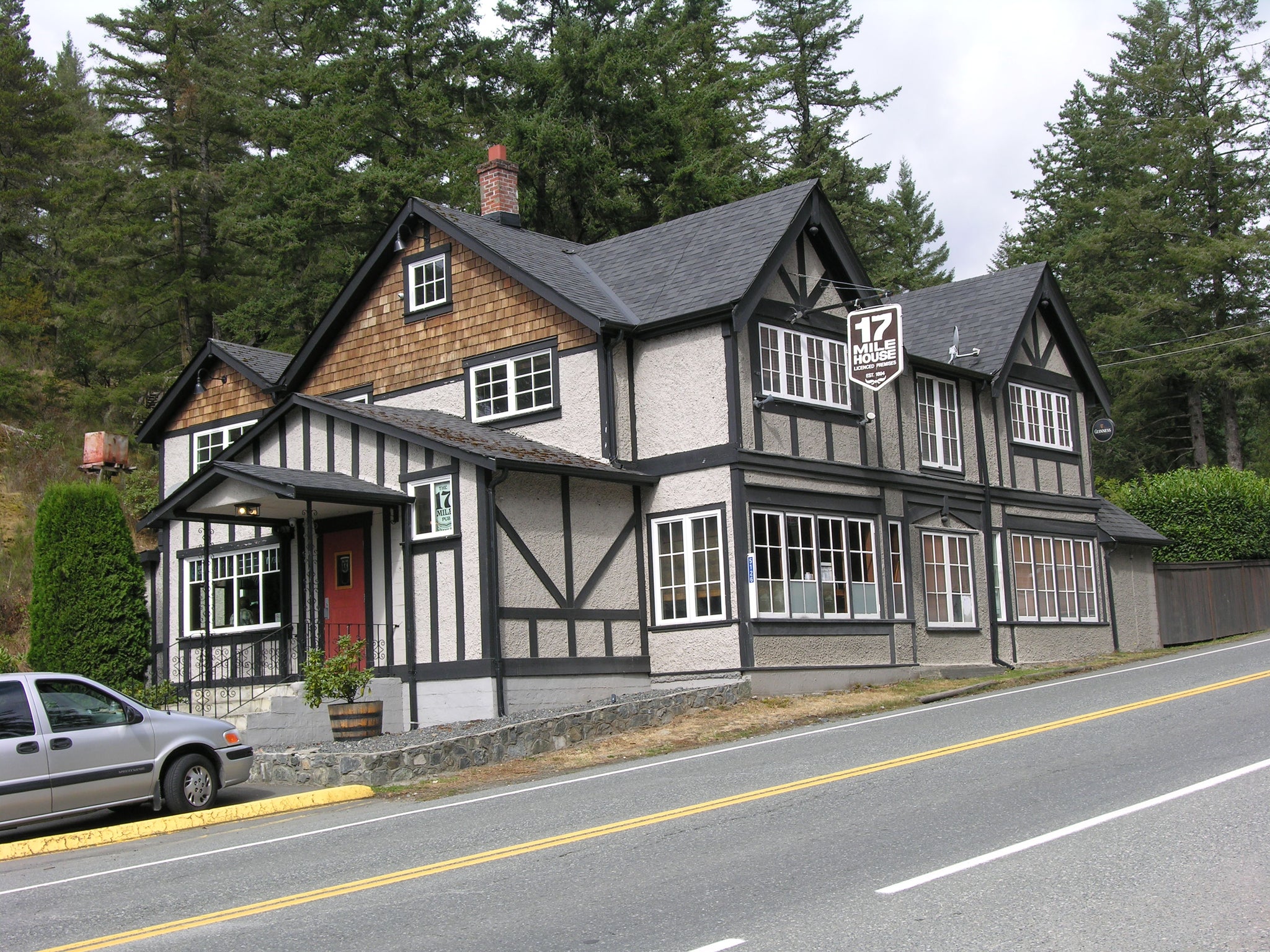 Amber River: a guidebook to unique pubs of Vancouver Island and the Salish Sea
Details
By: Glen Cowley
ISBN: 978-0-88839-075-2
Binding: Trade Paper
Size: 8.5" X 5.5"
Pages: 226
Photos: 114
Publication Date: 01 November 2018
Description
Amber River (a guide to unique pubs of Vancouver Island and the Salish Sea) takes the reader to eighty-five pubs from Swartz Bay to Port Hardy and Tofino to Powell River exploring their uniqueness and suggesting nearby activities, hikes or walks to turn a pub trip into a day's event. A guidebook with photos, stories, contact information and suggestions on how to use the guide, it can form the basis for a pleasant one-day outing, an adventurous road trip or a determined visit to all the pubs and their locales. It is, in no small way, a rationale for touring scenic Vancouver Island and the Salish Sea. All this with ample opportunity for the determined explorer to discover more hidden treasures.
This book is a must for any beer aficionado.
Author Biography
A resident of British Columbia since 1971 and of Vancouver Island since 2002, Glen Cowley has been a freelance writer since 1994 with a publication history of two books and over seventy-five articles ranging through sport, travel, and biographies. His academic background and interests in history and geography, witnessed by his Honours Degree from Simon Fraser University (1973), are reflected in virtually all of his writings.
Married with two grown children Glen and wife, Karen Hopkins, both happily retired from long careers in the social services fields, are well traveled throughout British Columbia. They harbour an ongoing interest in those elements of uniqueness which make places and experiences singularly appealing.
Book Reviews
 It's a tough job, but somebody had to do it.
Chemainus author Glen Cowley, 69, took it upon himself to visit many of the unique pubs around Vancouver Island and the Salish Sea over a period of a few years to publish his findings in a guide book titled Amber River. There will be an official book release and signing at Riot Brewery in Chemainus Oct. 17 and 18 between 6 and 8 p.m. Riot is one of the local establishments featured in the book, along with the Shoe Pub, Sawmill Taphouse and Saltair Pub. The book is divided into pubs within eight regions: Victoria/South Vancouver Island; Mid-Island South; the Gulf Islands; Nanaimo; Mid-North Island; Sunshine Coast; West Coast and North Island.
Cowley and wife Karen Hopkins' regular travels formed the basis for the book's research to be conducted. "We always tried to find an unusual pub or coffee shop," Cowley explained. He wanted to provide a comprehensive guide to the Amber River that flows around the region and is developing new tributaries all the time. "Seeking uniqueness has become a bit of a habit for us, and it struck me in chatting with others that this is a not unappreciated practice," Cowley noted in the book's introduction. Cowley has written two other books, both about hockey in Kamloops where he lived for 17 years. Wind and Ice: One Hundred Years (almost) of Kamloops' hockey and The Seventh Man: The history of the Kamloops Blazers franchise documented the storied hockey history of the region.
Cowley couldn't initially get a publisher for Amber River when he started on the project in 2013, but eventually landed Hancock House Publishers for his collection of unique places to go and things to do while you're there. "There's some pubs that didn't want to be in and some didn't get back to me in time," Cowley explained. Of course, the market is changing all the time. Cowley no sooner finished the book than a new place opened up in Sooke. "Some I didn't include, that was just subjective," he indicated. "It's geared to locals and tourists who want the pub experience but don't want the beer parlor experience."
The cover features an eye-catching photo of a pooch named Brew, the unofficial brewmaster at the Moon Under Water Brewpub in Victoria. "I figured who's going to walk past a dog with a beer in front of him," laughed Cowley. "I figured when I got that photo, I've got to use that." Each of the 85 pubs and establishments featured inside are documented with two or three pages, plus inside and outside photos for many. "The idea is people will be able to identify the pub from the outside," said Cowley. "There's the odd one has an inside shot." There are many things within so many unique pubs that still stood out among all others for Cowley. "Some of it is the decor," he noted. "The Lion Rampant in Maple Bay, their view is breathtaking." Cowley lists basic location details and contact information for each place, what makes each one unique and something he calls 'earning your beer.' That's when you might have to do a nearby activity to take away the guilt of enjoying drinks without the benefit of some exercise.
The whole experience clearly became a labour of love for Cowley. "Things have changed," he indicated. "Pubs are not like the old bars. There isn't the same drink to excess. "That's a healthy change and it seems to be more community involvement, more than just sponsoring teams, and there's a new appreciation for craft beers." One thing Cowley found is a great appreciation for each other within the industry. "There's a lot of camaraderie between the brew pubs," he said. "They're competitors, but they're supportive of each other."
The book is available through all the usual sources or people can purchase a signed copy at the release later this month.
-- Review by Don Bodger, Chemainus Valley Courier, 04 October 2018