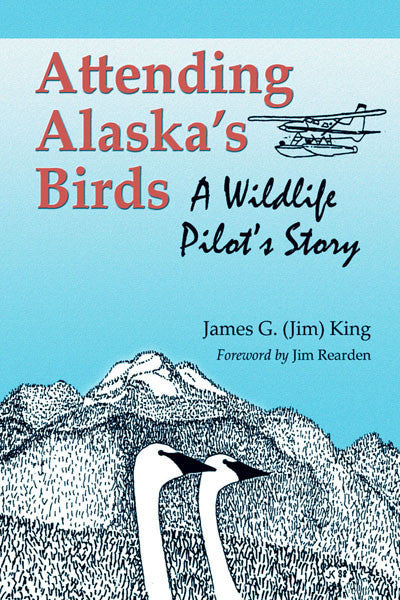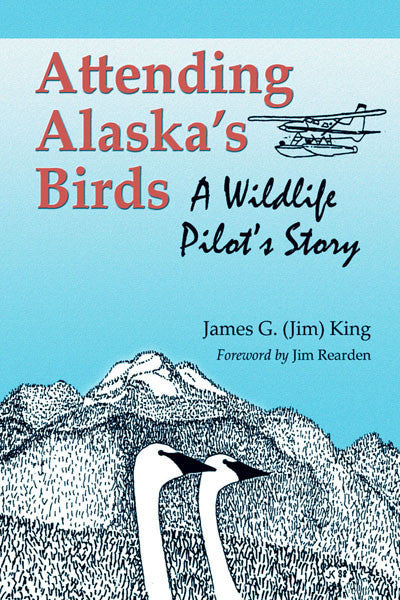 Attending Alaska's Birds: a wildlife pilot's story
By: King, James G.
ISBN: 978-0-88839-656-3
Binding: Trade Paper
Size: 1" X 7"
Pages: 480
Photos: 201
Illustrations: 23
Publication Date: 2010
PR Highlights: New 2nd edition contains additional updates

Description: Attending Alaska's Birds, author King's 60 year memoir, covers a dramatic period in Alaska's history, a time when the people increased five-fold to over 600 thousand. King arrived in Alaska in 1949 at the age of 21. He describes life as a pilot/game warden, a refuge manager, a flyway biologist and an expert at enumerating birds while whizzing over them in a small plane. Over the past half century, James G. (Jim) King has probably been involved in more significant conservation actions than any other single Alaskan wildlife scientist. Many of the adventures he recounts in this volume are based on his participation in the selection of millions of acres of new wildlife refuges that came with the 1980 Alaska National Interest Lands Conservation Act (ANILCA). His years of flying waterfowl counts had made him familiar with the state's most productive wildlife areas. That knowledge, supported by his field reports and notes, proved invaluable in the selection of land for wildlife refuges. Attending Alaska's Birds is an exciting cornucopia of solid and fascinating biological and historical facts. It modestly describes, in first person, King's Alaska career as a scientist whose life has been dedicated to the well-being of Alaska's wildlife, especially its birds. King's studies helped to determine that Alaska is home, at least during part of each year, to 100 million seabirds, 70 million shorebirds, and 12 million waterfowl. Jim didn't count each bird, but he certainly counted his share in something like 6,000 hours of peering at them out of low flying airplanes, most of which he personally piloted. Attending Alaska's Birds is not only an exciting and interesting read, but it is the story of an outstanding man of accomplishment, and it provides an intimate look at historical actions that brought great changes to Alaska during the last half of the 20th century. It will become an important part of the literature of Alaska.
Book Reviews
Dr. Kevin Winker
University of Alaska
Friends Of Ornithology Newsletter
Number 6
November 2009

Jim King, a Patron of the Friends of Ornithology, has written a wonderful account of his career in Alaska, which began in 1949. Attending Alaska's Birds: A Wildlife Pilot's Story is a very enjoyable firsthand account of the beginning and coming of age of bird study and management in Alaska. It is fascinating - both entertaining and educational - and I recommend it to everyone with an interest in Alaska's birds and in the history of bird management in the state.

Review in British Birds
June 2010
Dr. W.R.P. Bourne

Jim King's beautifully written autobiography is an astonishing, comprehensive account of wildlife and its conservation in Alaska, including 100 million seabirds, 70 million shorebirds and 12 million waterfowl, of which previously unrecognised numbers disperse to 45 US States, eight Canadian provinces and territories, Russia, nine Hispanic countries and Australasia. He personally counted a good many of them during some 9,000 hours in the air, often while piloting his aircraft single-handed at low levels.

Jim King learnt to fly for fun while in the US Marines and continued this passion with the Alaska Game Commission. In the course of his account he provides a splendid description and history of Alaska and its wildlife. The only way to get around this vast country easily was by light aircraft, on wheels, floats and skis; aircraft were used to, among other things, drive up to 10,000 moulting ducks a day into traps to ring them, revealing that Alaska is one of the main sources of the wildfowl shot all over North America and putting a stop to a proposal to a dam for a hydroelectric project in one of their main breeding areas.

His style captures the wildlife beautifully: Willow Ptarmigan nest all over the Yukon Delta, but in winter must migrate to the floodplains of the larger rivers where they feed on the buds of the abundant willow bushes sticking up through the snow. Ptarmigan were thick along the Kuskokwim that year. In May after a day or two of thaw cleared the tops of tundra mounds the ptarmigan migrated, all in one day. Wave after wave came by all day long. They were five to 30 feet above the ground, broke formation around our buildings, and headed on. They were a grand sight from my armchair by the window. Enterprising kids patrolled the power lines nearer town and picked up sacks of unfortunate birds that had hit the wires. Next day there was a strutting, crowing ptarmigan cock on every tundra mound across the refuge. (And people say that this a race of Red Grouse Lagopus lagopus.)