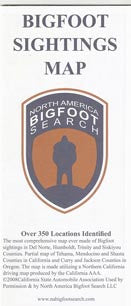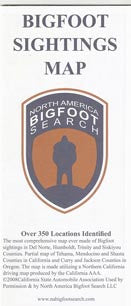 By: North America Bigfoot Search
ISBN:
Binding:
Size: 24" X 36"
Pages: 0
Photos: 0
Illustrations: 0
Publication Date: 2008
PR Highlights: The most comprehensive map ever made
PHOTO Highlights: 1-2 sentence description of each incident

Description: There is probably not one single source document in the world that has as much information about so many sightings/encounters as this map has documented.
Author Biography:

North America Bigfoot Search (NABS) is a privately funded organization that had its start in Silicon Valley, California. A small group of technology executives had prior incidents in the woods of Northern California and dedicated funds for the research and investigation of the Biped. One significant difference between NABS and every other Bigfoot organization is their dedication to stay on a regional project until every possible angle of every sighting has been researched, witnesses interviewed, locations and food sources understood, and an extensive list of variables answered. Their organization will stay in a community sometimes for months/Years and thereby develop the trust, integrity and contacts to make their research valuable and enlightening. The organization is interested in all regions of North America and can have a researcher dispatched to a specific area in your state in hours. They do appreciate information on any Bigfoot sighting anywhere in the world. Their researchers and investigators have extensive experience in their specific field and may have knowledge about your area that is unique. Their ability to keep a researcher on site to develop that unique knowledge has assisted our organization in developing advanced techniques in gathering information.

Their ability to communicate and align with all facets of government, business, academics and various levels of society make their field personnel an unusual commodity in Bigfoot circles. The researchers they field may be from any one of a variety of academic backgrounds, private industry and university adjunct positions. They take pride in being professional, discrete and open to all ideas and feedback.

www.nabigfootsearch.com
Wildlife Canada
Can you put it on line , so we can print our own?