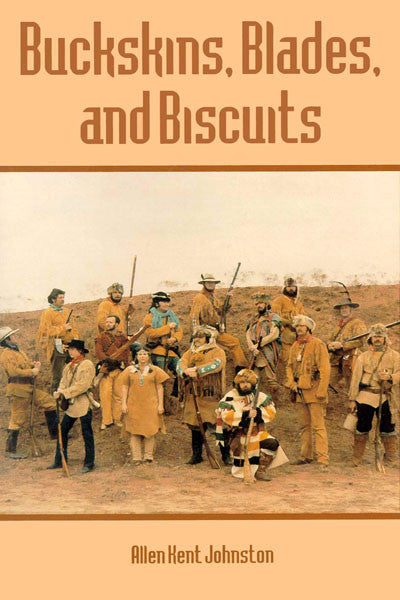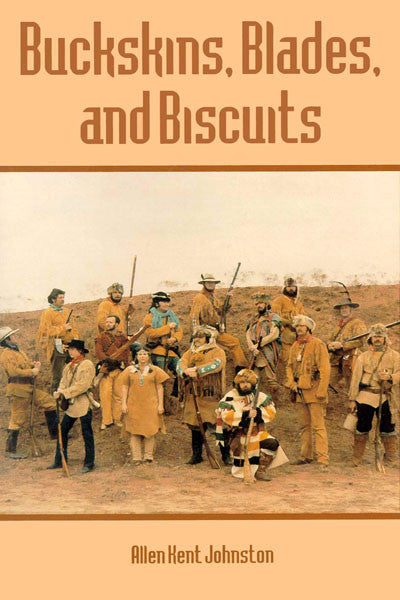 Buckskins, Blades and Biscuits
By: Johnston, Allen Kent
ISBN: 0-88839-363-6
Binding: Trade Paper
Size: 8.5" X 5.5"
Pages: 176
Photos: 94
Illustrations: 0
Publication Date: 1995
PR Highlights: Clothing & accoutrements of the American frontier.
PHOTO Highlights: 50 b/w line drawings & 16 page color photo section

Description: This is a sketchbook of design and comment, detailing how to make accoutrements and clothing of the American Frontier from 1700 - 1850. The book is complimented with sketches and many pictures to accent detail and illustrate the various pieces.The author weaves historical information in with the "how tos" for creating costumes. The book is complemented with sketches and many pictures to accent detail and illustrate the various pieces. The food section starts with basics of fire building and coaches the reader on through an abundance of recipes from pumpkin shortbread and pemmican to turtle soup, and jerky - campfire/homefire cuisine at its finest. If you are interested in history, humor, outdoor life, and good food you will truly enjoy Allen Kent Johnston's wit and knowledge as he guides you through some of the finer points of pioneer life. This book is a collection of accoutrements or accessories to the historical costume, shooting equipment, and personal items for the rendezvous trade or blanket shoot. This book is not a catalog, there is no merchandise to sell. Rather the author hopes to share some ideas, experiences, and hours of pleasure-filled relaxation with you. The time frame of this collection of accouterments is generally the century-and-a-half from 1700 to 1850. When using this book, try to think and be like the hunter, trapper, or pioneer. Play the role to its fullest. Make your own tools. Do as much as possible by hand and adapt crude or raw materials to your projects. Be aware of the trials and hardships faced by the people of the times. By making an item of wood, horn, bone, or hide, your are actually recreating a moment in the history of your nation. The finished product, not only reflects your labor and pride, but becomes a small monument to the people who carved this country out of wilderness, your fore-bearers.
Author Biography:

Allen Kent Johnston passed away on October 9, 1993. He was an avid outdoorsman and took part in scouting, shooting and hunting. Mr. Johnston was a skilled leather and woodworking craftsman. He was also a keen armchair historian. According to his wife Phylis, Kent's only comment to the reader would be Enjoy.