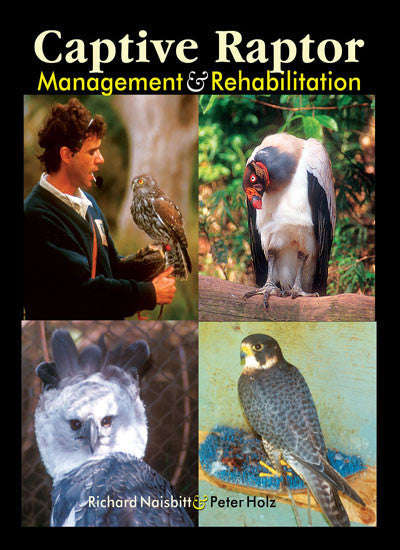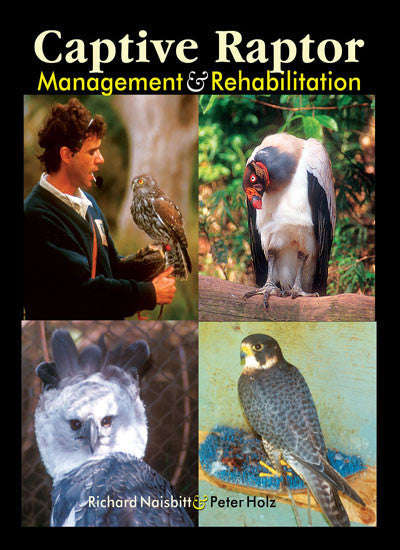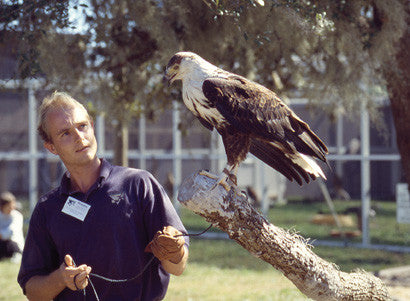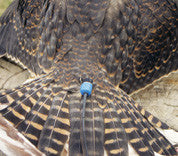 Captive Raptor Management & Rehabilitation
Details
By: Naisbitt, Richard, Holz, Peter DVM
ISBN: 0-88839-490-X
Binding: Trade Cloth
Size: 11" X 8.5"
Pages: 176
Photos: 118
Illustrations: 85
Publication Date: 2004
Description
PR Highlights: Care and rehab of injured or starving raptors
PHOTO Highlights: Generously illustrated with over 100 color photos
Sample Chapter

Description: This book covers every aspect of the care and rehabilitation of injured or starving raptors, from the initial assessment of the bird's conditioning, training and release. Captive Raptor Management & Rehabilitation is an international perspective by the worlds leading rehabilitators, zoo curators and falconers on how to hold, medicate, train for hunting and condition for release, the world's raptors. This book covers every aspect of the care and rehabilitation of injured or starving raptors, from the initial assessment of the bird's conditioning, training and release. An indispensable reference for every rehabilitator, falconer, zoo keeper, or aviculturist working with hawks, falcons, eagles, vultures, or owls. Combines the authors' years of experience with the latest scientific data worldwide. This title is generously illustrated throughout with 85 detailed line drawings, and includes over 100 color photos in a 16-page photo section covering such topics as molting and imping, hooded birds, raptor habitat and nesting, flight pens, care of feet and talons, perches and veterinary insights.
Author Biography
Author Biographies:

Richard Naisbitt was born in Zimbabwe and developed a passion for raptors from an early age. He worked as a safari guide in the Zambezi valley for 10 years and then as a wildlife officer for the Zimbabwe government. He moved to Australia in 1990 and began a career as a presenter in a free flight raptor display at the famous Healesville Sanctuary.
In his career he has actively flown 31 species of raptor and rehabilitated close to 400 individuals. He has a passion for predators and what makes them vulnerable. In his rehabilitation work he has radio tracked 210 raptors amounting to a staggering 2000 hours of post release monitoring.
Peter Holz graduated from the University of Melbourne in 1987, spent time in private practice and moved on to working at Whipsnade Wild Animal Park in the UK, before undertaking a three-year residency in zoo and wild animal medicine and pathology at the University of Guelph and Toronto Zoo in Canada in 1994. Since returning to Australia, Peter has been working at Healesville Sanctuary. He also became a Diplomat of the American College of Zoological Medicine in 1995, and a member of the Australian College of Veterinary Scientists in 1996. He has developed a strong interest in raptor medicine, particularly orthopedics, with a view to improving current rehabilitation techniques and survival of birds post release. Peter is currently married with two children, and they are diligently watched over by a pair of wedge-tailed eagles.
Book Reviews
Book Reviews:
Nicholas Gould
International Zoo News
Vol. 53/2 (no. 347) 2006


Richard Naisbitt and Peter Holz both have a wide hands-on experience of working with raptors, in particular at Healesville Sanctuary in Australia, whose bird-of-prey displays have an international reputation. In Captive Raptor Management and Rehabilitation they present an authoritative reference work on keeping these birds - Their training, housing, diet and medical care. Many injured wild raptors end up in zoos, so the chapters on their treatment, rehabilitation, release and post-release monitoring meet a real need. The book is comprehensive, well-presented and lavishly illustrated.


The Midwest Book Review
January 2005

As predatory birds, raptors a a critically important part of avian ecosystems. The collaboration of experienced and seasoned raptor experts Richard Naisbitt and Peter Holz, Captive Raptor: Management And Rehabilitation is a critically important reference work on the treatment and release of injured wild and captive raptors. Comprehensive and thoroughly reader friendly, Captive Raptor covers the general care of raptors, raptor diets, raptor medicine, raptor aviaries, raptor behavior and training, the release of rehabilitated raptors, and monitoring released raptors. Enhanced with a wealth of useful tables, graphs and drawings on the successful methods of treating and caring for captive raptors, as well as a profusion of full color photographs throughout, Captive Raptors is an invaluable and necessary addition to personal and professional raptor management training and reference collections.