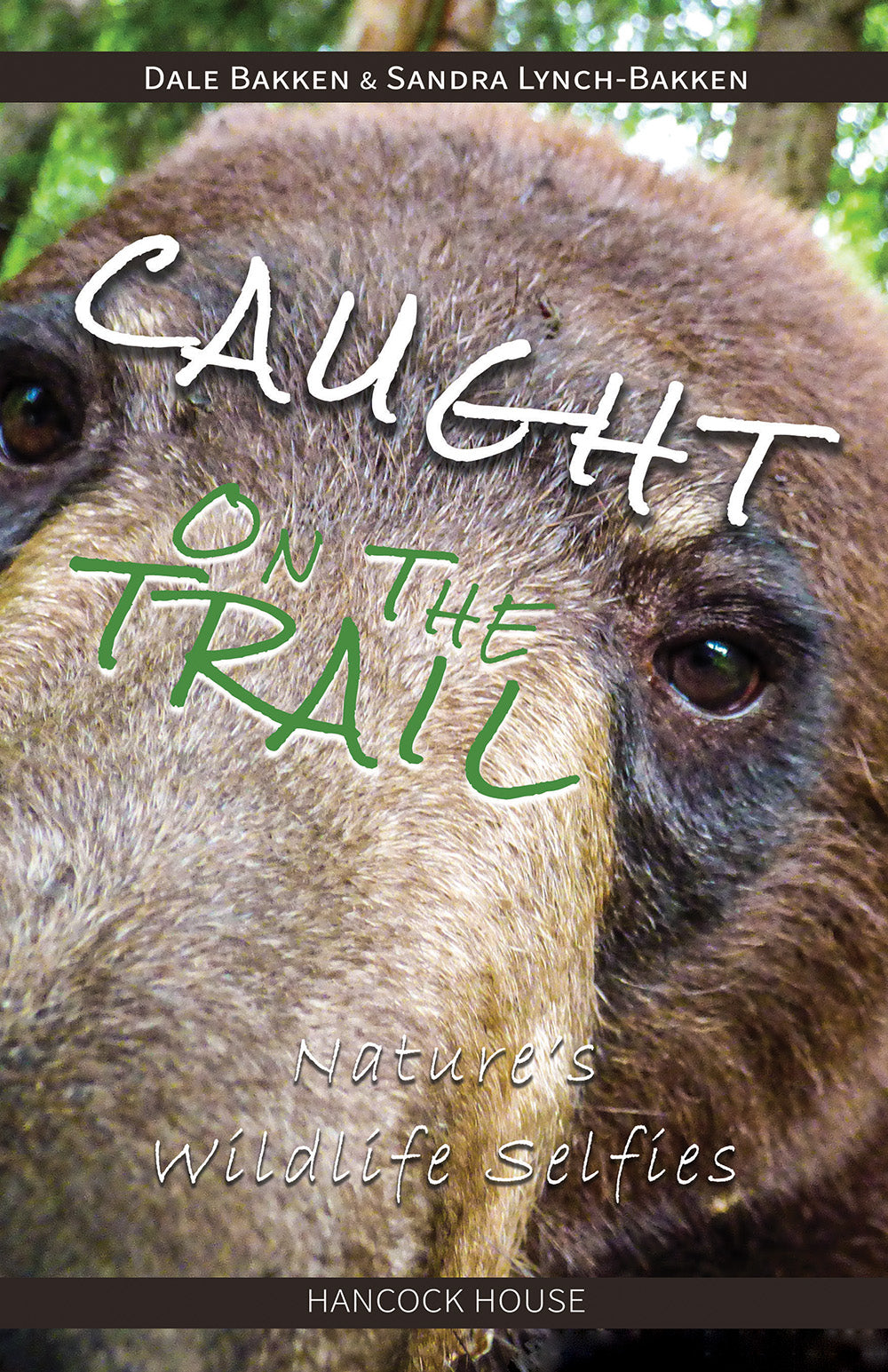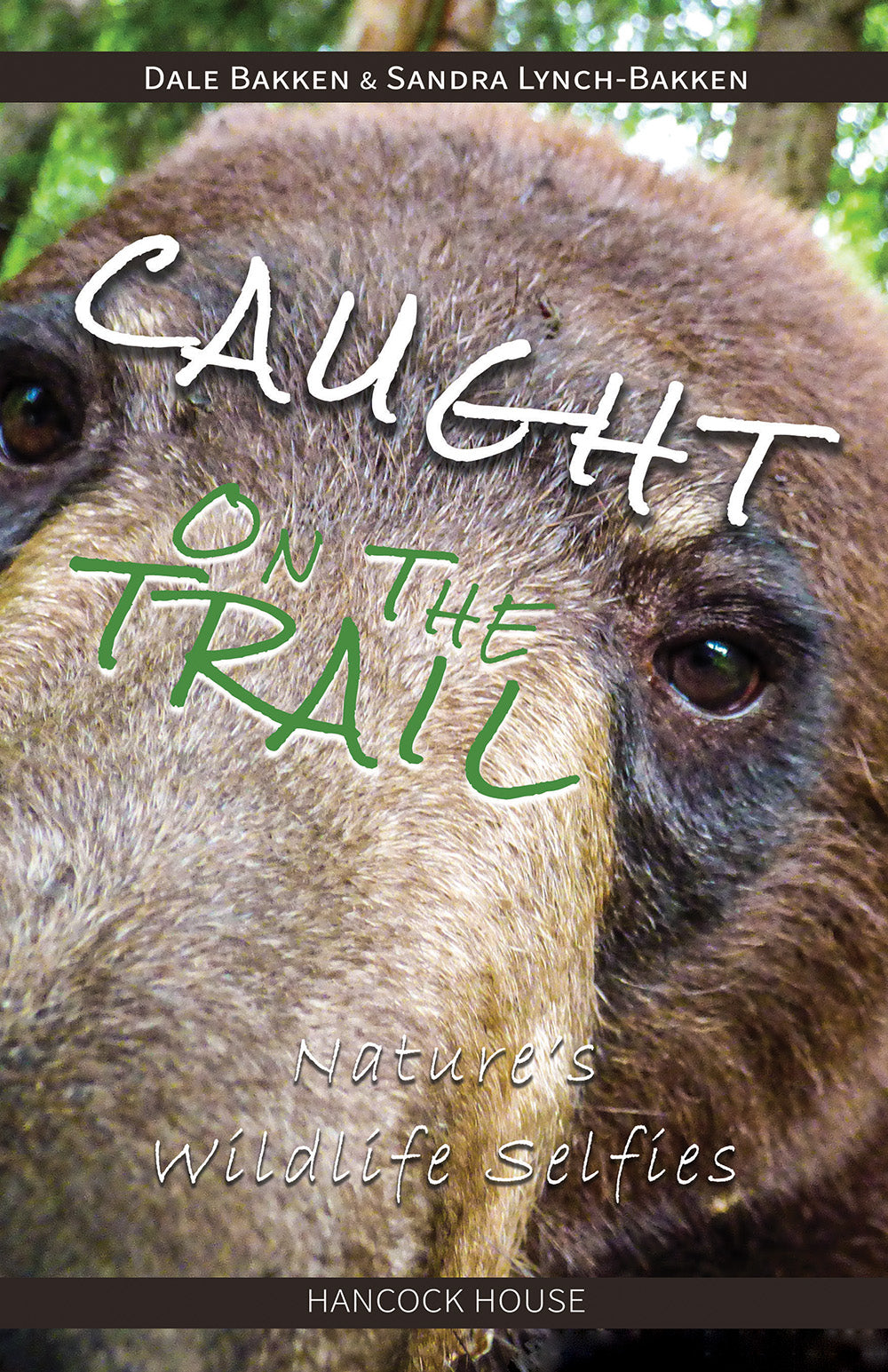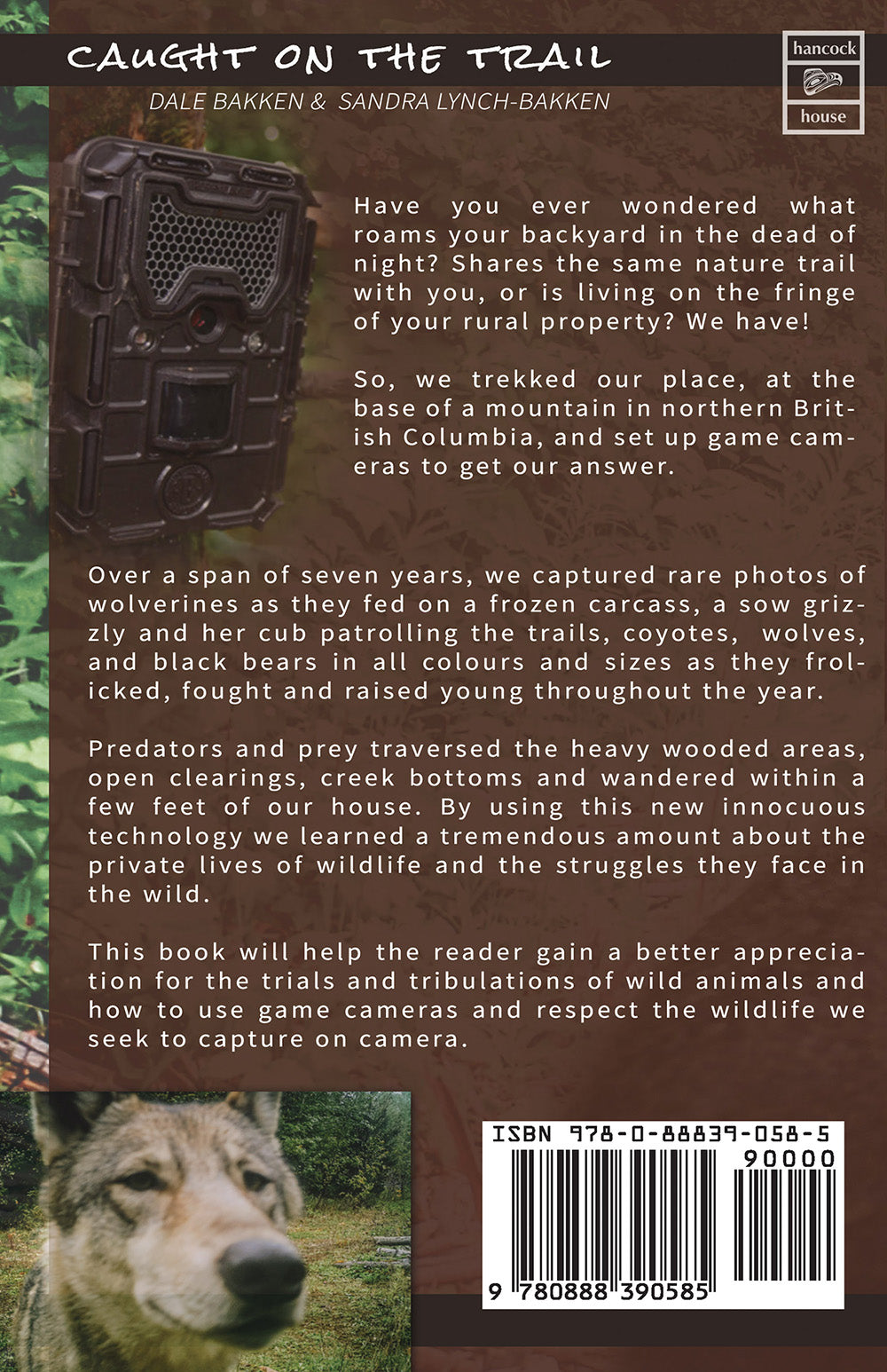 Caught on the Trail- Nature's Wildlife Selfies
Details
By: Dale & Sandra-Lynch Bakken
ISBN: 978-0-88839-058-5 [trade paperback]
ISBN: 978-0-88839-263-3 [epub]
Binding: Trade Paper
Size: 6" X 9"
Pages: 160
Photos: 132
Illustrations: 35
Publication Date: April 2020
Description
Have you ever wondered what roams your backyard in the dead of night? Shares the same nature trail with you, or is living on the fringe of your rural property?
We have. So, we trekked our property, at the base of a mountain in northern British Columbia, and set up game cameras to get our answer! Over a span of seven years, we captured rare photos of wolverines as they fed on a frozen carcass, a sow grizzly and her cub patrolling the trails, coyotes,  wolves, and black bears in all colours and sizes as they frolicked, fought and raised young throughout the year.
Predators and prey traversed the heavy wooded areas, open clearings, creek bottoms and wandered within a few feet of our house. By using this new innocuous technology we learned a tremendous amount about the private lives of wildlife and the struggles they face in the wild.
This book will help the reader gain a better appreciation for the trials and tribulations of wild animals and how to use game cameras and respect the wildlife we seek to capture on camera.
Author Biography
Dale's career began decades ago at the Alberta Humane Society in the late 70s. From there his devotion to animals led him into the field of zookeeper and eventually to that of Zoo Director. His life's work took him through a twenty-eight year journey in six separate facilities. It has now brought him full circle back to the SPCA. Only this time it's as a Special Provincial Constable in the Cruelty Investigation Department with the British Columbia branch. Throughout his zoo years he had an unwavering commitment to the various species within his care which undoubtedly enhanced their lives. His on-hands practices and the writing of scientific papers on proper husbandry requirements and successful propagation of rare and endangered species contributed to a better quality of life for them then and beyond. His knowledge of fauna both captive and wild is extensive. But it is his self-appointed obligation to wildlife's welfare that brought about the use of a trail camera. The means by which least impacts fauna was paramount for him while still extracting information on how they survive day to day. Dale's believe is steadfast - only through knowledge can we hope to salvage and preserve what is left of our fragmented ecosystems.
Sandra's career has mirrored that of her husband's. She too worked for the BC SPCA, but the majority of her working years were as a zookeeper then a zoo Curator. During those decades any spare time was allocated for travel – the northern tundra to photograph polar bears, the African savannah to photograph everything, the pack ice to study harp seals and the Amazon to study reptiles. Animals are an intrinsic element to her life. Writing about what she experienced became her new passion and a natural progression. And so this is Sandra's third book. Alone Within the Pack, by Finney Company was her initial book, and Reuben, the Savage Prisoner by Friesen Press her second. She is currently working on a fourth book about grizzly bears.
Book Reviews