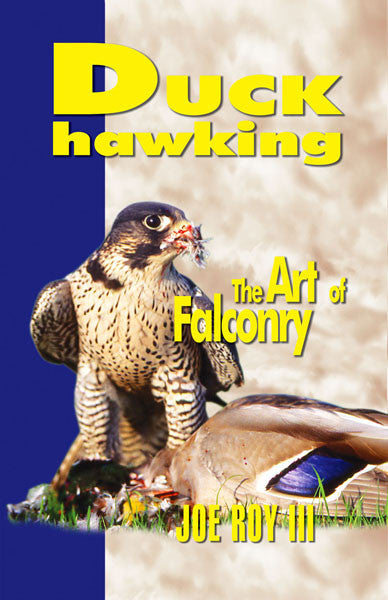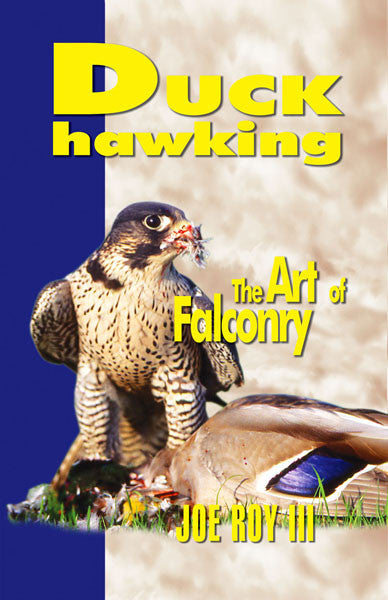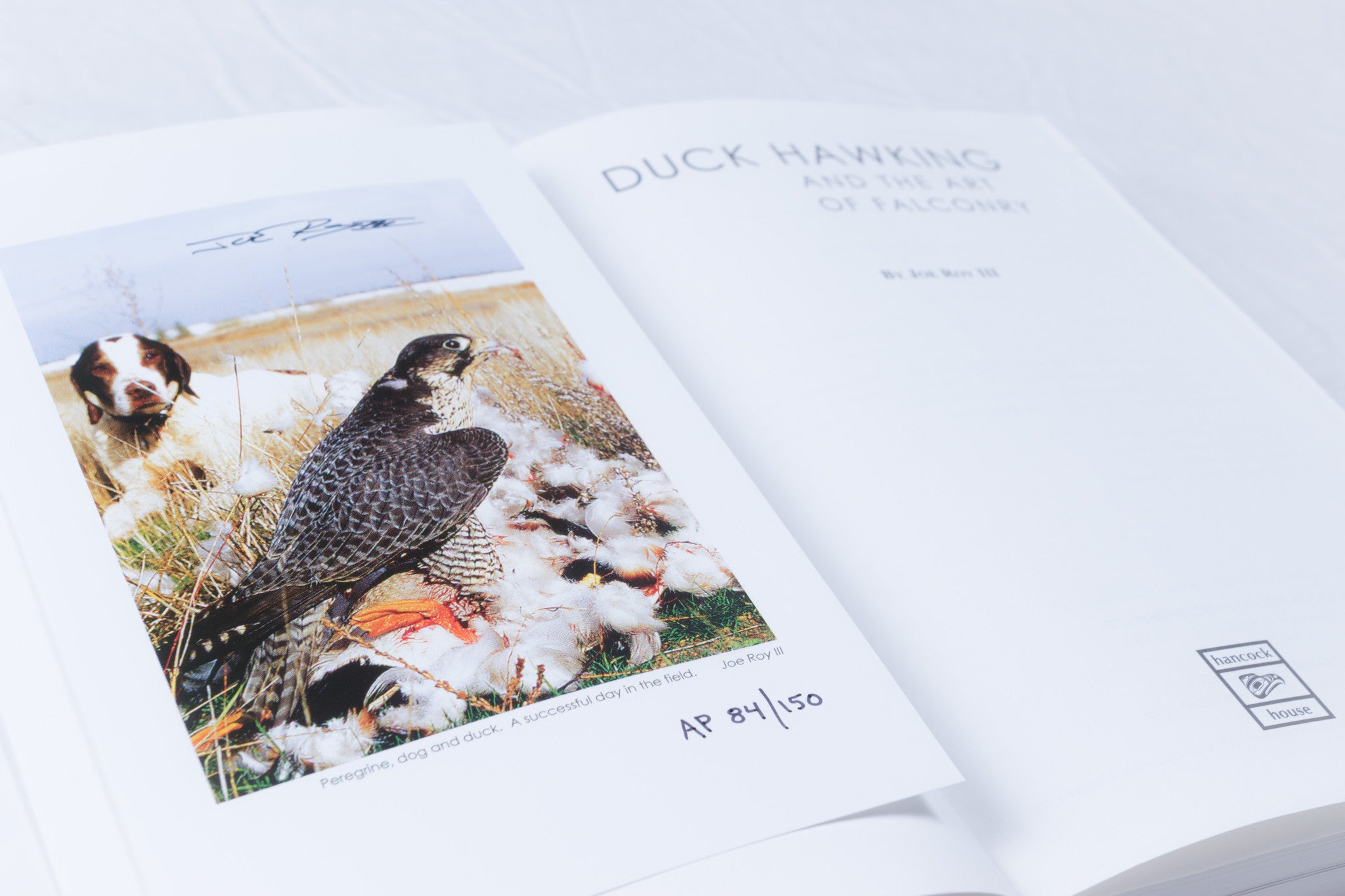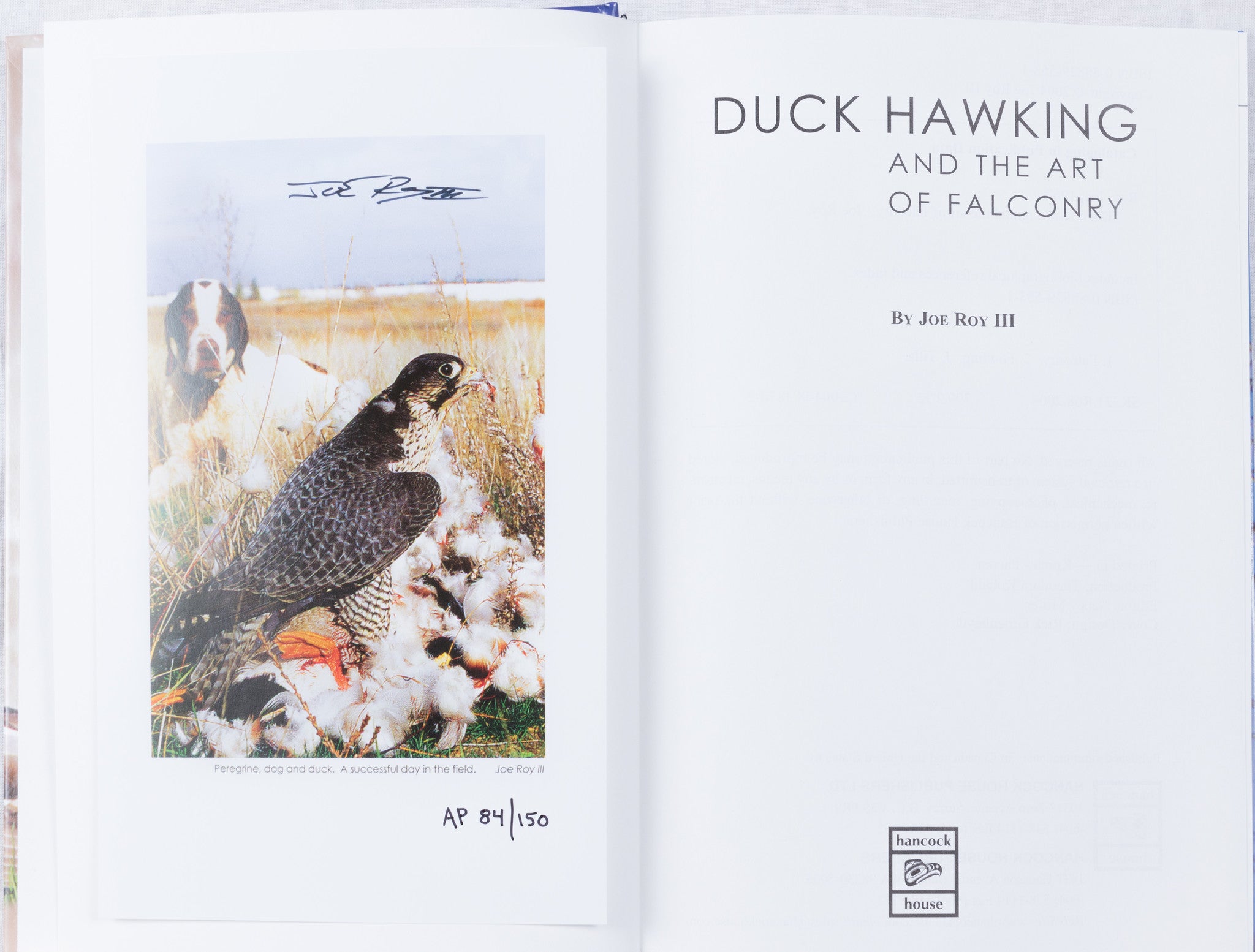 Duck Hawking: the art of falconry
Details
By: Roy, Joe III
ISBN: 0-88839-553-1
Binding: Trade Cloth
Size: 8.5" X 5.5"
Pages: 320
Photos: 75
Illustrations: 0
Publication Date: 2004
Description
PR Highlights: 1000 signed & numbered copies in the Limited Edition Hardcover.
PHOTO Highlights: 32 pages of color photos and illustrations
Limited Edition includes a signed print by the author of only 150 copies.

Description: The hawk feels like a bundle of nerves, head snapping this way and that, muscles contracting with the sound of each snapping twig. At such times, I sense her energy flowing into my hand, up my arm and into my core. Engulfed in the moment, I am no longer an onlooker; I become a predator - the hawk and I hunting as one. When at last a duck suddenly erupts from cover, my body responds with a burst of adrenaline as the hawk explodes of my fist. In that instant, my heart leaps and my spirit flies with the hawk as she fulfills her predatory role. For centuries, people from all walks of life have felt the thrill of hunting with birds of prey. 'Duck Hawking and the Art of Falconry' explores the exhilarating branch of hawking that takes the falconer out to the ponds in pursuit of waterfowl. While duck hawking is a major facet of falconry, it has been highly overlooked in the annals of raptor literature. Author Joe Roy has decades of personal experience with which to create a work devoted to hunting waterfowl with hawks and falcons. This singularly comprehensive treatise celebrates the art of duck hawking. Writing in an entertaining, narrative style, the author presents personal anecdotes to proffer examples and illustrate meaning. Within the pages lie a wealth of practical information covering such topics as training techniques, slip selections, use of thermals, working with hunting dogs, weight management and flight orchestration. Full of stunning photographs, this volume is destined to become the duck hawker's ultimate handbook.
Author Biography
Joe Roy has had a passion for falcons and hawks since he was a boy. Drawing upon more than three decades of falconry experience, he offers readers his great understanding and broad knowledge of raptors. Currently working as a professional bird trainer, Joe also spends time lecturing across the country promoting the sport and art of falconry.
Book Reviews
By Stephen Bodio
Duck hunting may well be the most popular form of our sport, at least with longwings. So why is it so hard to find out the details of how to do it? For years, this challenging and often spectacular form of the sport has been described off to the side, in short articles and digressions. There are now whole monographs on accipiters! While I love them, I question whether the number of goshawkers comes anywhere near that of those who hawk ducks with falcons. But, at long last, we have a manual on the science of duck hawking by a master falconer (and good storyteller) who has spent a lifetime homing his skills. To say that it is detailed is an understatement. He presents precise descriptions of everything from weight management to choice of dogs. He tells you how to analyze weather, how to select your slips, how to fly on spec, and how to scout your terrain things you would otherwise have to learn by trial and error, with emphasis on the error. I might emphasize the importance of two chapters in particular. The first is on the use of pigeons. Most of us who have been hawking for years know at least something about homing pigeons, and even have developed a strong interest in pigeons themselves. But because of a certain squeamishness about bagged quarry, hardly anything detailed has been written about the use (not abuse!) of the strong homer. Joe Roy will tell you tricks like using hilltops to produce an even more difficult flight for your falcon, and an ever-better and more accomplished pigeon as well as falcon. He tells you how to read and condition your hawk be selecting easy or difficult pigeons, reminding you: Remember, we are not training with pigeons to educate your falcons on how to catch pigeons, but rather to instill specific behavioral qualities as well as develop fundamental skills. The other absolutely indispensable is the one on Entering. Speaking strictly for myself, I have always found this the trickiest, most important, and potentially the most dangerous (at least to future performance!) part of flying game. As Roy says I would speculate that this is the particular phase of falconry that generates the most frustration for novice and master alike. And for ducks the problems can be multiplied, because of how the duck will use the water, not to mention that many longwings do not find ducks as appealing as they do gallinaceous birds. With Roy's advice, you may still make mistakes, but he has anticipated most of them, and will guide you through the inherent uncertainties. He also gives an ethical and, again, detailed account of how to (and how not to) use bagged game to teach your hawk. You will learn a lot from Joe Roy, even if you are an experienced duck hawker. For that matter you will learn more than you think even if you pursue other quarry, about how to think like and, as he says be the hawk. He gives thought to such often neglected details on how to kill cleanly; he offers a detailed critique of leg vs. tail mounts for transmitters; he even has a chapter on Catch and Release. If there is an issue he hasn't considered, I can't find it. Bu above all, he brings our ancient practice a mixture of reverence for the hawks, quarry, and the whole subtly changing and elusive world we perform in, with the hard-earned knowledge of someone who isn't afraid to go out and do, to make mistakes, to risk it all in order to achieve what he accurately calls art. (As an artist, I'm constantly trying to perfect my art form.) And he remembers what is most important. With such an emotional investment riding on wings and a prayer, sometimes we lost sight of falconry's primary function. Above all else, falconry is a discipline to be enjoyed. In the most fundamental of ways, the most successful falconers are those who find the most pleasure in whatever falconry they choose to experience.
Read Joy Roy, and learn from him. Then take your hawk out and go and do likewise.