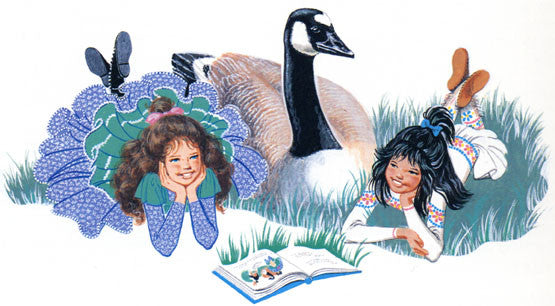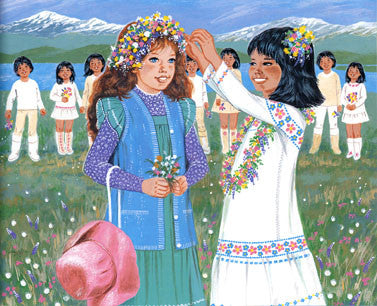 Emily, Moonshine and Sister Goose
Details
By: Lansonius, Suzanne
ISBN: 0-88839-403-9
Binding: Trade Cloth
Size: 8.5" X 11"
Pages: 32
Photos: 0
Illustrations: 20
Publication Date: 1997
Description
PR Highlights: The Friendship and Adventures of 2 Girls & A Goose
PHOTO Highlights: Full color drawings throughout.

Description: A beautiful, illustrated children's book. Follow Emily as she flies to a Northern village on the back of Sister Goose to visit her friend Moonshine. A fantasy-adventure tale to be enjoyed by the whole family. A beautiful and informative introduction to northern wildlife.
Author Biography
Susan Lansonius is an author and professional illustrator.

She has illustrated: The Story of Eagle and Spirit of Pow Wow both by Hancock House.

Susanne Lansonius had her first illustrations published in the Girl Scout magazine when she was twelve years old. Since then her drawings and paintings have appeared in many galleries, and have been published in countless books, magazines, and newspapers. After graduating from the Budapest University of Fine Arts with a degree in painting, she moved to Sweden where she continued to participate in numerous workshops and courses at the Stockholm University and local colleges. As a full time artist, her work included portrait painting, theater costume design, book and magazine illustration, and commercial illustration. After moving to Canada she continued to paint portraits in oil and pastel, and to work as graphic designer and illustrator for companies such as Evergreen Press, the Vancouver Sun newspaper, and Woodward's and Eaton's department stores, among others. She has taught figure drawing, costume history and design, and commercial illustration, both in Sweden and in Canada.