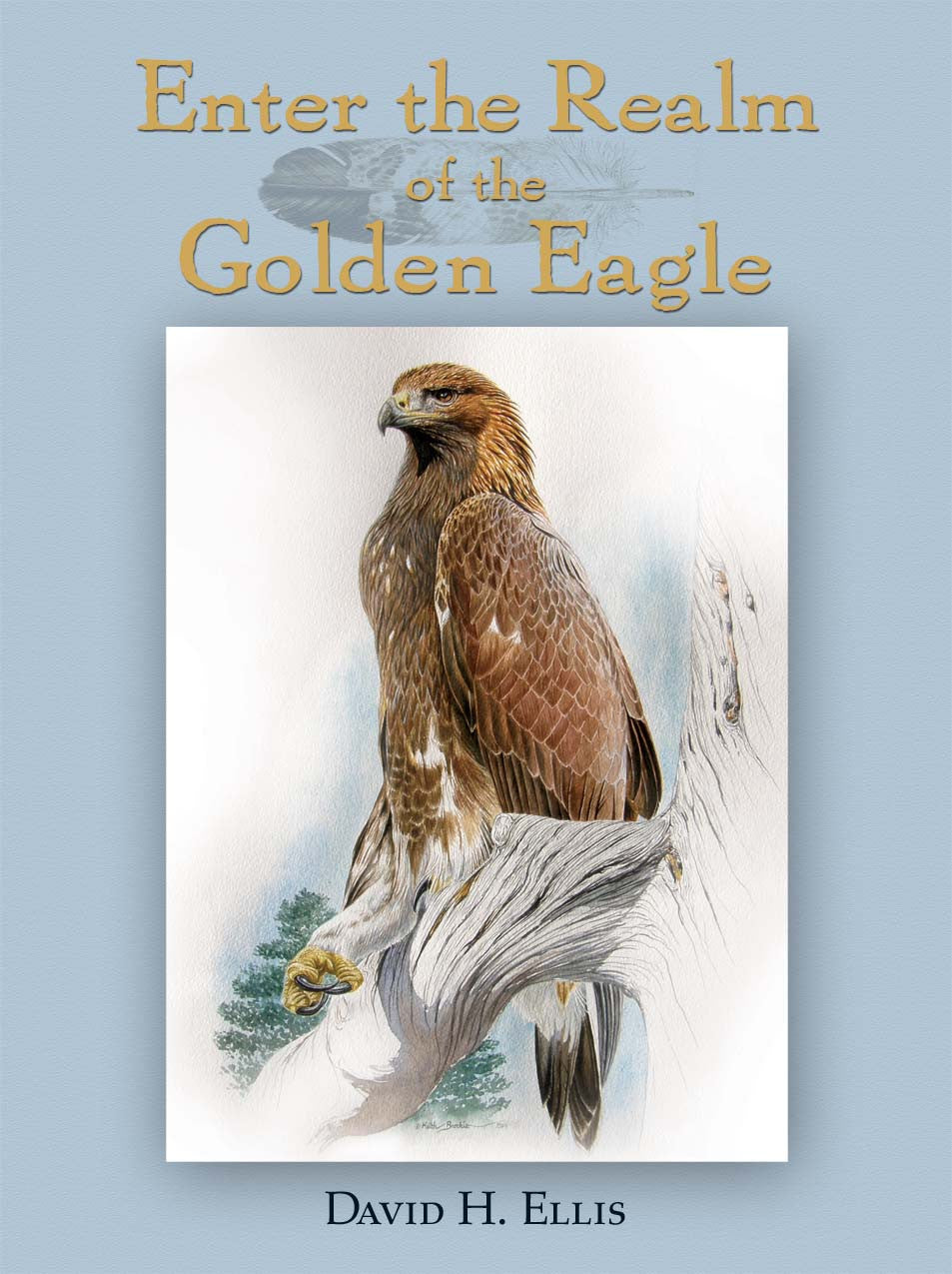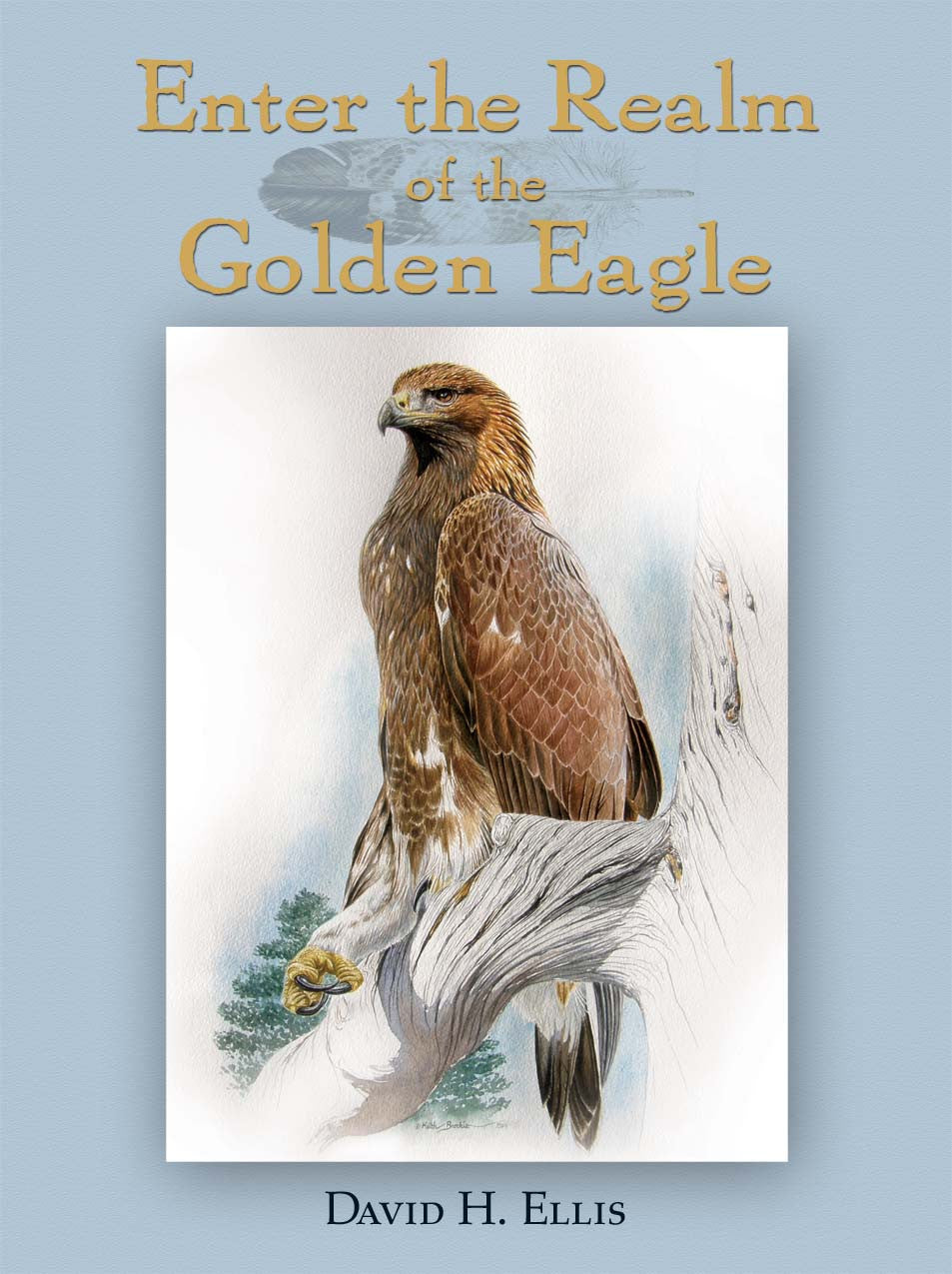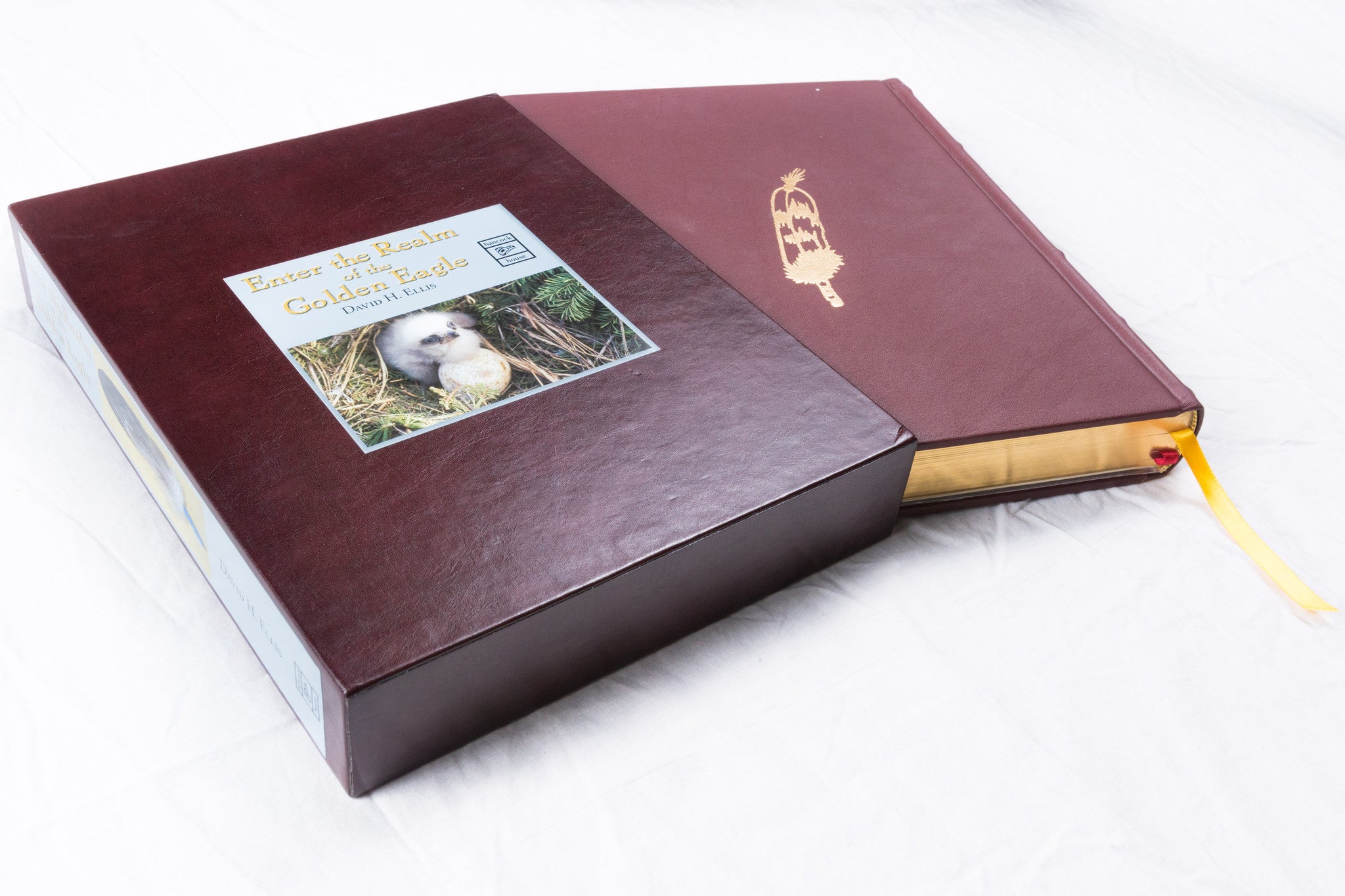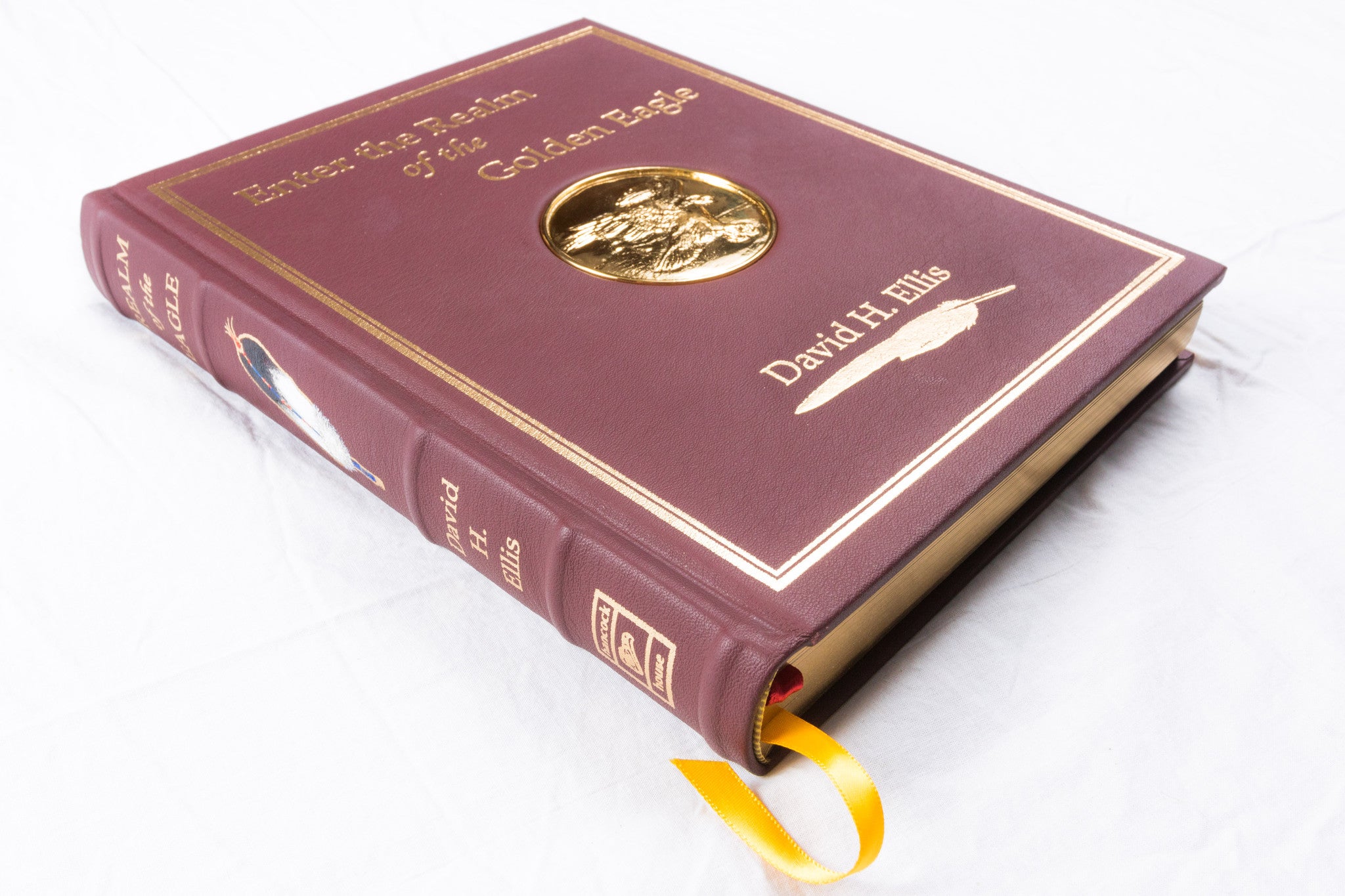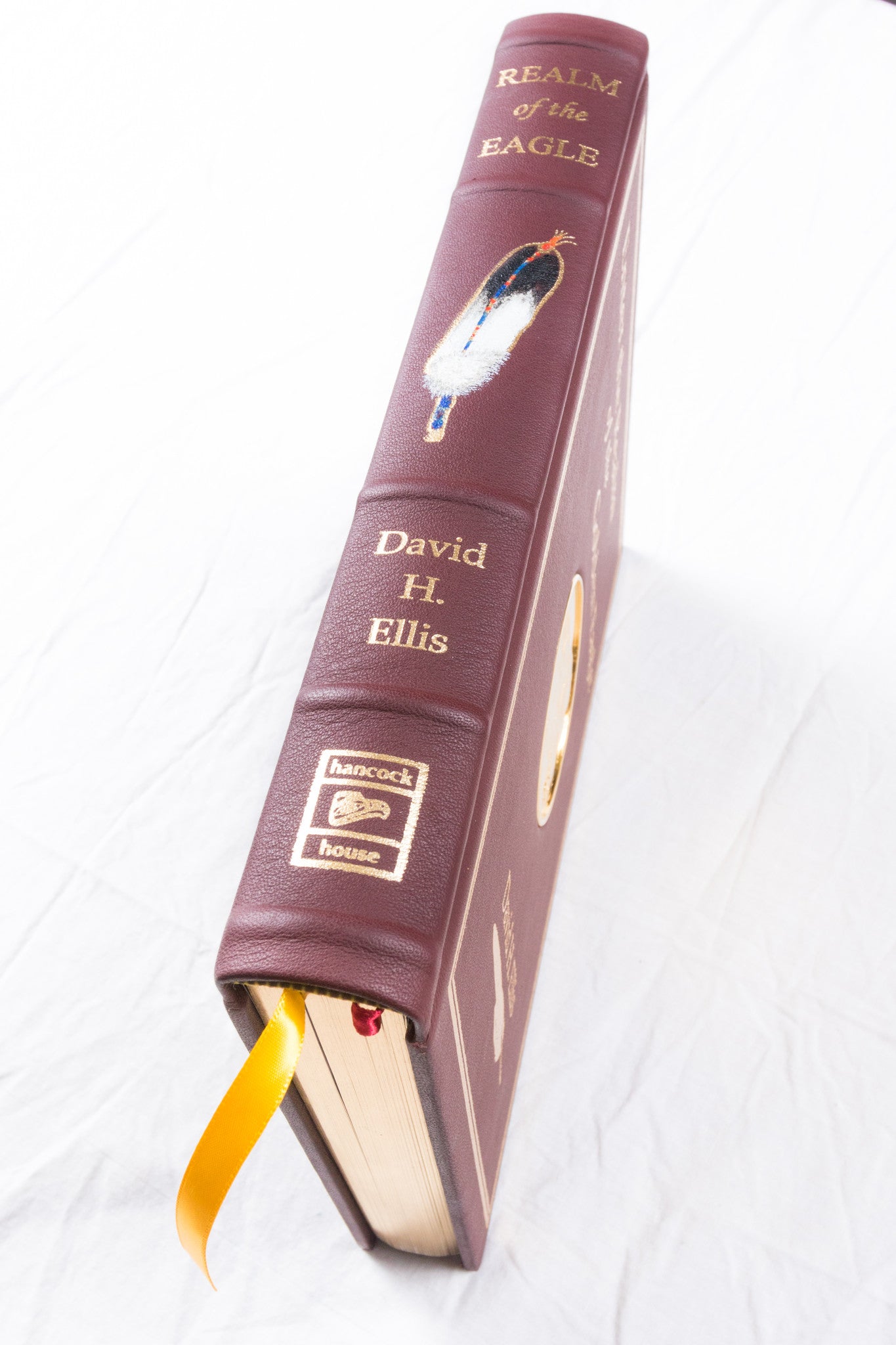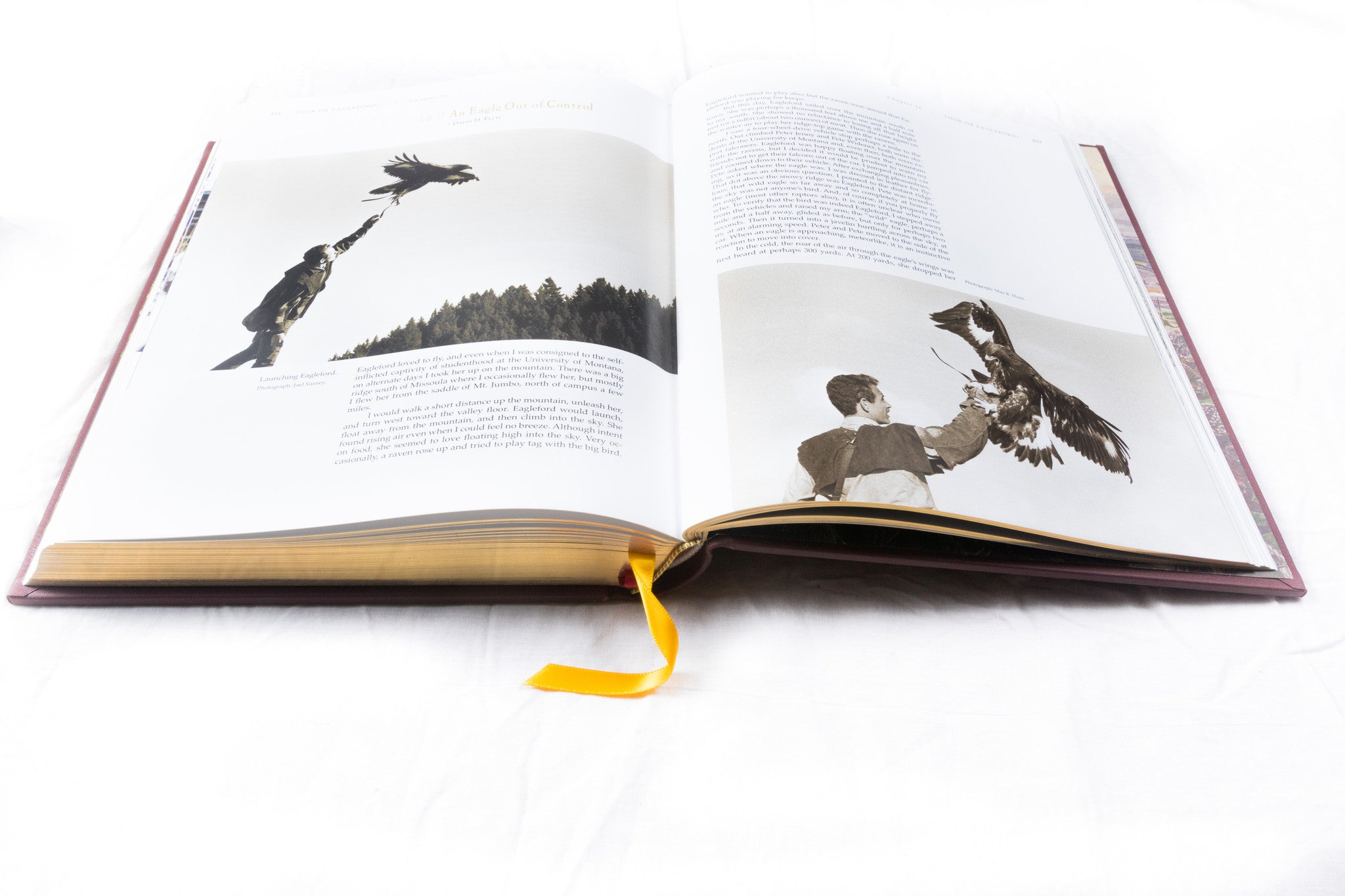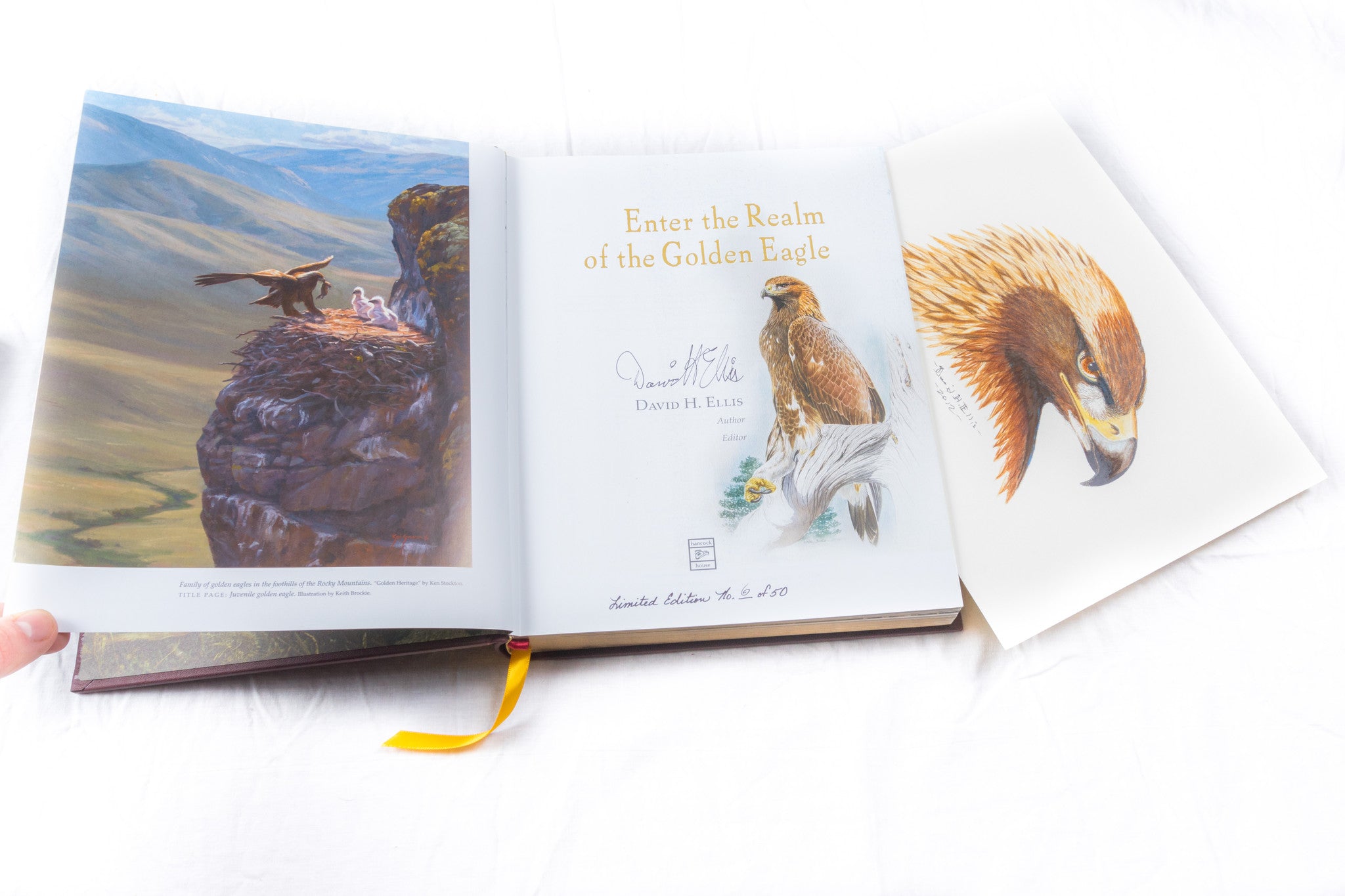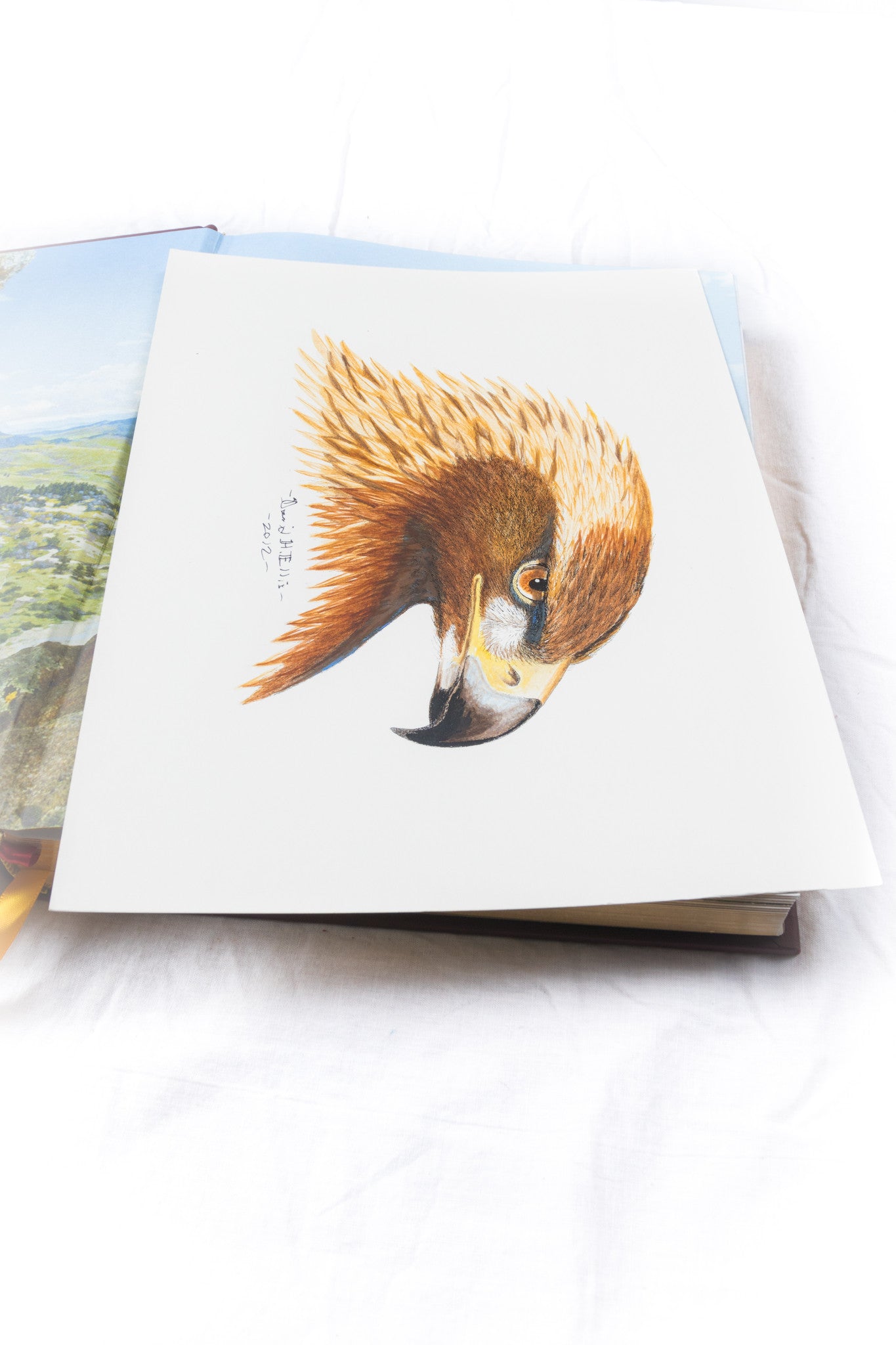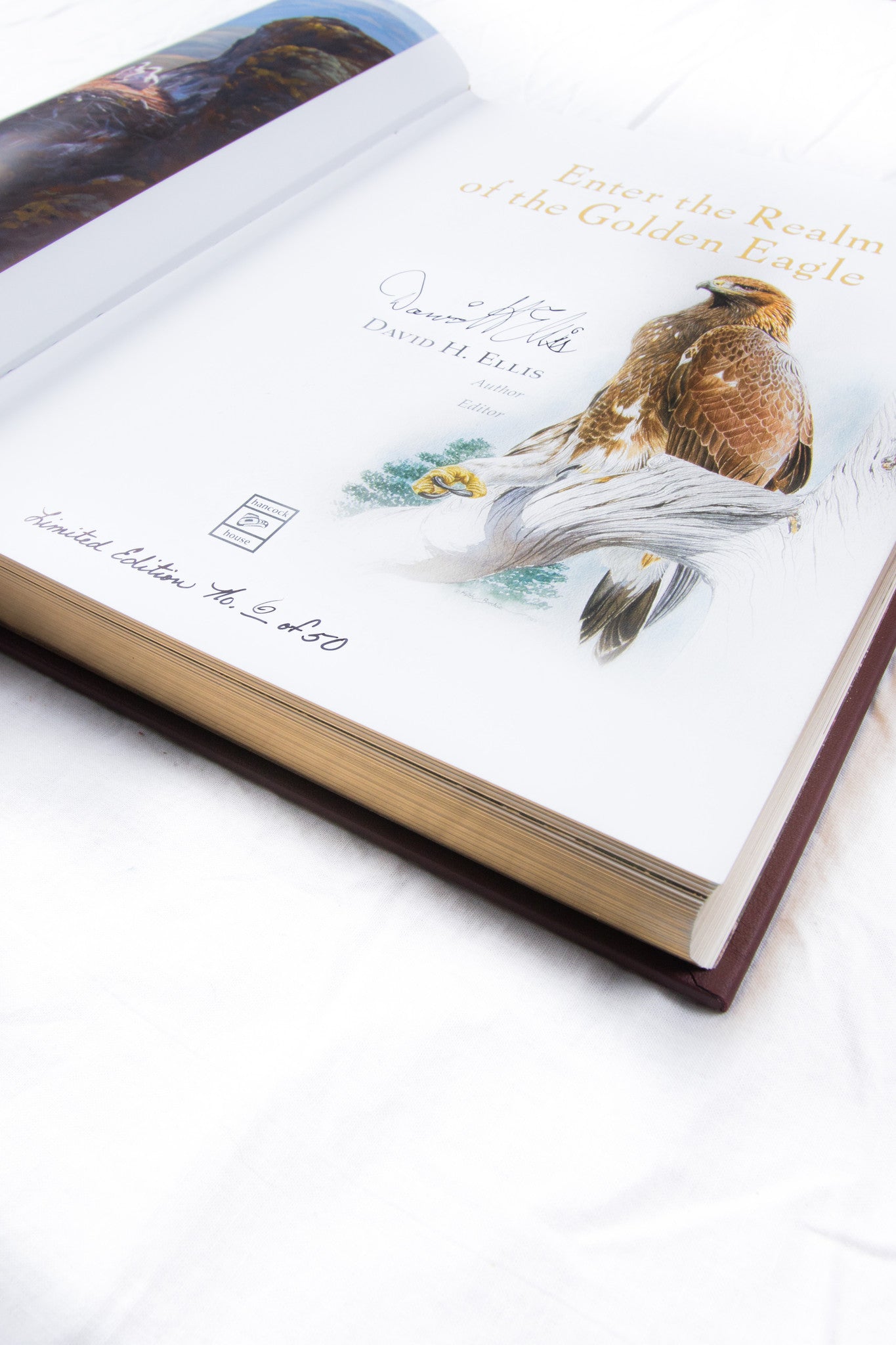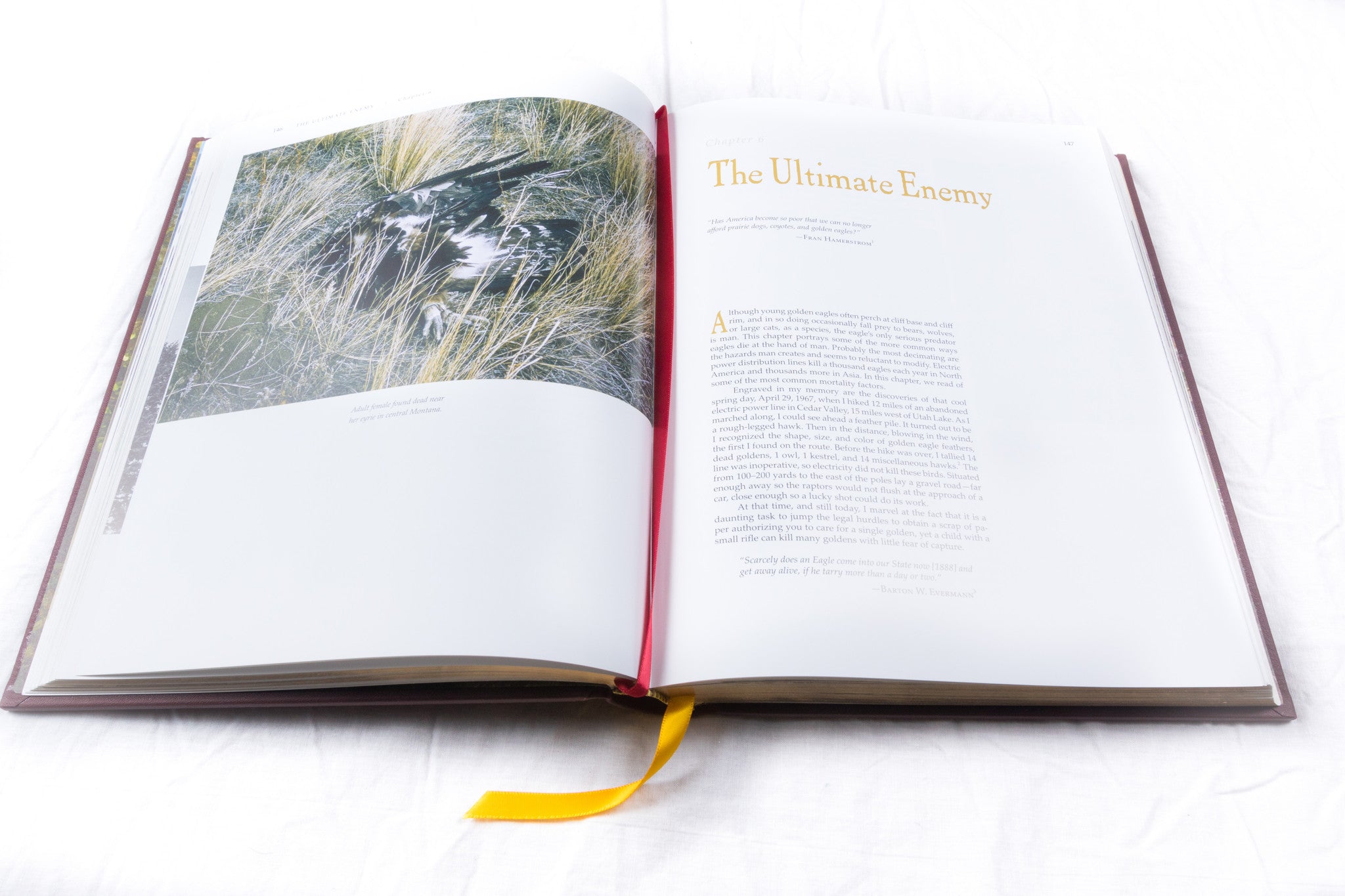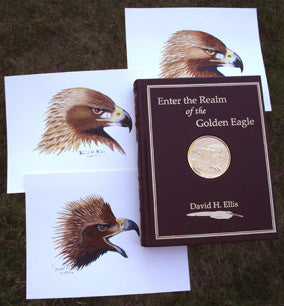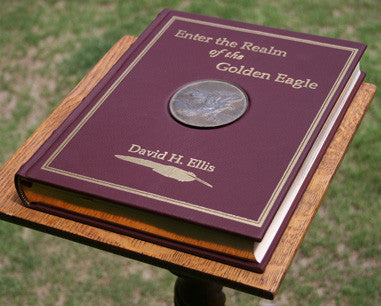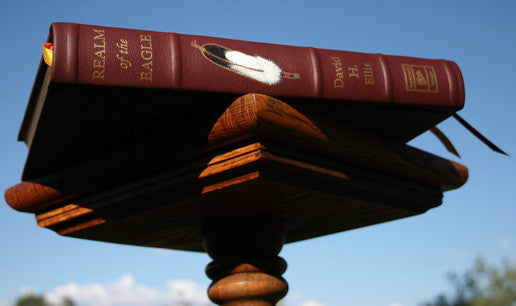 Enter the Realm of the Golden Eagle
Details
By: Ellis, David H.
ISBN-13: 978-0-88839-704-1 [trade HC]
ISBN-13: 978-0-88839-705-8 [lim. ed. leather HC]
Binding: Trade Cloth
Size: 8.5" X 11"
Pages: 496
Photos: 329
Illustrations: 78
Publication Date: 2013
Description
PR Highlights: Lavishly illustrated anthology on golden eagles
PHOTO Highlights: 400+ illustrations & photos

Description: Including 100 accounts from 48 authors and the images from 21 photographers and 15 artists, this book provides both education and contemplation.
Limited Edition: 
The Limited Edition is limited to 50 signed and numbered copies. Each is leather-bound and comes in a slipcase covered with bonded leather. The spine has five hubs (horizontal ridges beneath the leather to simulate the bundles of thread that, in medieval times, were used to sew signatures together). An eagle feather was hand-painted on the spine. An original watercolor painting of an eagle's head accompanies each copy (and is removable for framing). The pages are guilt-edged, and a medallion (of fine zinc plated with copper, then nickel, then gold) of an eagle in flight is embossed into the leather cover of the book. The medallion was sculpted by the noted artist, Mark Rossi, especially for the book. Because the painted feather and the painted eagle head (both by Dr. Ellis), are each unique, each copy is also unique.

With over 400 images by 21 photographers and 15 artists, and more than 100 accounts by 48 authors representing 20 nations, this book will appeal to both the generalist and the academic. It represents 50+ years of gathering images and studying wild eagles and 17 years of composition and collecting accounts. Focusing on teaching everyone to value the eagle, the vast open habitats it needs to survive, and the creatures that share its world, this unique work both celebrates the eagle and attunes readers to the challenges facing this species in the modern world. Along with legendary stories from antiquity, there are chapters on trained eagles hunting large quarry such as gazelle, deer, foxes, wolves, and even man; eagle research; eagle intelligence; and the eagle in the legend and lore of native peoples worldwide, including the acts by North American First Nations people to obtain coup feathers. An additional chapter outlines ways to capture eagles, including the use of helicopters. The book concludes with chapters on three special trained eagles. This book is specially designed to lure readers back into the natural world.
Author Biography
David H. Ellis grew up in eagle country in the Rocky Mountain West and was fascinated by golden eagles from early childhood. His Ph.D. dissertation is a monograph on golden eagle behavior. He has lived in 11 U.S. states and has visited all of them, as well as 50 nations, generally in pursuit of bird (mostly raptor) research. These travels involved work with harpy eagles in Central and South America, bald and golden eagles in Alaska and Canada, and golden eagles in the U.S., Japan, Siberia, and, most of all, Mongolia. His falcon research focused on pallid falcons in Patagonia, saker falcons in Mongolia, and peregrine falcon populations in Arizona. His publications exceed 300 articles, chapters, or books, including three volumes on crane research.
Book Reviews
"The book . . . is so impressive and attractive, I have been excited whenever I turn a page! I could not wait for the next page all the way to the last page. This is the only book to report all aspects of human interactions with the golden eagle. Thank you very much [David] for producing such a wonderful book. . . . It is truly the book for introducing [all people] to the world of the golden eagle." -- Dr. Toru Yamazaki of the Japanese Society for Research of the Golden Eagle
"Your book is absolutely fantastic! We can't put it down! Yes, just amazing!!!" -- Rob Domenech, Executive Director, Raptor View Research Institute
"Wow!!!!! I can only say that it is a monumental achievement in the annals of raptor publications. It look good, feels good, and is good. How you managed to pack in so much to make it such a compendium of fascinating and informative knowledge is simply amazing. "I was honored to be included. The artwork and photographs are excellent. It is a tome to be dipped into and it is going to give me many, many months of enjoyment. You have done the raptor world an immense service." --Peter Steyn, South Africa

"Great photographs and great text, and phenomenal stories of once-only actions by Golden Eagles! David Ellis is the only person in the world who could have done what [he] did--it is ten times longer than I expected. The photos alone are worth the price." -- Stuart Houston, M.D., author of nearly 900 medical or ornithological publications and bander of over 130,000 birds
""This book is an absolute treasure! . . . a stunning and gorgeous book--it happens to be about a spectacular and amazing bird. . . . an amazing mixture of 400+ mostly-unique photos, sketches, and paintings." -- R. Wayne Nelson, Ph.D.
"This book is a wonderous gift to all who love raptors and the wild spaces that support them. It's an 18 year work of love produced by one of the world's foremost experts on the Golden Eagle and will hold you spell bound in adventure after adventure. You need this book. Your children need this book. Our world needs this book." -- Dana Slauson, M.D.

"Enter the Realm of the Golden Eagle is not just a book on the Golden Eagle, but a classic treatise that every raptor specialist will cherish as part of their library. It is very different from any other natural history- book because its foundation is good old-fashioned professional biology written in a beautiful and exciting way that makes it great reading as well as an excellent reference on this noble species. The title not only reflects the species of interest, but also reflects that the reader will enter the world of the Golden Eagle from afar and at close range while seemingly with the author. The book is large format (8.5 X 11) with over 400 mostly color images by 15 artists and 21 photographers. There are 18 chapters starting with The Allure of the Eagle and ending with Lothvar's Gifts. Chapter 1 is available for review at the Hancock House website. The final chapter describes the personal gifts given to Ellis from a long-time captive Golden Eagle, Lothvar, and the sometimes emotional relationship bewtween this eagle and the author. Each chapter has from 3 to 10 subchapters. Discussions include wolf-hunting by eagles, driving huge animals over cliffs, cooperative hunting with coyotes, and how biologists capture eagles by pouncing on them during day and night. Many of the subchapters are written by colleagues of Ellis from many countries, and reflect his world wide exposure to this species, and his relationships with other experts. Ellis writes tributes to some of the pioneers who influenced him, using quotes from their writings. An appendix includes all the scientific names of vertebrates, invertebrates, and plants mentioned in the text. A detailed index provides easy access to the many subjects and persons that will be of value for future reference. Many of the chapters have extensive references for documentation and further study bv the reader. Some o f the chapters deal with details of the eagle as a uniquely predatory bird. The detailed descriptions of three-inch talons digging deeply into wrists and thighs of the human bander or handler might be hard reading for a modern-day couch potato who doesn't look deeper into a predatory bird's lifestyle. Ellis' personal ethics for interacting with wildlife are passed on to the reader in a subtle, but sometimes very direct manner. He mentions John James Audubon's wanton rapaciousness in killing birds and actually eating eagle flesh, but then quickly reminds us how different Audubon's time was from the present, when we have our own serious conservation issues. Ellis is in a class by himself as a student of raptor biology with a lifelong interest in Golden Eagles. His perspective on eagle behavior comes from thousands of hours in blinds i n close proximity to eagle nests. He not only worked professionally in the United States as an eagle biologist, but also travelled the world to study the golden and other eagles on terrain and in conditions that few could endure. Ellis was for many years a crane researcher with the U.S. Fish and Wildlife Service and the U.S. Geological Survey, but managed surreptitiously to use his own captive eagle to incubate and hatch crane eggs. Ellis earned his Ph.D. in Behavioral Ecology at the University of Montana and has over 200 scientific publications on numerous subjects. He is author and/or editor of several books. His wife Cathy was an important partner in the research and publication of this eagle book for the last 17 yrs. Ellis dedicated the book to Cathy and gave special recognition of her contributions in the acknowledgments. Cathy is an author in her own right and has published widely in the scientific and popular literature. This book is a compilation of the personal exploits of Ellis and those of other raptor enthusiasts in many countries, including Scotland, Russia, Mongolia, and Japan. Traditions with eagles in many countries go back thousands of years. Details given in the book open a window to many other areas and help us realize the wide array of fields (e.g., falconry, folklore, mythology, history, etc.) in which eagles, especially Golden Eagles, played important roles. Although Ellis is interested in the past research, he has included in this epic book discussions o f the most recent techniques of behavioral ecology and satellite tracking to study these magnificent raptors. Although the hardbound version sells for $60.00, some may be interested in the deluxe, collector's edition available for $300 plus shipping. This book is limited to 50 signed and numbered copies and includes a leather binding and slipcase. However, it becomes a deluxe edition because (1) the spine has five horizontal ridges beneath the leather, used to simulate the bundles of thread that in medieval times were used to sew signatures together, (2) a hand-painted eagle feather on the spine, (3) the slip-case bound in bonded leather, (4) an original watercolor painting of an eagle's head that accompanies each copy (and is removable for framing), (5) the pages are gilt-edged, and (6) an eagle in flight medallion of fine pewter plated with copper, then nickel, then gold, is embossed into the leather cover of the book. The medallion was sculpted by the noted artist, Mark Rossi, especially for the book. Because of the painted feather and the painted eagle head (both by Dr. Ellis), each numbered copy will be unique. I recommend this book highly to persons fascinated with raptors or in the work of those who professionally study raptors. It is one of the most interesting I have ever read. " -- Matthew C. Perry 1209 Church Road, Mitcheville, MD 20721 U.S.A. J.Raptor Res. 48(4):422-423 2014. The Raptor Research Foundation, Inc. 

"I truly enjoyed reading this book. Its 496 pages offer a unique collection of photographs, artwork, and writings by author David Ellis and nearly 50 others with special knowledge of the Golden Eagle. The list includes well known researchers, falconers, and naturalists from wherever Golden Eagles are found around the world. Reading their stories, I most certainly came away with a deeper understanding of the Golden Eagle: their temperament, intelligence, and capabilities as predator. And I gained new respect for those who study Golden Eagles in the wild as well as those who train them for falconry. David Ellis has done both over the course of his long life and professional career as ornithologist. David shares many great stories of his time with Golden Eagles. Others share theirs as well. David is to be commended for taking on the herculean task of pulling together all of this information into one volume: beautiful artwork, wonderful photographs, and inspiring and informative writings." -- Dan Varland Published on Amazon.com

 "Aquilaphiles around the world will exhaust their list of favorite superlatives describing Dr. David Ellis' new book Enter the Realm of the Golden Eagle. The format of this book is a new and unique blend of anthology and scholarly annotations. The exciting stories include those written by the pioneers in Golden Eagle studies and current scientist and field observers. David has also assembled a wonderful collection of art that vividly captures the romance and adventure so addictive for those of us who have spent a lifetime watching and living with Golden Eagles and the realms of a bird defined by the rugged and magnificent landscapes it inhabits." -- Dr. James Lish, professor emeritus, Oklahoma State University
"Realm of the Golden Eagle is spectacular. Every birdwatcher in America should have one." -- Robert Katona, wildlife artist and illustrator
"What an amazing book!! So many wonderful photos and illustrations." -- Daryl Henderson, editor, North American Crane Working Group
"I am impressed! So much interesting stuff to read, and it is beautifully printed and laid out. It is a must for all eagle-people! I am sure that many will take the opportunity to order it when I put it on display at our Golden Eagle conference." -- Dr. Torgier Nygard, Board of Directors, Raptor Research Foundation
"To understand the Golden Eagle is to immerse oneself not just in killing, but in killing by extreme violence. The Golden Eagle should be depicted as precisely what it is. The violent scenes are not gratuitous, but are there because this is the only way to educate the reader about how these birds make a living." -- Russell Galen, literary agent
"I would recommend [the] book not only to eaglers but to any thinking person who has an interest in wildlife. . . . Tales of broken bones and/or blood-letting resulting from trying to study eagles 'up close and personal' almost defy belief. This book not only contains a wealth of scientific learning about eagles but also contains the heart and soul of the eagler. David Ellis' dedication to unearthing eagle lore and single-minded pursuit of the golden eagle are truly amazing." -- Dr. Dena Sabin
Awards
Gold Medal- 2014 Independent Publishers Book Awards
Winner 2014- National Indie Excellence Book Awards