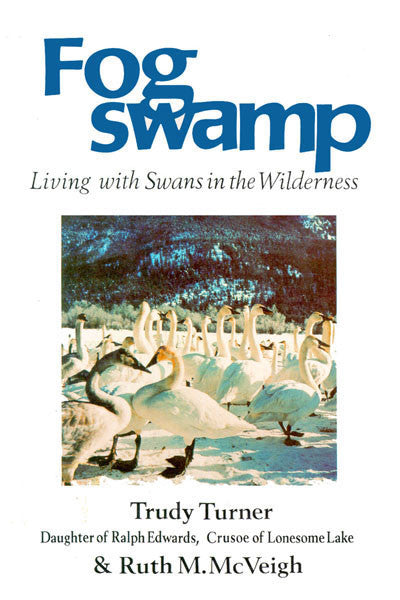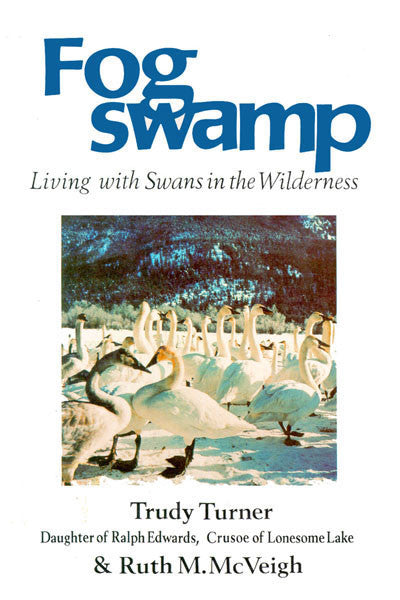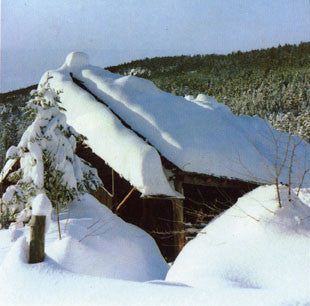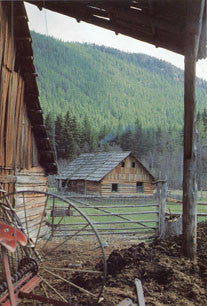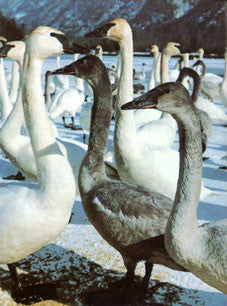 Fogswamp: living with swans in the wilderness
Details
By: Turner, Trudy, McVeigh, Ruth
ISBN: 0-88839-104-8
Binding: Trade Paper
Size: 8.5" X 5.5"
Pages: 255
Photos: 109
Illustrations: 0
Publication Date: 1977
Description
PR Highlights: Living with Swans in the Wilderness
PHOTO Highlights: 8 page color insert + 32 page b/w photo Section.

Description: A trilogy of stories by the Edwards family about their fascinating life in the Bella Coola area. Trudy, daughter of Ralph Edwards, continues the Lonesome Lake story. She, her husband and daughter carried on the work with the trumpeter swans that Ralph had begun. The book tells of their life on the isolated farm they built for themselves in the Chilcotin wilderness of the BC coast. Trudy's father is Ralph Edwards, a pioneer settler, who came to public attention in the early 20's when he spotlighted the plight of the Trumpeter Swans which were then in danger of extinction. He was appointed bird warden by the Canadian Wildlife Service. This work is now carried on by his daughter, Trudy. The lives of Trudy, her husband Jack, and their daughter Susan, now 17, complete the trio whose adventures and experiences are recounted in this fascinating story. A visit to Fogswamp Farm by co-author Ruth M. McVeigh provides the perspective of an outsider as she marvels at the surprisingly high standard of living the family has achieved and the prodigious amount of work and courage it represents.
Author Biography
Halifax born Ruth M. (Jones) McVeigh lives in Union Bay on Vancouver Island. She began her career in writing as a cub reporter with the Halifax newspaper and wrote reviews and features for the Toronto GLOBE AND MAIL, the Vancouver SUN and WESTERN LIVING Magazine before taking the job of Women's Editor at the Campbell River COURIER & UPPER ISLANDER and writing the North Island Tourism booklet. Her autobiography, Shifting Ground, will be available through Amazon in June.

In 1960 while living in Orillia, Ontario, she and her first husband founded the Mariposa Folk Festival which is now in its 45th year.
Book Reviews
By Carol1066 on October 31, 2015

I love this book. Trudy Turner gives such vivid detail that I feel that I am there with her, as so many other readers have felt, it seems. I could not live her life and I would not choose it, just as she would not choose my life, but I love being invited into her life each evening and then dreaming of trumpeter swans and her hand-made house among the mountains with her animals and her small tightly knit and loving family. This is a book to be shared.