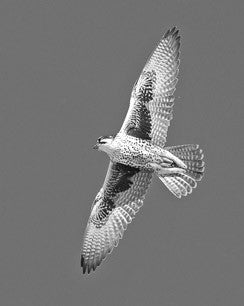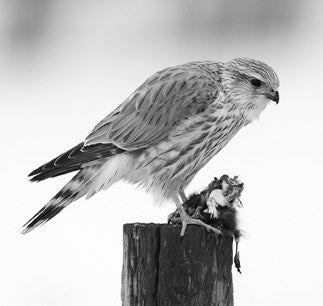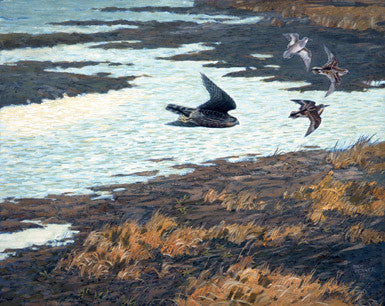 Hunting tactics of Peregrines and other falcons
Details
By: Dekker, Dick
ISBN: 978-0-88839-683-9
Binding: Trade Paper
Size: 9.5" X 6.5"
Pages: 192
Photos: 15
Illustrations: 13
Publication Date: 2009
Description
PR Highlights: E-book available.
PHOTO Highlights: 8-page color section

Description: There is a foreword and abstract in Dutch (as well as English versions) and chapter 15 is also in Dutch with an English abstract.
This dissertation describes the foraging habits and capture rates of four species of bird-hunting falcons; Peregrine (Falco peregrinus), Merlin (Falco colum-barius), Gyrfalcon (Falco rusticolus), and Prairie Falcon (Falco mexicanus). Eight of the nine study areas were situated in western Canada in widely different habitats, and the observation periods intermittently included all seasons over 44 years, 1965-2008. The various chapters report and compare the location-specific hunting methods and choice of prey of these falcons in the following scenarios: (1) Migrating Peregrines hunting waterbirds at Beaverhills Lake, a large wetland in central Alberta; (2) Migrating Peregrines and Merlins capturing small shore-birds and passerines at Beaverhills Lake; (3) Breeding Peregrines that launched their hunts from the high chimneys of an industrial powerplant by a large Alberta lake and selectively took gulls; (4) Marine Peregrines nesting on Pacific island cliffs and preying on seabirds; (5) Peregrines and other raptors hunting wintering Dunlins (Calidris alpina) and ducks at Boundary Bay on the Pacific coast of British Columbia; (6) Peregrines specializing on teal and American Wigeon (Anas Americana) wintering on coastal farmlands; (7) Territorial pairs of Peregrines and Prairie Falcons competing for prey and nest sites on a sympatric breeding range along an Alberta river; (8) Prairie Falcons and Gyr-falcons wintering in the city of Edmonton and capturing Rock Doves (Columba livia); (9) Gyrfalcons hunting Mallards (Anas platyrhynchos) wintering on Alberta farmlands; (10) Klepto-parasitic interference from eagles and buteo hawks with hunting Peregrines and Gyrfalcons, and intra- and interspecific prey theft between falcons. The largest set of data pertains to the Peregrine, which was studied in all seasons and habitats except during winter in central Alberta.

In addition, this thesis reports on the population dynamics and nest site competition between Peregrines and Prairie Falcons on a sympatric breeding range in Alberta over a span of 48 years. The Peregrine became extirpated during the 1960s. Large-scale efforts to reintroduce the species in the 1990s seemed initially successful, resulting in seven new breeding pairs, but they dwindled to one, while the Prairie Falcons continued to do well.

The first chapter of the thesis details 15 years of Peregrine migrations at a large lake in central Alberta, and the last chapter analyses the fall passage and hunting habits of Peregrines along the Wadden Sea coast of the Netherlands. There, the specific research question was whether or not Dunlins wintering on the Dutch coast would engage in over-ocean flocking manoeuvres during high tides that inundate all mudflat habitats. The phenomenon proved to be very rare and the probable reasons are discussed in detail.
Author Biography
Theodorus Johannes (Dick) Dekker was born in Rotterdam on 19 October 1933. Just after the outbreak of the Second World War and before Rotterdam was bombed, he moved to Haarlem, where he received his secondary education at Het Triniteitslyceum. In 1950 he began a career in graphic design and publish-ing at Uitgeverij De Spaarnestad. Nature study had become a lifelong passion. At 17, he sold his first illustrated articles to youth magazines and eventually to a wide range of print media. His list of publications in the Dutch language, which continues to grow, now includes 222 titles and seven books. In 1959 he emi-grated to Canada in search of unspoiled wilderness. After almost having lost his life in a canoe accident in Yukon, he returned to Haarlem in 1961, resuming his nature writing until 1964, when he again left for Canada, accompanied by his wife Irma. In Edmonton, Alberta, he established himself as a free-lance graphic designer until 1982. Since then he has devoted himself full-time to wildlife writing and field research, which includes long-range mammal surveys in Jasper National Park, and ongoing studies of the avian inventory and habitat succession at Beaverhills Lake, a Ramsar wetland and Hemispheric Shorebird Reserve. He has given talks about wolves and other wildlife at a number of national and international conferences and nature group meetings. His growing list of pub-lications in the English language now sits at 180 titles, including 27 papers in refereed journals, nine books, and three scripts for television documentaries. Throughout, his main focus has been on the dynamics of predator and prey interactions, with particular emphasis on the Peregrine and other falcons.
Book Reviews
An outstanding scientific achievement — unprecedented really. This book, by a self-taught naturalist working mostly alone, reveals how careful and sustained field observations can yield fundamental scientific insights into how a predator interacts with and influences its prey. Following in the best tradition of the great natural historians
from Aristotle to Niko Tinbergen, Dick Dekker's work, spanning 48 years and based on 4,000 hunts and 460 kills by wild peregrines has no parallel in the history of studies on birds of prey.

-- Dr. Tom J. Cade