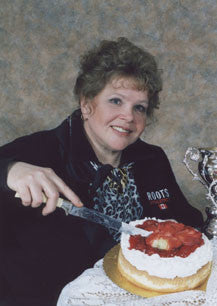 By: Shipman, Carol Ann
ISBN: 0-88839-569-8
Binding: Trade Paper
Size: 8.5" X 8.5"
Pages: 96
Photos: 80
Illustrations: 0
Publication Date: 2004
Create your own cookbook with your favorite recipes. From the Nature's Gourmet Series. This unique Cookbook series includes Wild Game, Berries, My Personal Cookbook, Seafood and Salmon Cookbooks with unique recipes for all occasions.
I will never forget the smell of my mom's kitchen, there was always an open invitation at mom's table; family or friends didn't matter to her as long as she was feeding all of us. Throughout the years they nurtured the ones they love, ladling out advice, and giving comfort when needed. There was always food for those evenings when friends dropped by on short notice, hoping for some of that comfort and hospitality they've come to expect from her kitchen and our home. Now you can create your own memories by using this wonderful book and filling it with stories and recipes of your precious times. We hope that you will keep it in your kitchen to inspire you to create that special edition.
Author Biography

Carol Ann Shipman is a food journalist, cooking instructor, recipe developer and author of several cookbooks. Carol Ann has won many awards, including Best in Show, Wild Boar Award, Best Professional Caterer of the Year, Culinary Theme Award and People's Choice Award. Her catering company has created some of the most succulent and imaginative dishes to the delight of her clients. Her great passion and marvelous international cuisine make her superb catering company a unique place to eat. Carol Ann travels coast-to-coast presenting some of her wonderful food from her Nature's Gourmet Cooking Series to the pleasure of bookstores and the public alike. Sample some of her fine food as she is traveling around the country, promoting her latest cookbook.