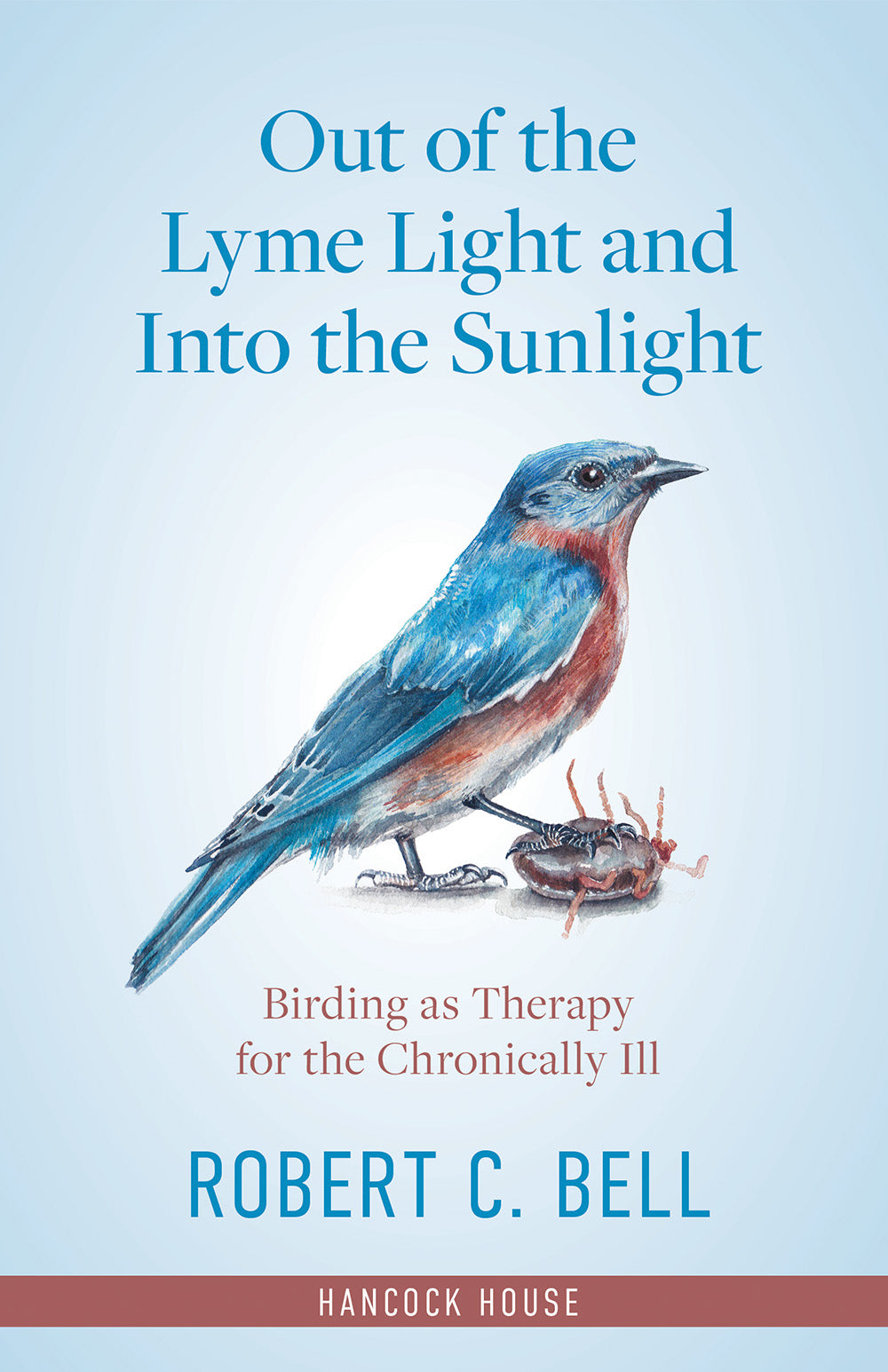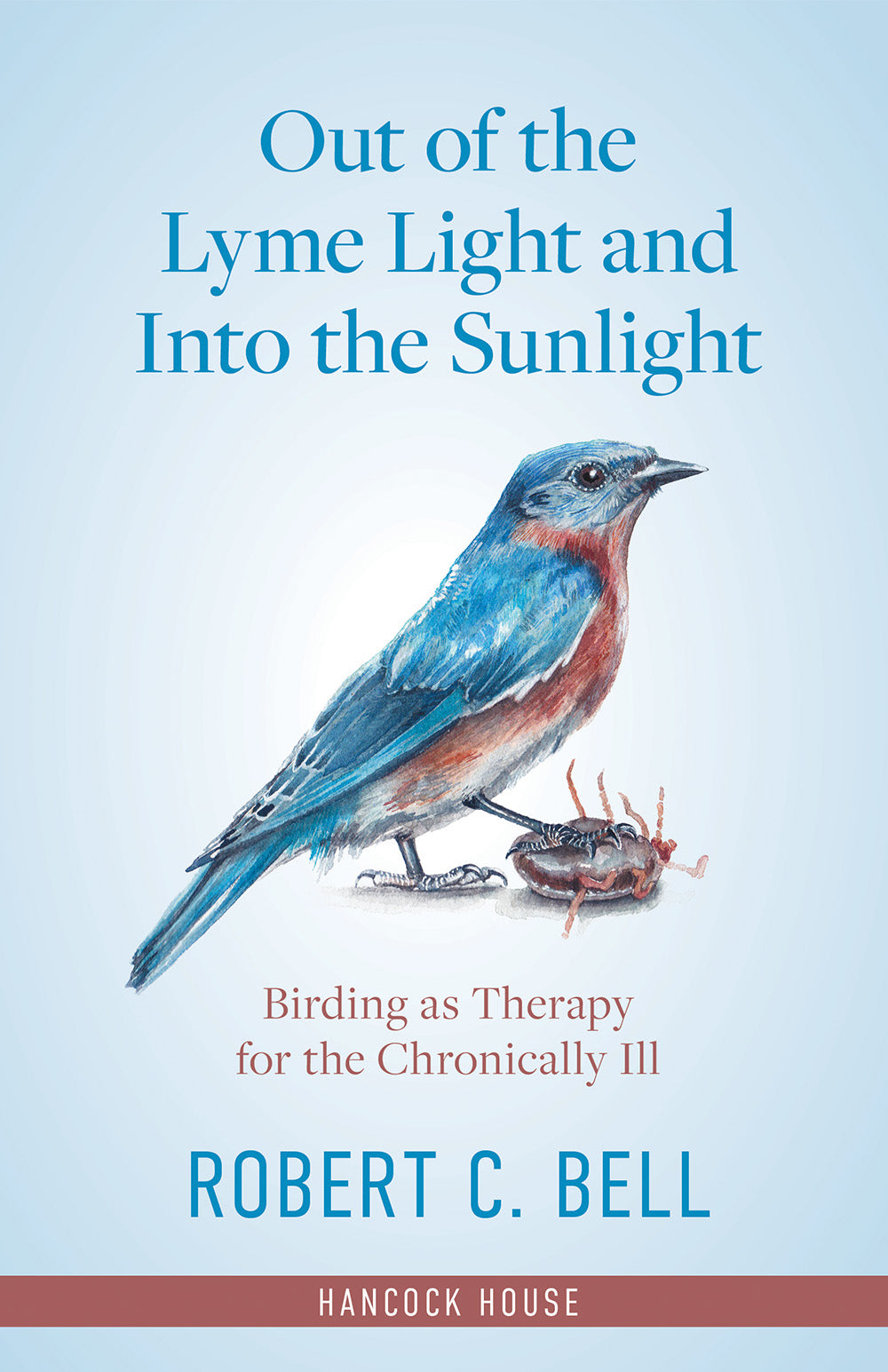 Out of the Lyme Light and Into the Sunlight: Birding as Therapy for the Chronically Ill
JUST RELEASED!


Details
By: Robert Bell
ISBN: 978-0-88839-747-8 [Trade Paperback]
ISBN: 978-0-88839-749-2 [Trade Hardcover]
ISBN: 978-0-88839-750-8 [eBook]
Binding: Trade Paper
Size: 6" X 9"
Pages: 192
Illustrations/Photos: 56
Publication Date:  2022


Description
Out of the Lyme Light and into the Sunlight tells of the journey undertaken by the author, Bob Bell, after developing a bizarre set of increasingly debilitating symptoms, eventually leading to a diagnosis of Lyme disease. He describes his experiences, including the various allopathic and complementary medical treatments he received, and his frustrations in dealing with a skeptical Canadian medical system, which resulted in him seeking out-of-country medical treatment.
Amidst an exhausting barrage of medications, fiery nerve pain, overwhelming fatigue and chronic pain, Bob turned to his love of nature and discovered the therapeutic benefits of birding to his health. He reflects on birding as his ideal therapy for dealing with both chronic disease and chronic pain, and provides tips on how to begin birding, and enjoy it, too, regardless of one's physical ability.
This book is the result of the author's desire to make this potentially life-changing
hobby accessible to everyone, and to give hope to those seeking to feel better.
Author Biography
Bob Bell was born and raised in northern Ontario. He spent thirty-five years as a mineral exploration geologist, working globally as both a field geologist and, later, a mining company executive. At some point in his travels, he contracted Lyme disease, which led to his premature retirement at the end of 2015. He quickly discovered the health benefits of birding, and found himself suddenly immersed in a whole new world of joy and excitement.
His passion for birding kept his mind off his ailing body, and facilitated his transition to living and coping with a chronic illness. Bob is passionate about sharing the joy of birding with people of all skill levels, meeting them wherever they may land on the spectrum of health and wellness. You can follow him on Twitter @ThebirderBob.
Book Reviews
"Bob Bell's Out of the Lyme Light and Into the Sunlight offers the reader a wonderfully engrossing story of personal transformation in the wake of a life upended by a debilitating and enigmatic illness. Although there is no miracle cure for Lyme disease, Bell finds a way to live meaningfully—and joyfully—by immersing himself in the world of birds. Written with humility and a good dose of humour, Bell's journey is inspiring in the way he embraces a new passion with utter curiosity, and reinvents himself with remarkable resilience when life throws him a curve ball."
— Julia Zarankin, author of Field Notes from an Unintentional Birder
"A great read about one man's struggles and how nature heals. I am so glad that Bob found birds, not only for the healing power they gave him, but for what he has given back to birds through this book."
— Chris Earley, University of Guelph Arboretum Interpretive Biologist and author of Feed the Birds: Attract and Identify 196 Common North American Bird, as well as several bird field guides
"I only knew Bob Bell from running into him out in the field now and again while birding with others. He was always a friendly person with a keen love of birds. It was clear he hadn't birded for all of his life and so I'd wondered how he got into it. I've been birding since the age of 11 and I always find people's stories of how they found birding as an adult interesting to learn. A while later I became informed that he suffered from Lyme and it gave me another point of curiosity regarding Bob. Why would someone decide upon a hobby that often requires getting out and walking? My limited understanding of Lyme was that walking a lot could prove to be quite uncomfortable. So it was strange to me that Bob would take up birding, of all things. It turns out I would have all my questions answered before I even got to know Bob because of this very book you're about to enjoy. Bob's book placed me directly into his life experience; at first, it's dominated by his love of rocks, and how Lyme isolated him from that love. Then, the all-consuming Lyme melts into the background revealing his saviour, wild birds. I have known others who say birding 'saved them' but this book is the first time I've truly understood the power behind such a statement. This story will introduce you to a wonderfully kind man that took his health into his own hands and is fast becoming a great friend of mine. Enjoy."

—Paul Riss, Founding Partner of ROUND Agency Inc. and PRBY Art. Member & Board Director for The American Birding Association. Leading role in CBC documentary, Rare Bird Alert
Bell is open and honest in writing about his struggles with Lyme disease - from the first symptoms through diagnosis and beyond. His scientific perspective adds another layer of interest and clarity in the parts about all the testing he went through. Bell's clear passion for birding is another highlight, and no doubt he will inspire others with various chronic health issues to get out there and get birding with this book!
Bird watching through the veil of Lyme disease
Bob Bell, the author beautifully explores the transformative power of nature in the face of adversity. Through the lens of a man battling the challenges of Lyme disease, the book illustrates how the simple act of bird watching becomes a therapeutic escape. The vivid descriptions of birds and their behaviors serve as a metaphor for resilience, offering the protagonist solace, distraction, and a renewed sense of purpose. An inspiring tale of finding unexpected healing connections in the natural world. Well worth the read whether you are simply a bird watcher, or someone who is also battling Lyme disease or other health issues.
How Birding and Nature Can Heal Us
Out of the Lyme Light and Into the Sunlight: Birding as Therapy for the Chronically Ill
Robert Bell's book, "Out of the Lyme Light and into the Sunlight" tells his personal struggle of unknowingly contracting Lyme disease and navigating our questionable Canadian health system forcing him to the States for treatment. Birding and bird photography become an antidote for his debilitating pain and a crucial stepping stone to lessen the emotional angst caused by Lyme disease.
This book is such a wonderful and personal read, I felt like I was walking beside him the whole way, with his affable demeanour, humility and humour. It shows us how birding and nature can be meditative, restorative and healing, how it can positively change our lives!
A keeper!
Bob Bell's book, Out of the Lyme Light and into the Sunlight is a keeper. In it he shares a warm and personal account of his experience with chronic Lyme Disease and the therapeutic benefit of birding. I am certain that it will help many. I would recommend it to persons affected by mental or physical illness, their caregivers and well persons alike. I would recommend it to anyone. An enjoyable read, detailed and informative, this book is one that as a fellow birder, I know I will keep handy and refer to again and again. It will help me access more good reading and resources on the hobby that I love. Thank you, Bob!
Outstanding read
Who would have thought it would be a "page-turner"! Brilliant telling of such a challenging and ultimately rewarding journey.