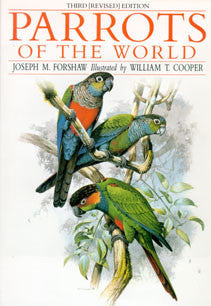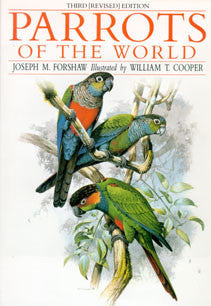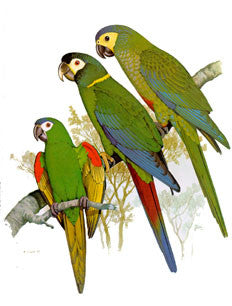 Details
By: Forshaw, Joseph M, Cooper, William T.
ISBN: 0-7018-2800-5
Binding: Trade Cloth
Size: 12.5" X 9"
Pages: 672
Photos: 160
Illustrations: 0
Publication Date: 1989
Description
PR Highlights: 3rd Ed.of the only book to describe ALL parrots
PHOTO Highlights: Fabulous color plates

Description: One of the most important ornithological books of the last century. Fabulous color plates illustrate this parrot fancier's bible. The third edition of Parrots of the World is the only book in which all species of parrots are described and illustrated. Fully revised and updated, it remains the definitive reference on this important group of birds.
This edition adopts a new scientific classification, and incorporates all the most recent advances in ornithological knowledge. For example, field-workers have provided exciting new information on previously little-known species ot the Amazon River rainforests. A new species of parrot has been discovered and there is the possibility of a second new species, and full details are given in this revised text. Parrots of the World was conceived to meet the needs of ornithologists, institutions, aviculturists and naturalists generally. Its appeal is basically scientific, although this does not prevetn it from being the bible of parrot-fanciers throughout the world. . Every species and subspecies, including those now extinct and those newly discovered, is described. Standard taxonomic measurements taken from museum specimens are listed as part of these descriptions. The latest information on distribution, status, habitats,general habits, movements, feeding, call-notes and nesting habits, including measurements of eggs, is given. There is a distribution map for each species. All species and some of the more divergent subspecies -- a total of almost 500 birds --- are magnificently illustrated in color by William Cooper, who ranks among the world's leading bird painters. Each illustration is of a particular specimen and registration numbers for all specimens are included in the captions to the plates. Particular attention has been paid to the background so that this is indicative of the typical habitat in which the depicted species occurs.
In this third edition, new plates depict what are now known to be differences between plumage of young and old birds, various color phases of birds and new groupings. This is an exciting and valuable feature of the book. Parrots of the World has been acclaimed as one of the most important ornithological books of the last century, rivalling the great illustrated monographs by Gould and his contemporaries. The publication of the first edition in 1973 was a significant event, for no authoritative book on th Order of Psittaciformes -- the parrots -- had been produced since Die Papageien by O. Finsch (1867-68). This third edition replaces previous editions and confirms the book's status as an invaluable scientific and artistic work.
Author Biography
Joseph Michael Forshaw is an Australian ornithologist, and expert on parrots. He was the former head of wildlife conservation for the Australian National Parks and Wildlife Service.
Book Reviews
Amazon Review

I have read books about wildlife for over 30 years. This is one of the best I have ever read. The text is clear and informative without unnecessary verbiage. It comprehensively covers all the parrots and is comprehensively researched. The opinion, where expressed, is limited clearly to areas in which the author is expert or else he is careful to show the limits of his knowledge or the sources on which he relies. The illustrations are both beautiful and accurate (so far as I can see) and take care to reveal the differences between sexes, subspecies and different age groups. I unhesitatingly recommend this book either to anyone with an interest in parrots or to anyone interested in good wildlife literature. It leaves me with a hunger for other books by Joseph Forshaw or art by William Cooper.