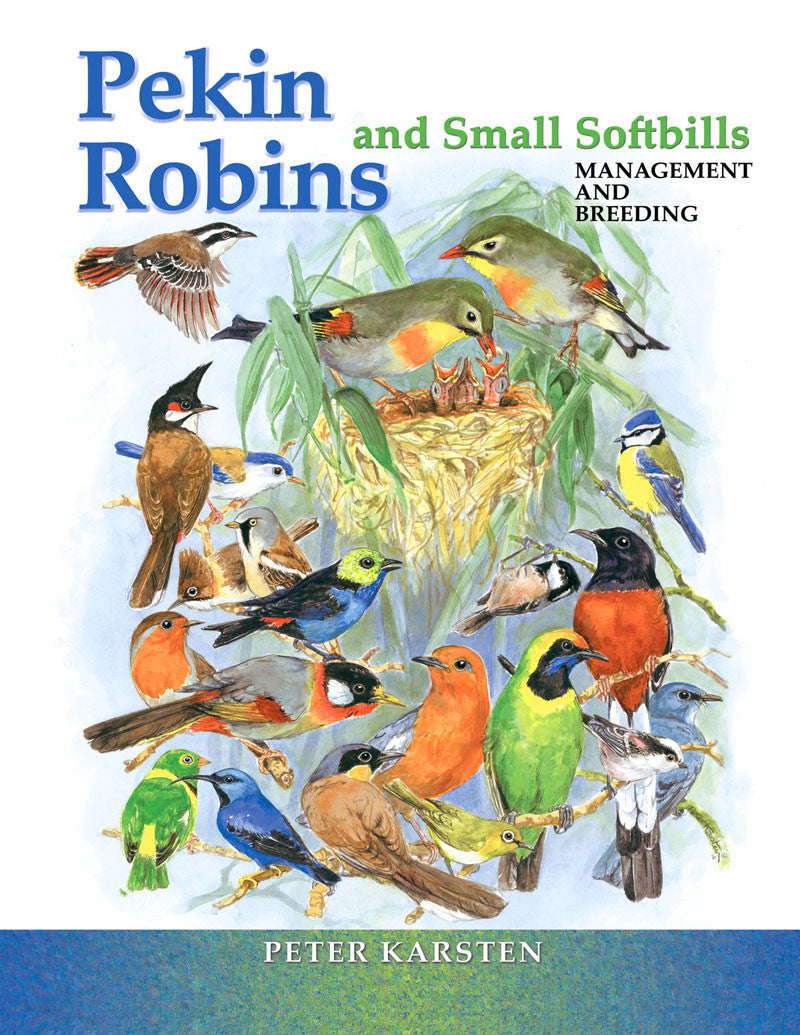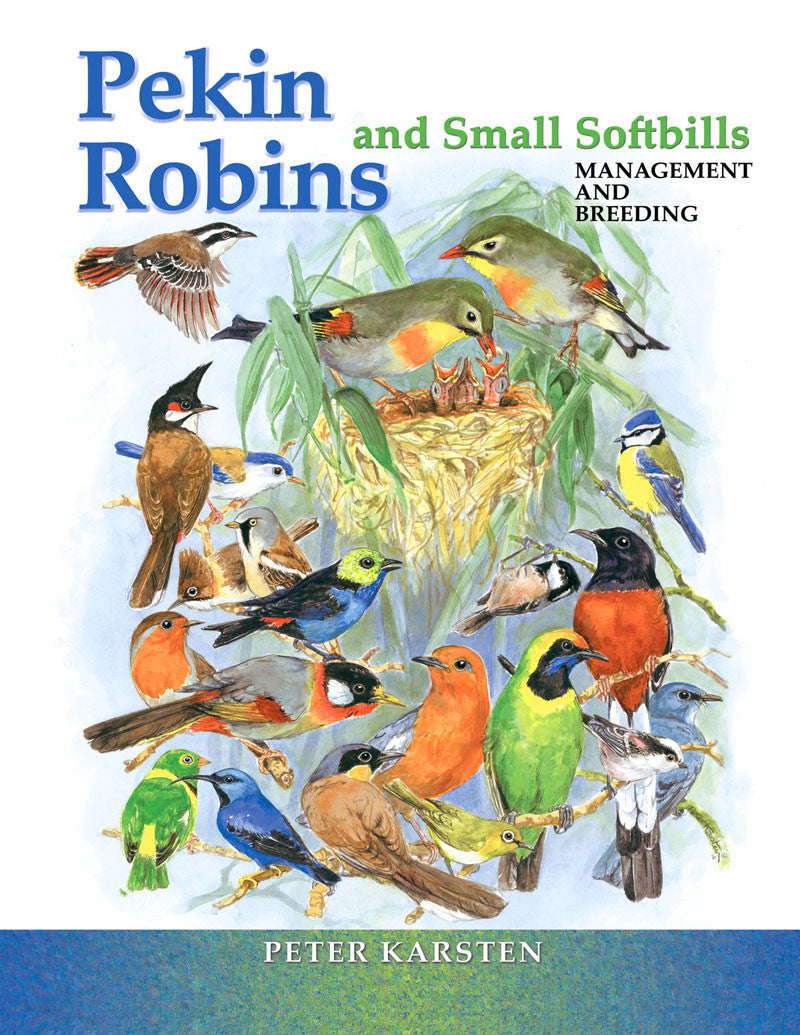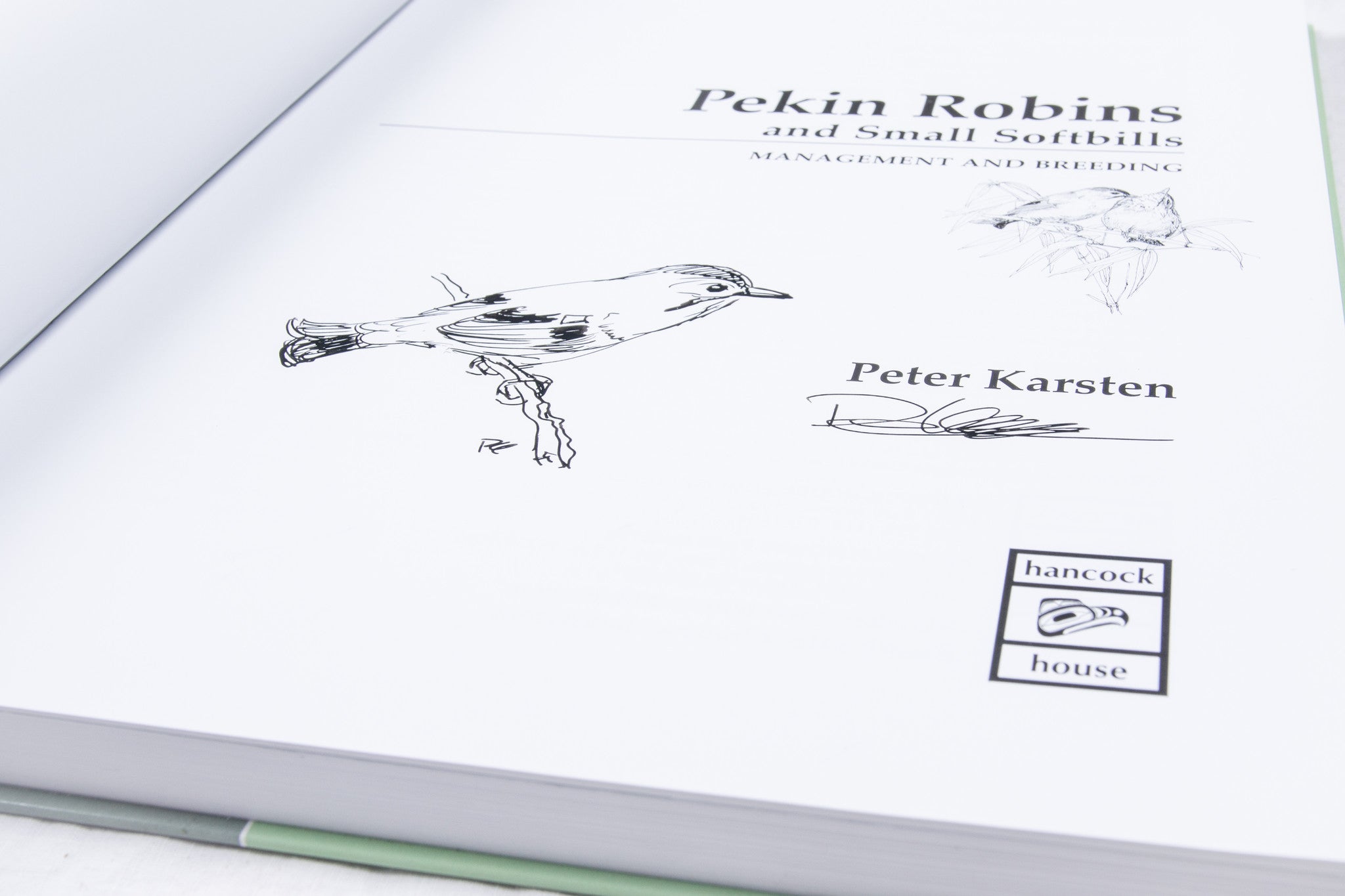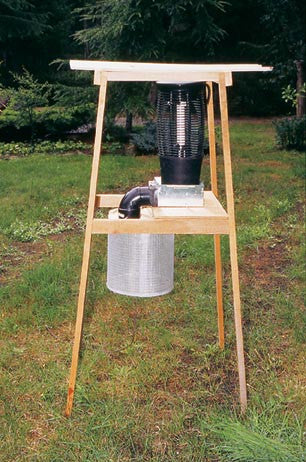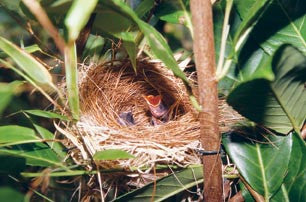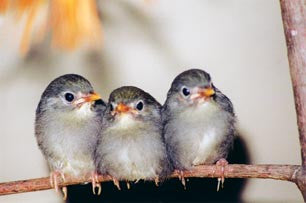 Pekin Robins and Small Softbills: management & breeding
Details
By: Karsten, Peter
ISBN: 9780888396068
Binding: Trade Cloth
Size: 11" X 8.5"
Pages: 252
Photos: 60
Illustrations: 257
Publication Date: 2007
Description
PR Highlights: One of the most beautifully produced works on aviculture yet.
PHOTO Highlights: 17 color plates of author's watercolor paintings.
Signed by the Author- a limit of 100 signed copies by the author.
Signed by the Author & Pen Sketched- only 25 copies signed and uniquely sketched by the author, each book having a slightly different illustration.

Description: The book serves as an instruction manual for the novice pekin robin breeder in particular, as well as providing a wealth of information for softbill breeders in general. Richly detailed with over 250 original illustrations by the author.The most comprehensive and current book on its topic, this handbook provides both novice and experienced aviculturists with detailed information and techniques for managing and breeding pekin robins and other small softbill birds. The topics covered include: biology; housing; predator management; acquisition, quarantine and acclimation; breeding; hand-rearing; feeding; cultivating live food; health care; and conservation breeding. As well the book includes an extensive list of softbill species, complete with beautiful watercolor prints of the various birds described. The author's own precise drawings and photographs complement the descriptions and instructions within each section, enabling readers to better understand the procedures being outlined. In addition, the inclusion of case histories drawn from the author's own aviculture experiences provides interesting anecdotal information that takes the book away from being simply a "how-to" manual
Author Biography
Peter Karsten was born in Goettingen, Germany and pursued his formal education in Germany and Sweden. Following his graduation from the Federal Institute of Agriculture in 1961, he immigrated to Canada in 1962, and began his career with the Calgary Zoo, Botanical Garden and Prehistoric Park in 1964. He held the position of Zoo Director and Executive Director from 1974 until his retirement in 1994. He has a keen interest in animal husbandry and animal behavior, and created an in-service apprentice zookeeper program - including a series of sixty lectures, which have been translated into several languages - to assist zoological gardens in many countries. He has presented papers on various subjects of zoo biology and zoo management and teamed up with zoo architect firms in the USA on projects in Canada, Chile, Japan, Korea, Mexico, and the USA. The development of habitat exhibits is his special focus. Peter was the founding president of the Canadian Association of Zoos and Aquariums (1974), president of the American Zoo and Aquarium Association (1983), and president of the World Association of Zoos and Aquariums (1993). He remains an honorary member of these organizations. When not attending to his private aviaries, Peter divides his time between painting and sculpting wildlife subjects, and continues to work as a zoo consultant.
Book Reviews
World Association of Zoos & Aquariums Review
in WAZA News May 2010
Peter Karsten started his career in Canada in the Calgary Zoo in 1964 and he held the position of director till his retirement in 1994. Peter was also WAZA president in 1993 and founding president of CAZA. This practical guide for breeders of pekin robins contains over 250 original illustrations [by] the author...who is not only a painter but also a sculptor of wildlife subjects...the book proves to be a fascinating and authentic reading as well as a really practical and useful book about 'ex situ' management; it has chapters covering biology, housing, general care, acquisition, breeding, hand-rearing, feeding and health care, as well as cultivation of live food. The review in Avicultural Magazine...concludes 'Karsten's book incorporates not only detailed research and information from zoos and breeders across the world, but also his personal experiences. He has kept and bred a great number of pekin robins over the years in his beautiful, thoughtfully landscaped aviaries. Everybody who has read this book will no doubt agree that this is probably the best, most useful and informative piece of literature available on such birds.' As it is indispensible for conservation work to know about captive breeding and care, the foreword by William Convey concludes quite wistfully...'If only such a book had been available for the Carolina parakeet and the passenger pigeon!
Dr. Stacey Gelis
Australian Birdkeeper Vol. 22, Issue 9, 2009
Over the past 20 years there has been a huge increase in the number of books and articles written on avicultural topics. The amount of information contained in recent publications, however, appears to have declined... However, occasionally a new book is published which is full of information and encourages us to think about how we keep all our birds. This book...by Peter Karsten is exactly such a book. Last year this book was released onto the Australian avicultural scene but largely slipped under the radar of most bird keepers. Perhaps it was the title that lead to the misconception that the subject range was too narrow for most aviculturists. After all, Pekin Robins are not common in this country and are kept by a dedicated few softbill and finch enthusiasts. This is a great pity, as once you start reading the chapters in this book, you quickly realize that the information contained therein is extremely helpful and applicable to covering a broad range of species and is not limited to Pekin Robins, as the title may suggest. I would go so far as to claim it is one of the best avicultural books that I have ever read. Read on and I will try to explain why. The author...has combined his scientific zoological background with his wealth of avicultural experience, powers of observation and obvious passion to provide some valuable insights into what is required to look after Pekin Robins and other small softbills in this very practical and easy-to-read book. Peter has ensured a well rounded book by including not just his own breeding successes but also his challenges and mistakes. His detailed knowledge provides the reader with a powerful resource which encompasses every aspect of looking after these birds. The depth of information enables a true understanding of small softbills. In fact, the same information can be applied to all the species we keep in aviculture. The book contains chapters with in-depth explanations covering Housing, Acquisition, Quarantine, Breeding, Handrearing, Feeding, Food Cultivation and Health Care and includes information on other softbill species including mesias, minias, yuhinas, laughing thrushes, tits, bulbuls and white-eyes to flycatchers, robins, tanagars and honeycreepers. Coloured photographs are grouped together towards the front of the book and beautifully painted coloured plates illustrate the birds in question, including subspecies. The rest of the book is adorned with clear black and white line drawings which illustrate the points described in the text. Don't let this put you off. I am one of these people skeptical of art being used to illustrate avicultural books, as art appreciation is so individually subjective. However, rest assured that in this book the illustrations are definitely an asset and are used to portray such varied topics as postural attitudes adopted during feeding, courtship, submission/aggression through to designs for hospital cages, traps and aviary layout - many of these aspects would be difficult to portray clearly through photographic images. The artist's true understanding of the subject matter is apparent in every drawing. A bibliography, detailed index and glossary of terms are included at the back of the book providing a particularly useful reference for newcomers to the hobby. Although this book is written from a North American perspective, it is every bit as relevant to aviculture here in Australia, or indeed anywhere in the world. If you have even a passing interest in softbill or finch aviculture, or are just tired of reading the same information in your old parrot books, I would strongly advise you to obtain a copy of this book. Do so and your enthusiasm for aviculture will be reinvigorated. I guarantee it!
Andrew Owen
The Avicultural Magazine, The Avicultural Society,
February 2008 
Peter Karsten was born in Germany and, following the completion of his formal education in Germany and Sweden, emigrated to Canada in 1962. After a 30-year career with Calgary Zoo, for 20 years of which he held the positions of Zoo Director and Executive Director, he retired in 1994 and turned his attention to small softbills, keeping and breeding Pekin Robins Leiothrix lutea for the past 10 years. (An article by Peter Karsten on keeping and breeding the European Robin Erithacus rubecula will appear in a future issue of the Avicultural Magazine. 'Ed.) His professionalism and hands-on avicultural skills shine through in his delightful books, Pekin Robins and Small Softbills ' Management and Breeding. There is a dearth of good quality, up-to-date books on bird husbandry, particularly relating to softbills, so this well thought out personal account of managing these charming birds will be welcomed by bird keepers. The 17 color plates, 60 high quality photographs and numerous line drawings by the author help make this book even more endearing. It is clear that Peter Karsten has a real passion for these birds and he covers in fine detail every aspect of their husbandry. A really practical and useful book, it has chapters covering biology, housing, general care, acquisition, breeding, hand-rearing, feeding and health care, as well as cultivation live food. Packed with information gathered through personal experience, Peter Karsten's book is a mine of information for beginners and experienced aviculturists alike. The section on the determination of sex is of particular interest. Although the Pekin Robin (or Red-billed Leiothrix) is frequently kept, it continues to surprise me how many aviculturists are unable to sex their birds accurately. This no longer needs to be the case, as the author resolves this tricky problem. I am very impressed by his coverage of subjects such as aviary design, predator prevention, health care and cultivating live food, with his line drawings, used throughout the book, enhancing his coverage of each subject. Although the author lives in Canada, all of the techniques described are applicable here in the UK and probably elsewhere as well. The climate is similar to that of the UK and northern Europe and, although the predators may be different, the methods of keeping them out of our aviaries are much the same wherever we live. There is a chapter on other softbill species, which gives brief descriptions and useful management tips. The Pekin Robin is the main focus of the book, but the author's practical ideas and common sense approach highly recommend Peter Karsten's book to serious aviculturists caring for just about any other species of aviary birds.