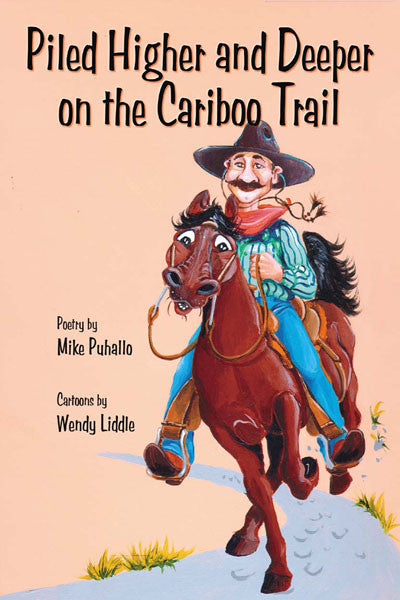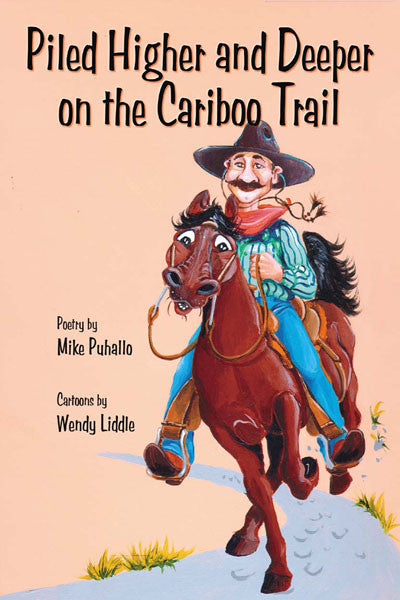 Piled Higher & Deeper on the Cariboo Trail
Details
By: Puhallo, Mike, Liddle, Wendy
ISBN: 9780888394873
Binding: Trade Paper
Size: 8.5" X 5.5"
Pages: 64
Photos: 0
Illustrations: 0
Publication Date: 2001
Description
PR Highlights: Mikes Cowboy Tour - See Author Info
PHOTO Highlights: Illustrated by Award winning Wendy Liddle.

Description: Cowboy poetry from one of the Northwest's original cowboy poets. Award winning Mike Puhallo - Rides Again! With Piled Higher and Deeper on the Cariboo Trail, Cowboy poet, artist and raconteur Mike Puhallo continues his poetic exploration of the cowboy and modern life. At various times in his life a working cowboy, saddlebronc rider, horse trainer, packer and truck driver, he is also a respected western painter. He has combined a lifelong love of words with the cowboy yarning tradition to produce sometimes silly, sometimes serious, and always entertaining poems from the heart. This sixth collection of his work once again benefits from the witty cartoons and caricatures of Wendy Liddle, whose work delightfully enhances Mike's words.
Piled Higher And Deeper on the Cariboo Trail. The fifth book by Mike Puhallo and Wendy Liddle was released in the summer of 2001 and may well be their best yet! It is a collection 45 poems by Mike Puhallo that range from silly to serious. Poems that reach back in time to tell stories of the earliest cowboys and horsemen or explore the perils of the cyber age. The West as it was and is through the eyes of a cowboy. Every poem illustrated with the wit and humor that has made Wendy Liddle one of the worlds most popular Cowboy Cartoonists.