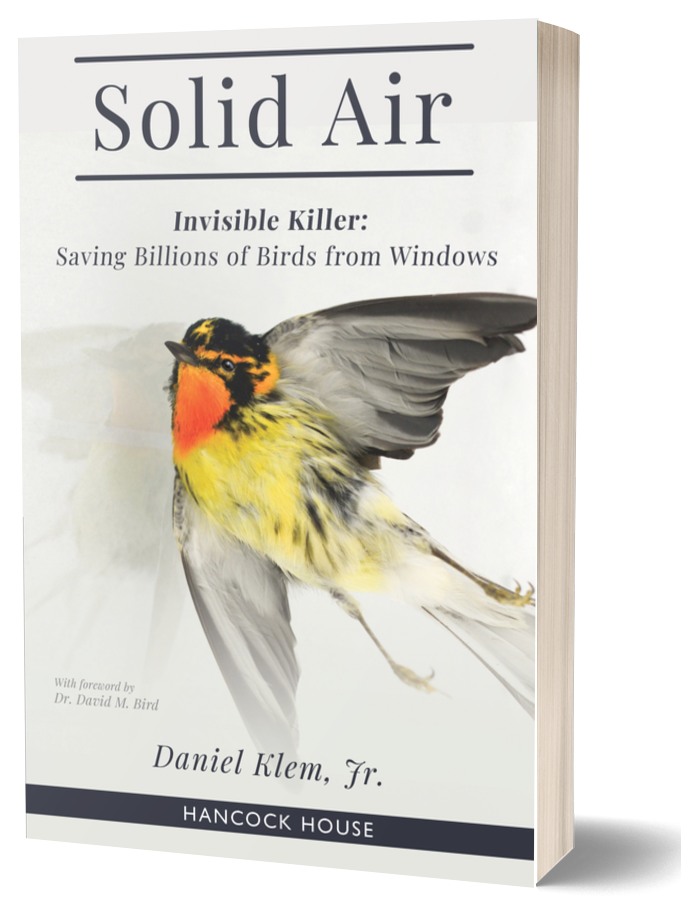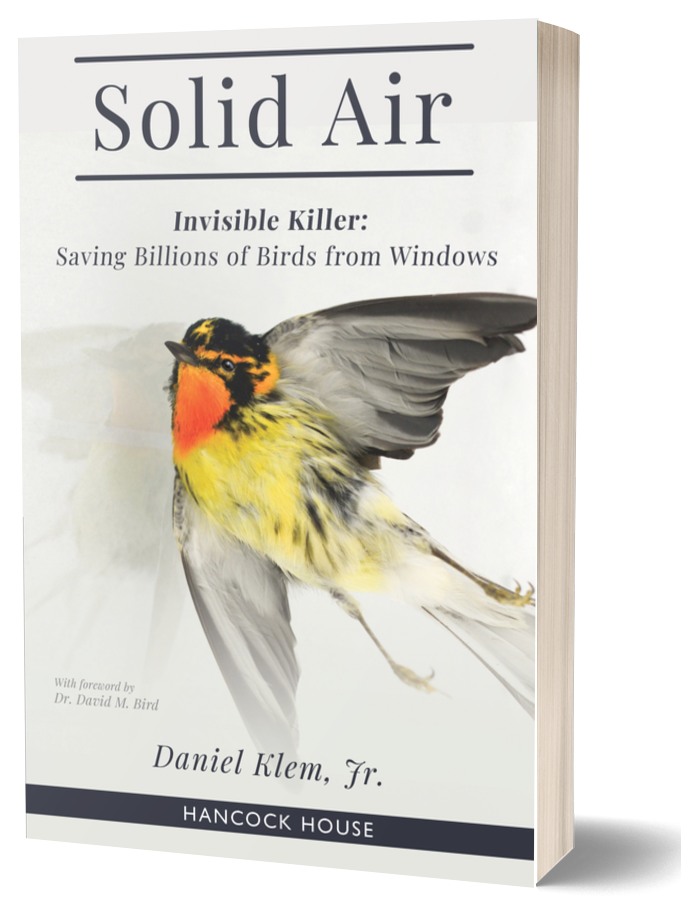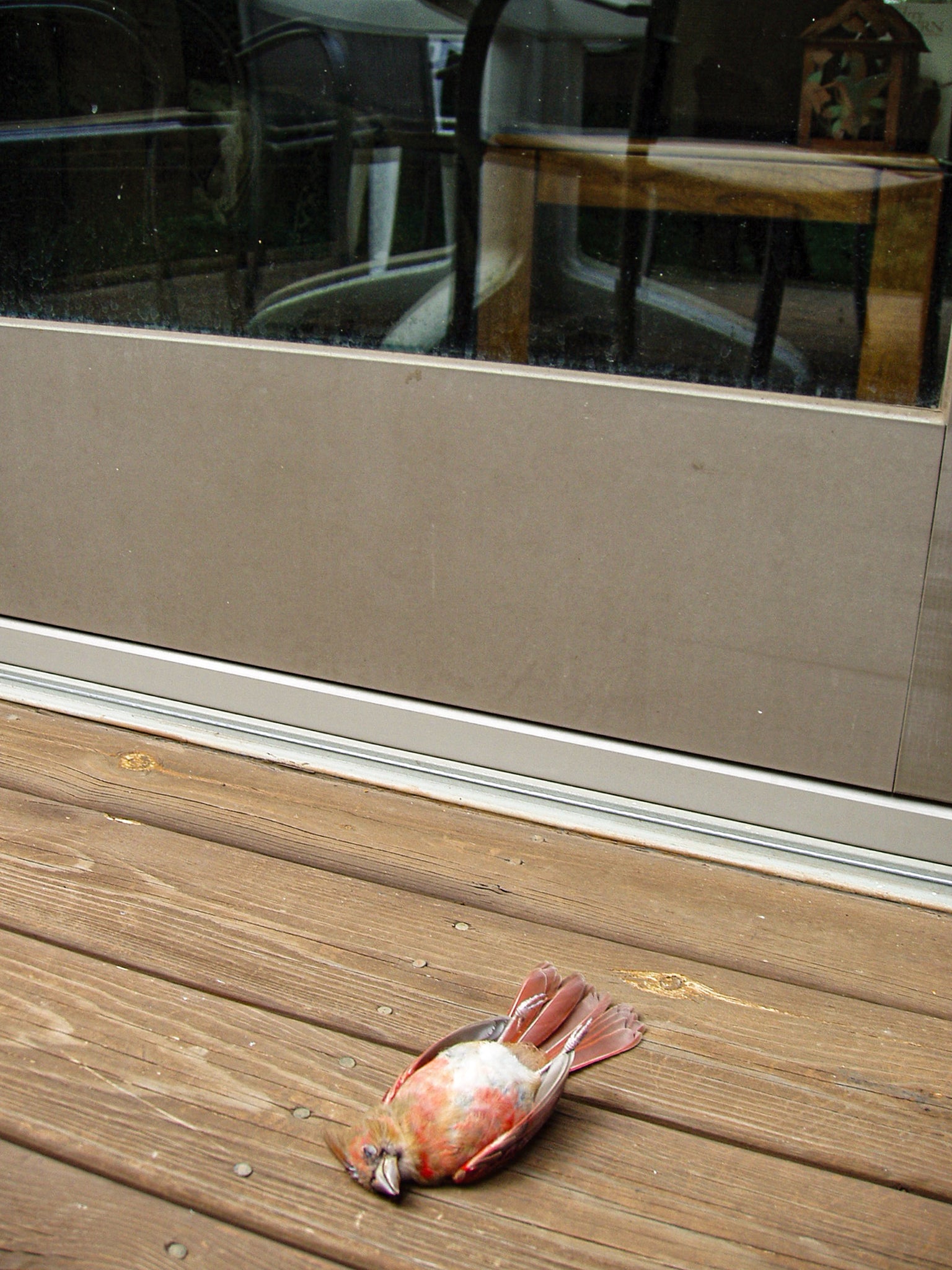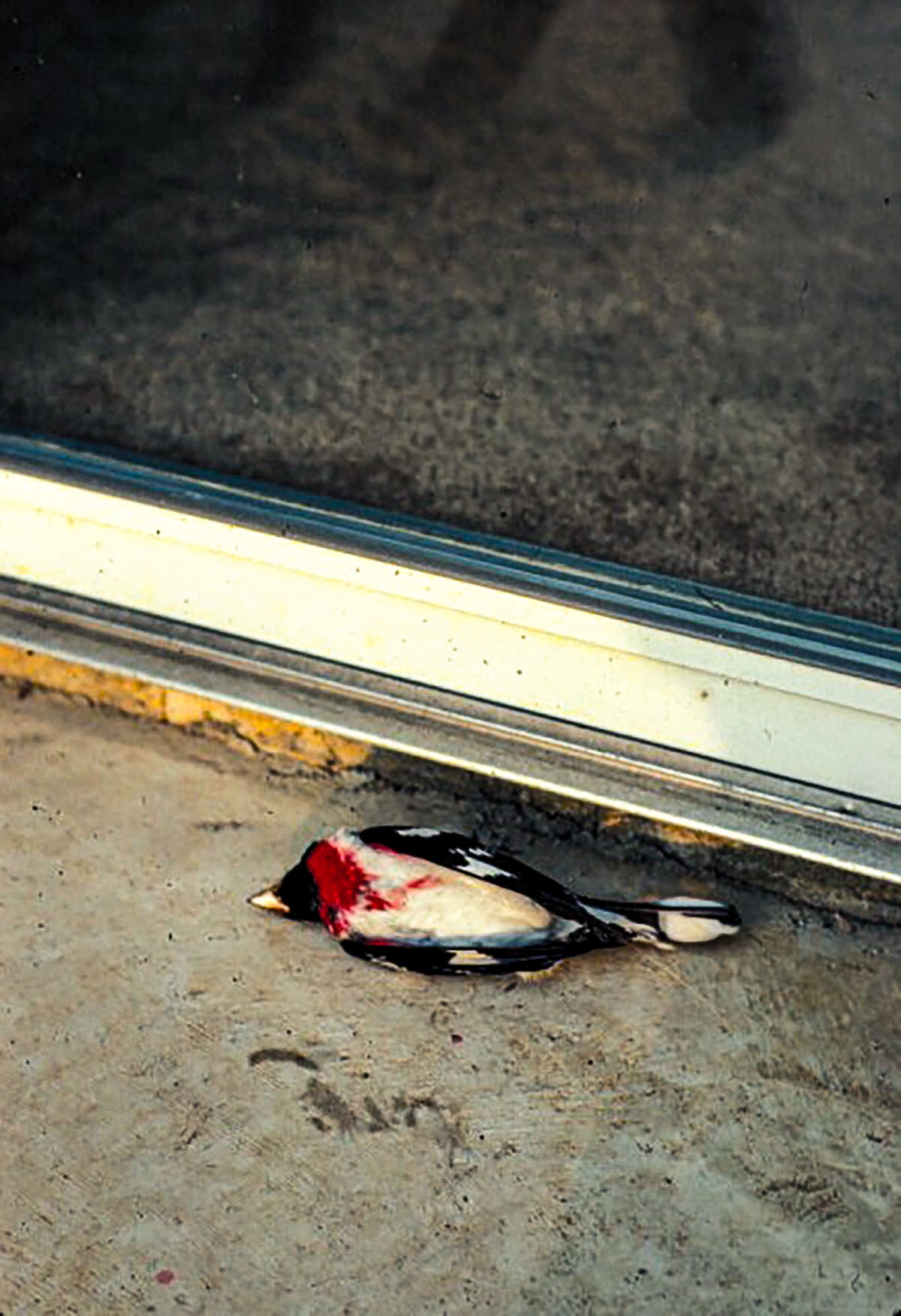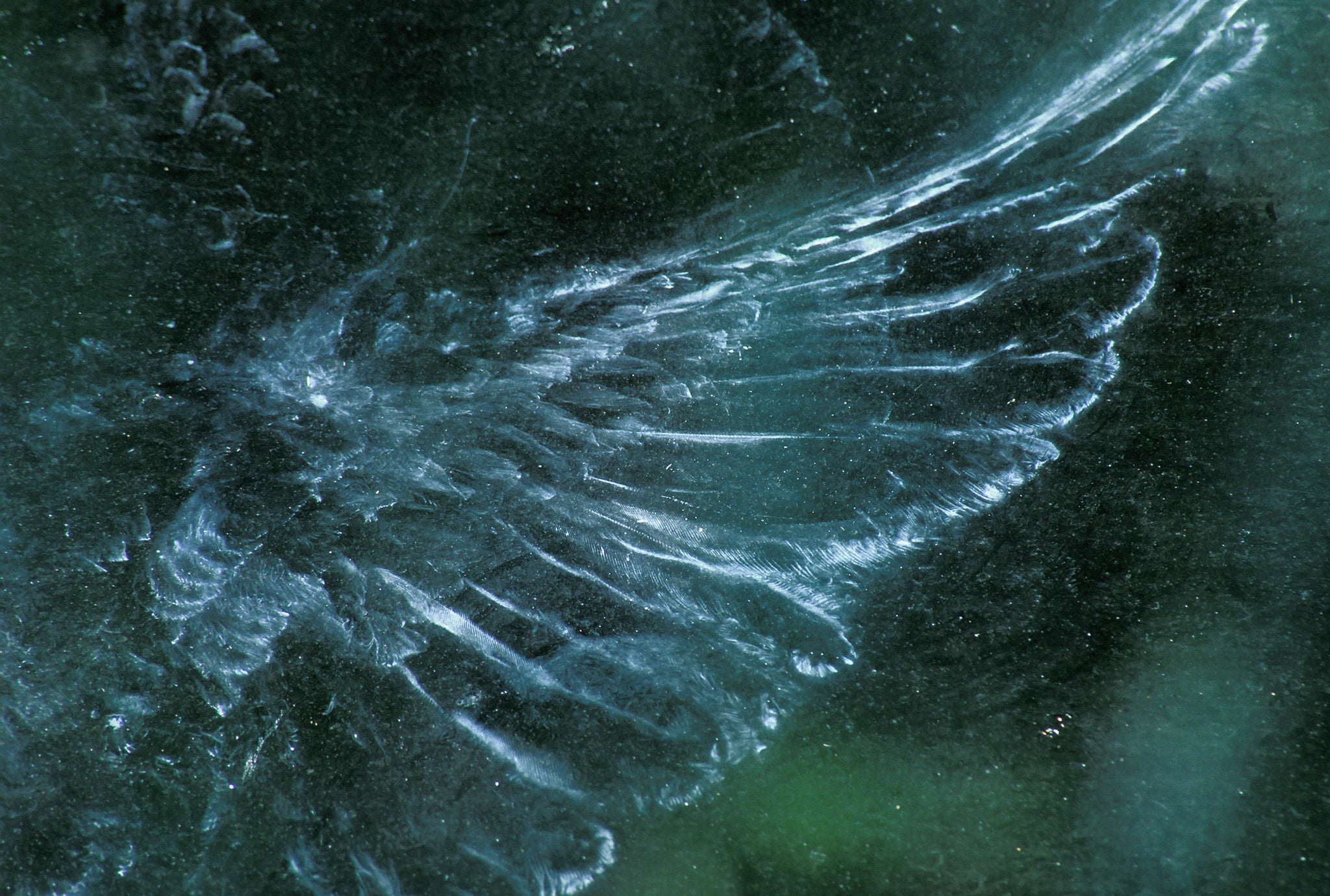 Solid Air: Invisible Killer Saving Billions of Birds from Windows
Details
By: Daniel Klem, Jr., PhD (view author's website)
ISBN: 978-0-88839-646-4 [Trade Paperback]
ISBN: 978-0-88839-640-2 [Trade Hardcover]
ISBN: 978-0-88839-665-5 [eBook] Kindle Version
Binding: Trade Paper
Size: 6" X 9"
Pages: 224
Illustrations/Photos: 78
Publication Date: 09 October 2021


Description
Birds behave as if sheet glass is invisible to them. They kill themselves striking clear and reflective panes in all types and sizes of human-built structures the world over. The killing is indiscriminate, taking the fit and unfit species, of any age category- both common and of conservation concern. Window-kills occur in the billions worldwide annually. The victims are always unintended, unnecessary, harmless, and have no voice or other means to protect themselves.
The science documenting this significant scale of loss has been known for decades, but only recently have meaningful efforts to address the problem occurred. Here, Dr. Daniel Klem, Jr., describes and summarizes the challenges and solutions to this important conservation issue for birds and people that can be used by, among others, architects and developers, legislators, legal professionals, urban planners, and homeowners alike.
Unlike the complexities of other environmental challenges, such as climate change, this important conservation issue for birds and people can be solved, and the means to do so are described within the pages of this work to guide this worthy effort.
The author's 44 years of scientific research have revealed answers to create proven bird-safe products for sale. This book ultimately tries to make the case that such a commitment is worthwhile and needed.
Author Biography
Daniel Klem, Jr. is Sarkis Acopian Professor of Ornithology and Conservation Biology in the Department of Biology at Muhlenberg College, Allentown, Pennsylvania. He and his wife Renee A. (Mucci) Klem are the proud parents of Heather Anne, Robyn Lynne, and Daniel Joseph Klem. He grew up in Larksville, Edwardsville, and Kingston within the Wyoming Valley and surrounding mountains of northeastern Pennsylvania.
He was formally educated in the Larksville School District, Saint Hedwigs Roman Catholic Church School (Edwardsville), Kingston School District (1964, Kingston High School), Wilkes College (1968, B.A. Biology, now Wilkes University), Wilkes-Barre, Pennsylvania, Hofstra University (1973, M.A. Biology, Hempstead, New York), and Southern Illinois University at Carbondale (1979, Ph.D.). He performed distinguished service in the United States Army from 1968-1971.
For the last 47 years and continuing to the present he studies, writes, and teaches about birds. His most prestigious awards are the students and professional colleagues he has interested in bird study. He guided and encouraged Sarkis Acopian of Easton, Pennsylvania to financially support the establishment of the Acopian Center for Ornithology at Muhlenberg College, and the Acopian Center for Conservation Learning at the Hawk Mountain Sanctuary Association, Kempton, Pennsylvania. He led and co-authored the scientific part of the Birds of Armenia Project (BOA) whose principal goal was to use bird study to promote an environmental ethic and the preservation of natural lands in the Republic of Armenia from 1992-2000.
Additionally, BOA brought previously unavailable scientific ornithology from Armenia and the greater Caucaus region to the western scientific community. The BOA Project published A Field Guide to the Birds of Armenia (1997), an abbreviated Armenian language field guide version (2000), and a Republic of Armenia Birds of Armenia Reference Map (1999) for the general reader, and the scholarly Handbook of the Birds of Armenia (1999) for scientific ornithologists and naturalists.
Most of his current research consists of using detailed observations and experiments to evaluate novel bird-window collision deterrent prototypes, preparing review papers describing the historic and lastest means to save birds from windows, and serving as a technical consultant to glass manufacturers developing bird-safe sheet glass, various national and international conservation organizations, and local, regional, and federal government agencies the world over.
Click here to view author's website.
Excerpt from the Foreword
"Through his meticulous research and study trials over his entire career, Dan rose to fame in the worlds of both the ornithological and wildlife conservation communities as the reigning expert on bird collisions with glass and how to prevent them. Just like those biologists who choose to study cat predation on birds and find themselves as the targets of vitriolic rants and even worse behavior by misguided folks who simply and selfishly do not want to face the truth, Dan was thrust into that very same sphere. You see, no matter where they live in the world, even today, most people just do not want to know that the large expanses of glass in the windows of their homes and workplaces kill a heckuva lot of birds – and needlessly so. Sadly, these same folks will probably not read, let alone purchase a copy of this book. But fortunately for the billions of potential feathered victims in the future, other biologists, conservationists, and even better, media experts will pay attention to the wise words penned in this comprehensive very first volume published on this subject."
— Prof. David M. Bird,
 Emeritus Professor of Wildlife Biology, McGill University
Book Reviews
"It is not exaggeration or hyperbole to say that there is no one on the planet who has devoted as much time and effort studying the perilous relationship between birds and glass as Dr. Daniel Klem has and, consequently, few people can write as authoritatively and holistically about that relationship. With Solid Air, Dr. Klem expertly weaves together the threads of his own scientific and personal journey, along with the contributions of myriad other researchers, volunteers and advocates, to create a comprehensive exploration of the causes of – and, critically, the solutions to – bird-glass collisions. Solid Air is an invaluable addition to the bird-glass collision literature and everyone - whether they are unfamiliar with the glass collision issue or already have an extensive background and understanding – will benefit from this immensely readable and absorbing book."
— John Rowden, PhD Senior Director, Bird-Friendly Communities, National Audubon Society
"A thorough, important, and ultimately hopeful review of everything that is known about bird-window collisions, by the world's leading expert in the field. This book is filled with useful information that should help all of us tackle this insidious problem.."
— David Allen Sibley, Author & Illustrator of the Sibley Guides to Birds
"Solid Air is a book about striving to prevent the death of billions of birds. Yes, billions of deaths – and all attributable to windows. But this is not a morbid book. Indeed, the book is introduced by a poignantly funny "fable for our time" – first published in the New Yorker in 1939, by James Thurber. It also includes a sampling of enlightening cartoons that have appeared in the popular press. This book is also a memoir of the author's journey through graduate school and through his life dedicated to finding answers to reduce the loss to window kills. There is much to learn from his successes and failures on his life-long journey to make a difference for birds.
Solid Air is an important read for conservation-oriented people, backyard bird enthusiasts, ornithologists, students, architects, landscapers, builders, urban planners, window manufacturers, and especially anyone contemplating a nice, airy building with lots of large windows. This is a handbook for anyone wanting to keep birds from hitting windows. In it Klem discusses the work of scientists and others around the world to tell us why birds hit windows, and how such deaths might be prevented. He also tells of his ongoing work with glass manufacturers to develop glass panes that birds can see – and thus avoid. A special boon for researchers and students is a 35-page bibliography of publications focusing on the bird-strike problem from around the world!"
— Jerome Jackson, Professor Emeritus at Mississippi State University and Florida Gulf Coast University
"Having worked with Dr. Daniel Klem, Jr. for many years to build awareness of bird collisions in North America, we are delighted to see his unparalleled expertise come to literary fruition. Dr. Klem has brought his signature charm to this book, along with a wealth of information about bird strikes, their cause, and what can be done to prevent them. At once technically thorough and down to earth, Solid Air is a must-read for bird conservationists and sustainably-minded building professionals."
— Charles Alexander Vice-President of Sales and Marketing, Walker Glass
"Solid Air weaves together Dr. Klem's data-driven research with light-hearted storytelling of his tireless effort to raise awareness and help reduce the alarming avian mortality rate attributed to glass in the built environment. The concepts and guidelines outlined in this book must be part of every architect, designer, and planner's vocabulary and is critical to protecting our local and global ecosystems through responsible design and construction."

— Kate Scurlock, AIA GWWO Architects
"In Solid Air, Dr. Daniel Klem, Jr. shares a poignant story of scientific discovery and conservation exploration lasting several decades. Klem, the leading researcher on bird strikes at glass windows, shares with the readers the development of his research and his ultimate findings on why and when birds are likely to strike windows. Solid Air also details the evolution of industry steps to make windows more bird-friendly, summarizes the global data on the volume of birds killed, and presents an array of resources available to homeowners and businesses to address the problem. The book is easy to read, accessible, and chronological. The reader is captivated by the unfolding story and the frustrations and mysteries explored by the author. In closing, Klem shares his angst at the lack of attention to the very significant threat of glass to birds and closes with a call to action for bird enthusiasts, scientists, and conservation advocates to do more. Solid Air will appeal to the bird-watcher, scientist, conservationist, architect, and anyone who has ever heard that awful thud of a bird hitting a window. Solid Air reminds us this is a threat we can address and provides the tools to do so."
— Laurie J. Goodrich, PhD Sarkis Acopian Director of Conservation Science, Hawk Mountain Sanctuary Association
"This is the book we have been waiting for. Daniel Klem has been the leading researcher on bird-window collisions throughout his long career, and thanks to him there is now widespread recognition of the magnitude and severity of the problem, and of measures that can reduce it. And to no one's surprise, the book is written in the engaging, personal style that are Klem's hallmark. Enjoy this book, and then act."
— Prof. David Fraser, Animal Welfare Program, Univ. of British Columbia
"During the past few decades, as North America lost 3 billion birds, the role of human-induced bird mortality is finally being recognized. In Solid Air, Dr. Klem has synthesized 46 years of his research and personal experience with window and building collisions, to produce the most comprehensive account on this critical source of bird mortality. Klem delves deep into the causes and solutions to the problem, summarizing how and why birds collide with glass, the avian visual system, the numbers and species involved, his own meticulous research, and, most importantly, a step by step way for people and organizations to reduce the carnage. If people were to follow Klem's guidance, the result would be hundreds of millions fewer bird collisions per year which would help stem the decline of our most vulnerable birds.
Solid Air, because it is largely written in the first person, is reader-friendly and reveals the author's personal approach to the problem, as well as his passionate commitment to understanding and resolving bird collisions with windows and buildings. For anyone interested in birds and bird conservation, as well as a rare insight into how scientists think and are motivated, this is a must-read."
— Paul Kerlinger, PhD Cape May, NJ and author of How Birds Migrate
"Solid Air artfully blends the why, what, and how of Dr. Klem's scholarly research dedicated to reducing bird collisions with glass. His foundational contributions to the emergence of this vital avian conservation issue and its remedies are increasingly integral in the construction and retrofitting of buildings. Dr. Klem's engaging narrative chronicles his career's work for a broad audience and initiates a call to action for changing human behavior.

For architects, Solid Air is an essential contribution to the generalist knowledge that is critical to the creativity and competency of our profession. In addition to compelling data and design guidelines, the breadth of Dr. Klem's research underscores the interconnectedness of all things, the fragility of our own species, and our role as designers to holistically shape a more sustainable future."
— Jules Dingle, Principal, Digsau Architectural Firm
"Solid Air is a must-read for any serious student of ornithology or anyone who cares deeply about bird populations. Dan Klem Jr.'s writing is thoroughly engaging as he takes the reader on three equal, interconnected journeys any one of which would be worth reading for their own sake. For the student of ornithology, Solid Air is a journey through science, from question framing, thesis formation, experimentation, grantsmanship, dissemination of information, reformulation, and testing, testing, and re-testing. Each step with its own set of challenges and frustrations to overcome, and in overcoming Klem's work is inspirational. The second journey in Solid Air is how we have come to understand one of the most significant threats to birdlife and, most importantly, the solutions at hand to remedy the problem. If we are willing to make those decisions. Finally, Solid Air is a personal journey and one that will resonate with anyone who is passionate about what they do and committed equally to family and profession. Solid Air is clearly a sum far greater than the three parts. Purchase the book, read it, put knowledge into action and then share it with someone else who lives in a house with glass windows."

— Prof. Jameson F. Chace,
 Dept. Biol. & Biomed. Sciences, Salve Regina University
"
After following the subject of bird-and-glass impact for almost half a century, Daniel Klem has provided serious observers with an excellent summary of the subject… and just at the right time. Klem knows best, both as an astute observer and a serious player, in this scientific drama.Solid Air makes the case: the discovery, the approaches to the problem, the tragic losses, the struggle for popular and the scientific concern, and the solutions available. As the reader builds interest in going through the essentials, there is a real temptation to skip to the final chapters on popular education, solutions, legal remedy, and public action. But the time invested and the understanding of the accumulated evidence over the decades is a real prerequisite to the satisfying set of conclusions. For one, Klem's chapter 8, "Getting the Word Out – Transforming Education into Action" is a particularly vital piece of the narrative – and of the science – on how so many people, professional and otherwise, have contributed to a potential resolution to this problem. Klem ultimately leaves us with the necessary tools to conquer this bird-and-glass issue. We only need to grasp the lessons and pursue the necessary changes.
"

— Paul J. Baicich,
co-editor Birding Community E-bulletin and regular columnist for Bird Watcher's Digest
"One of the leading authorities on window collisions worldwide, Dr. Klem provides an at-once scholarly, compelling and readable synopsis of decades of research and his tireless dedication to bringing attention to one of the most critical and yet most often overlooked conservation issues for birds. His writing is humble, personal, compelling and provides a stirring call to action for every one of us. A must-read for avian conservationists, architects, designers, glass manufacturers, community activists, and bird enthusiasts alike."
— Mary Coolidge, Portland Audubon
"What an important book for all those who care about birds. For decades, Dr. Dan Klem has been a voice crying in a wilderness of denial to bring attention to the danger of birds and windows. The premise that window glass kills hundreds of millions of birds annually in North America seemed exaggerated. Sadly, it is not. "Solid Air" brings together in one place his research, advocacy, and passion for addressing this overlooked killer of birds. Readable, authoritative and urgently needed as we address momentous declines in avian populations, this book is a call to action, an entreaty to save our birds."
— James H. McCommons, author of "Camera Hunter: George Shiras III and the Birth of Wildlife Photography
"...It may have taken 45 years, but there is no doubt that Klem's work has affected substantial progress on the subject of bird–building collisions. Hopefully, Solid Air finds the audience it deserves, and fewer birds find their fate reflected to them in glass." Ornithological Applications, Volume 125, Issue 1, 3 February 2023
— Matthew Shumar, School of Environmental and Natural Resources, The Ohio State University, Columbus, Ohio, USA
Media
The author speaking on the topic of bird strikes and windows
The author speaking on PBS on bird-friendly glass
Podcasts
Dirty Bird Podcast
Hannah and Eric Go Birding
Bird Cast

Bird Cast
 Episode