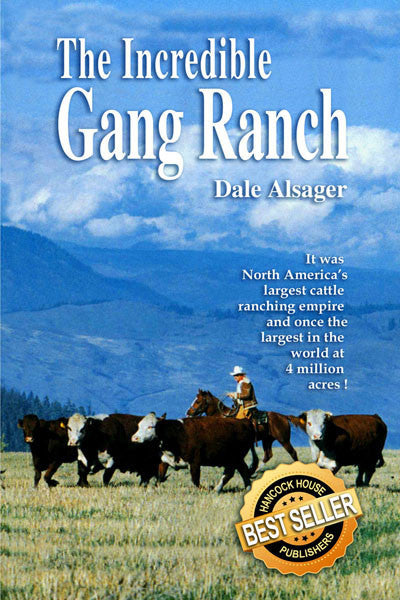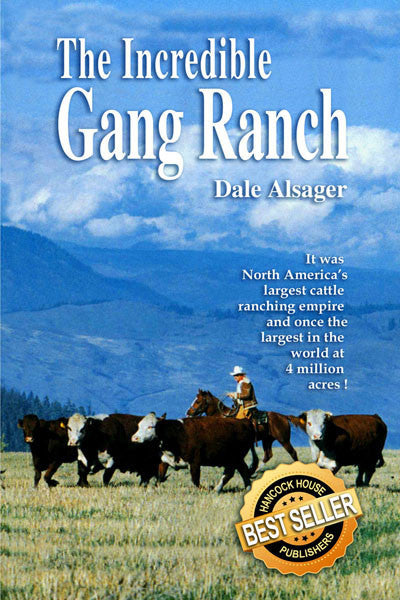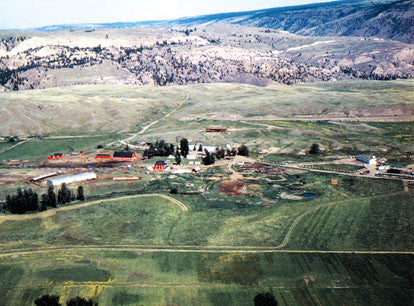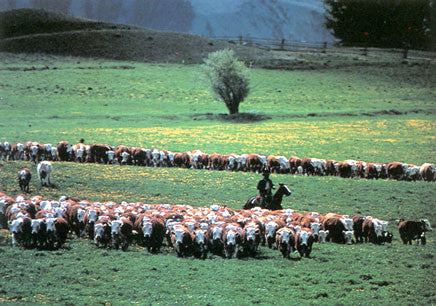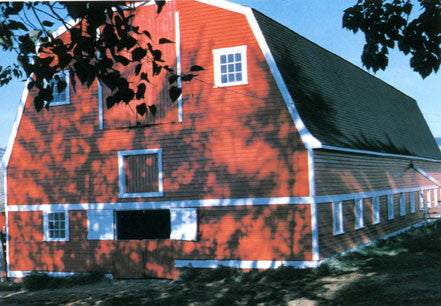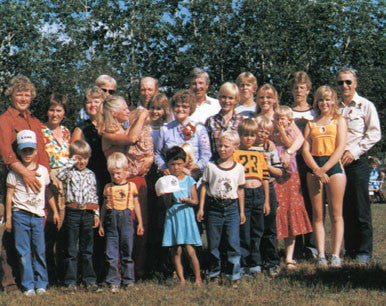 The Incredible Gang Ranch
Details
By: Alsager, Dale
ISBN: 0-88839-211-7/9780888392114
Binding: Trade Paper
Size: 8.5" X 5.5"
Pages: 448
Photos: 
Illustrations: 
Publication Date: 1994
Description
PR Highlights: The story of the largest gang ranch in Canada.
PHOTO Highlights: 32 page color and b/w photo section.

Description: Hardship, intrigue, humor, and tragedy went into author Dale Alsager's successful struggle to lasso The Incredible Gang Ranch, North America's largest cattle ranching empire and once the largest in the world at four million acres. Family squabbles, jealousies, and desperate financial hardship have gone into the continuing legal battle to keep it. The legendary million-acre ranch in central British Columbia is still worth more than $10 million today, even after having been broken up. Its colorful and dramatic 130-year history includes meddling government bureaucracies, absentee owners, and tough economic times. This book makes a galloping good read, from the notorious founders, the Harper gang of West Virginia in the 1800s, through the days of the California and Cariboo Gold Rushes, to the high-flying, high-risk, computer-aged corporate ranching of the 20th century, apparent sabotage, and dramatic court battles.
Author Biography
Since the publication of this book in 1990, Dr. Alsager graduated from the A.T. Still College of Osteopathic Medicine in Kirksville, MO and subsequently completed postgraduate training in rural medicine, internal medicine, ambulatory medical procedures including medical imaging, pain management (University of Washington, WA) and age management medicine. He has since authored numerous publications in peer reviewed medical journals and lectured to physician groups and osteopathic medical students throughout the US and Canada. Following 20 years in private medical practice (country-doc.com) in western Washington State, Dr. Alsager retired from private practice. Since 2012, he has been working to establish Canada's first International College of Osteopathic Medicine. His goal is to focus on training osteopathic physicians for service in rural practice in Canada and other medically underserved parts of the world. 
Dr. Dale, as he is known to his many friends, colleagues and students of medicine, continues to hold out his time at the Gang Ranch, British Columbia as one of the most memorable and challenging jobs of his career. Dr. Dale admits he is still a "caribou cowboy at heart" and carries great admiration for the courage and endurance of western cattlemen including the Shuswap, Chilcotin, and other First Nations peoples in the region.

"My most radical fantasy now is the establishment of a 'Country Doctor Clinic' at or in the vicinity of the Gang Ranch, British Columbia. Then, hopefully, my work on earth will be complete!"
Book Reviews
By Mwkenn on May 31 2012

A must read for all you cow pokes out there or anyone interested in the Canadian ranching business. With all the hard work Mr Alsager put into the Gang Ranch, he deserved a better fate.