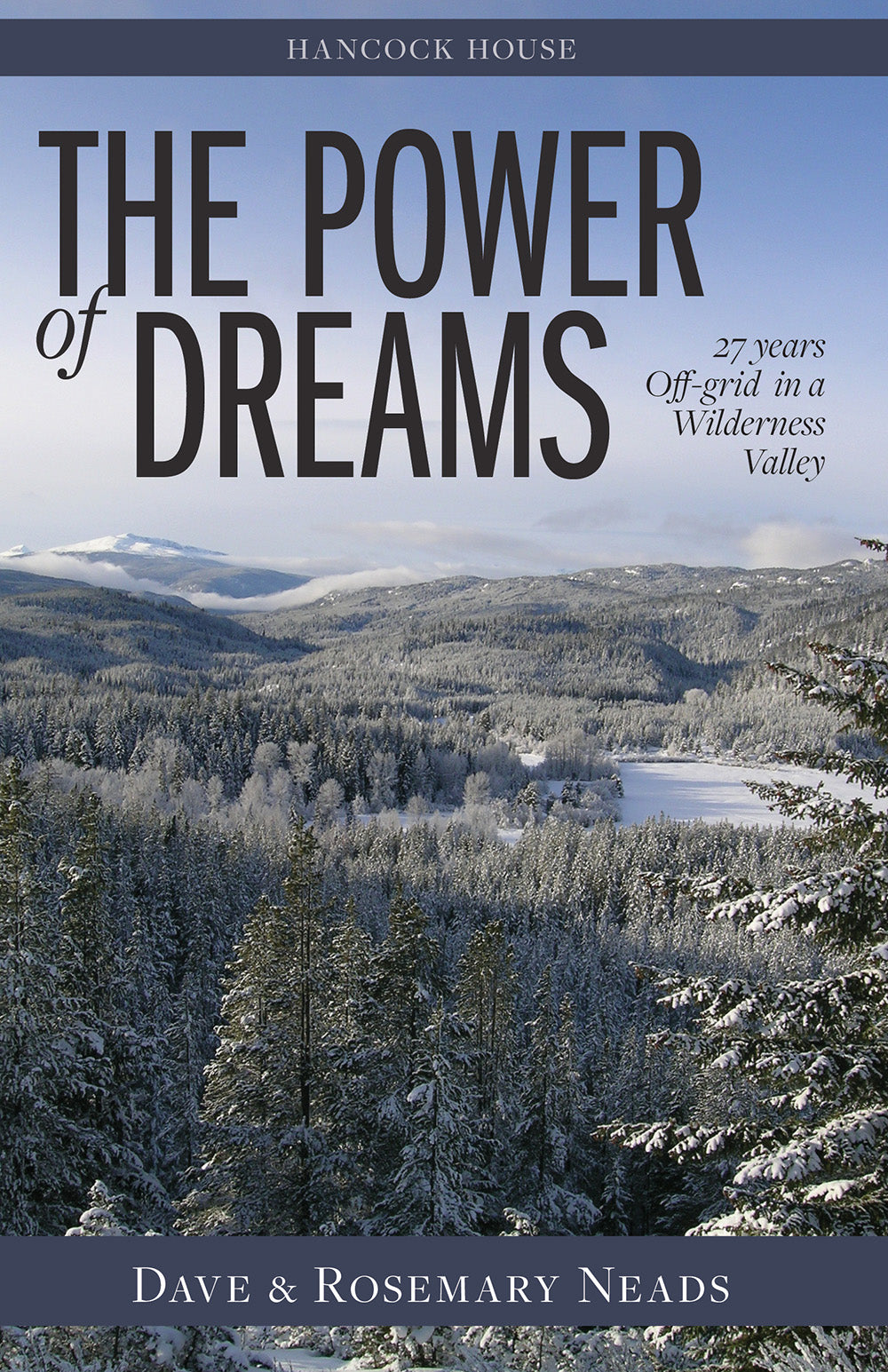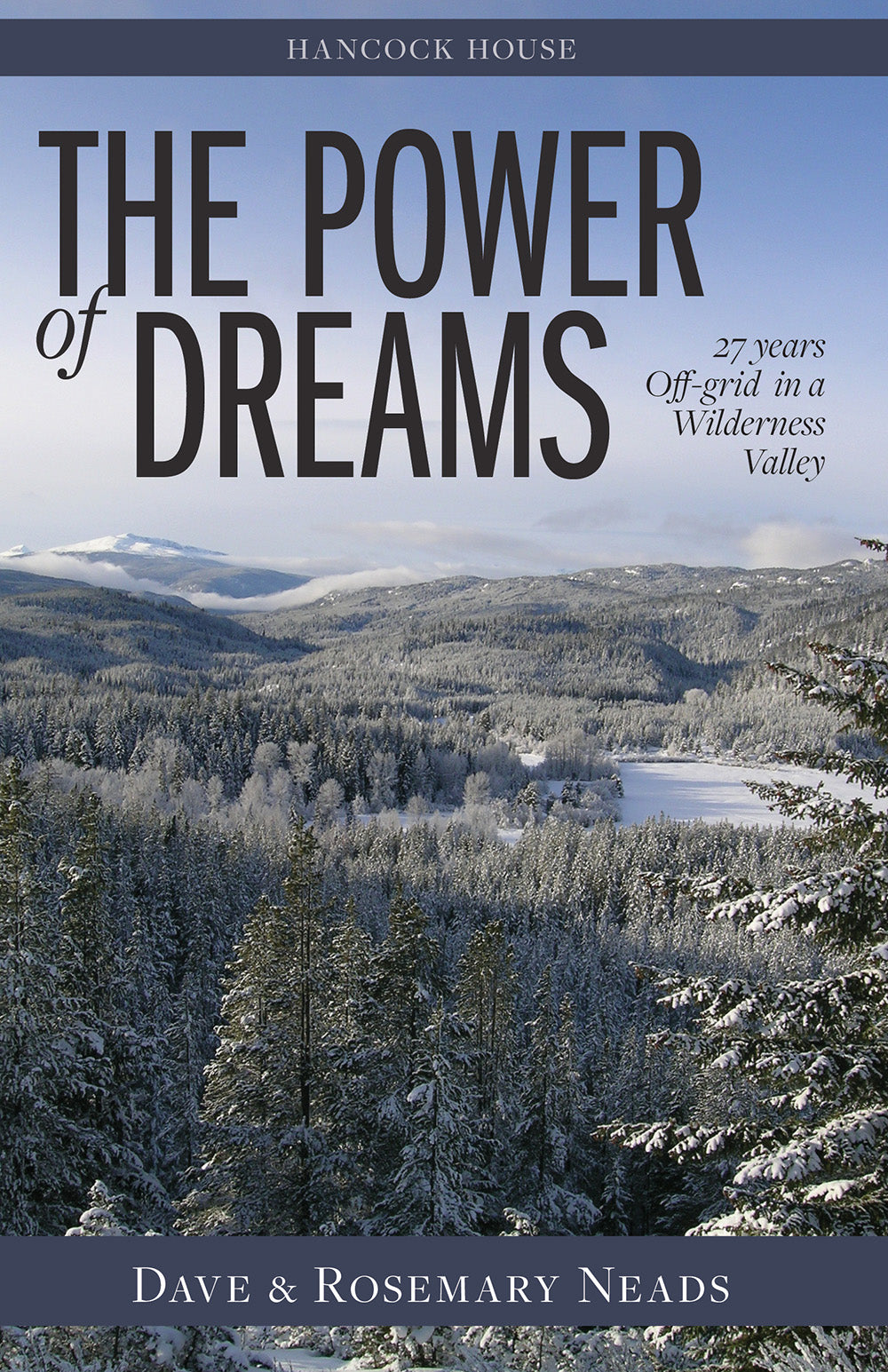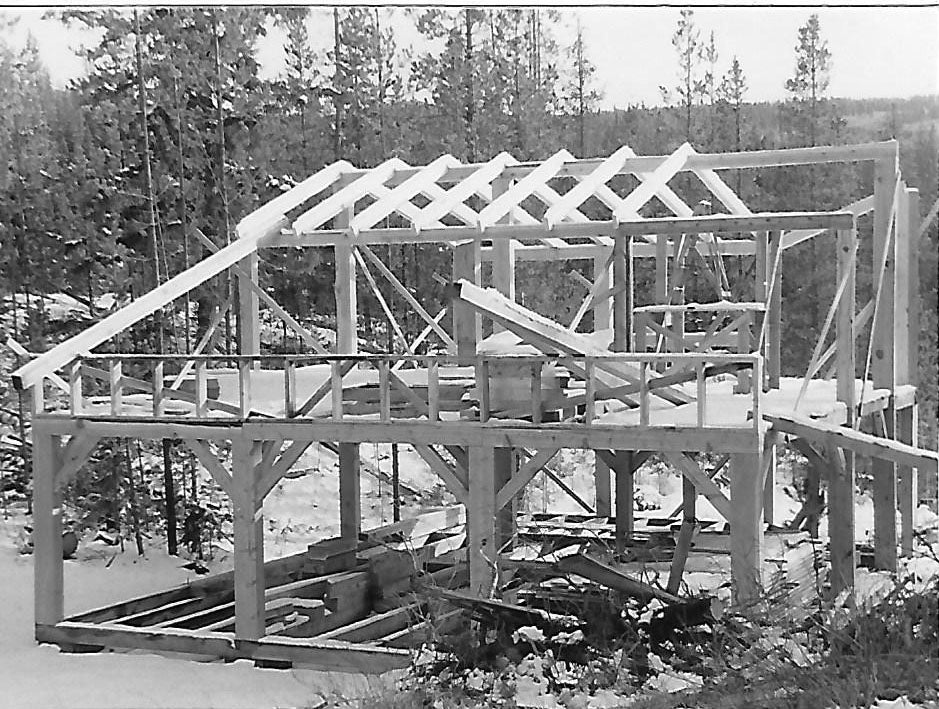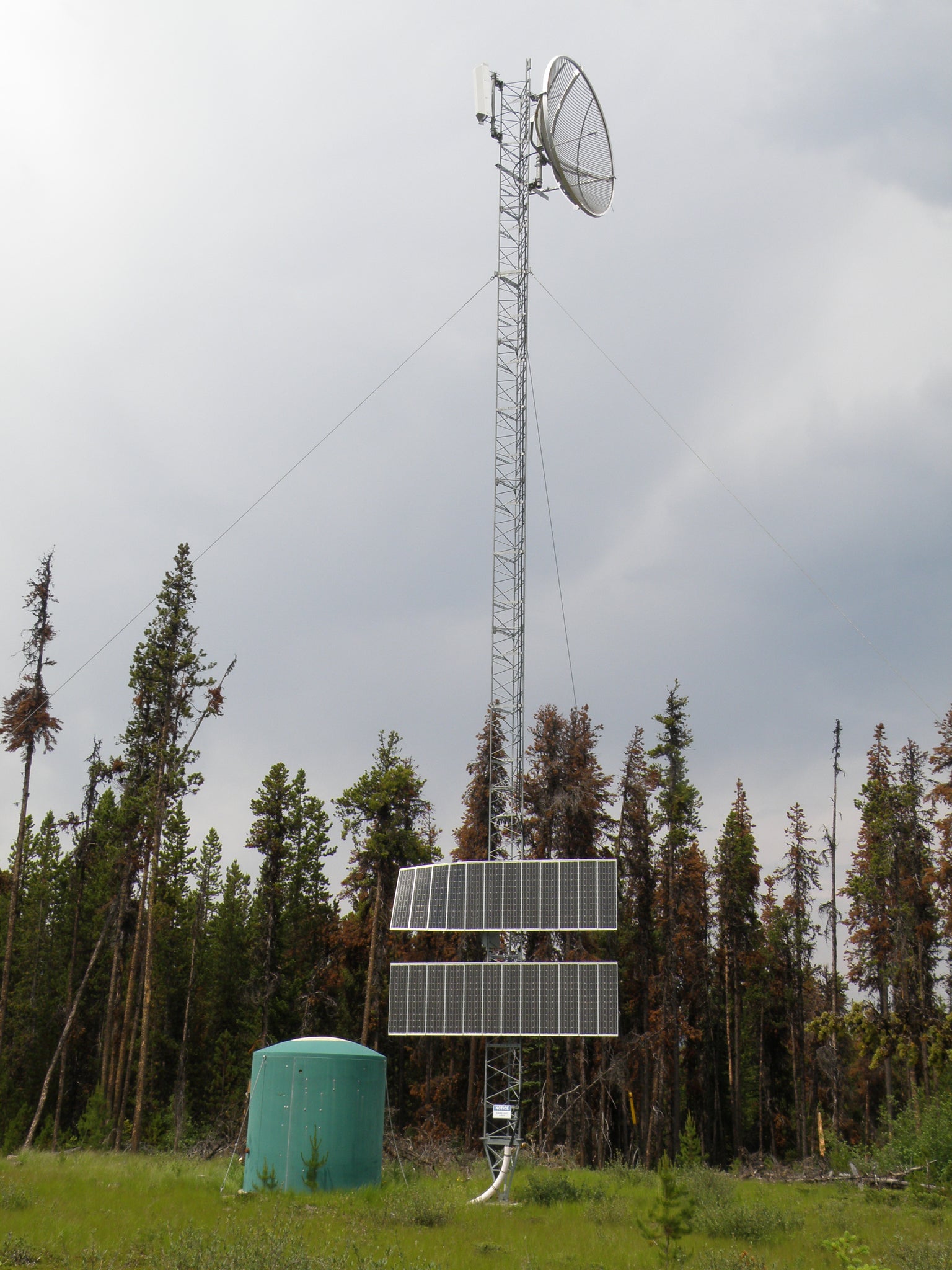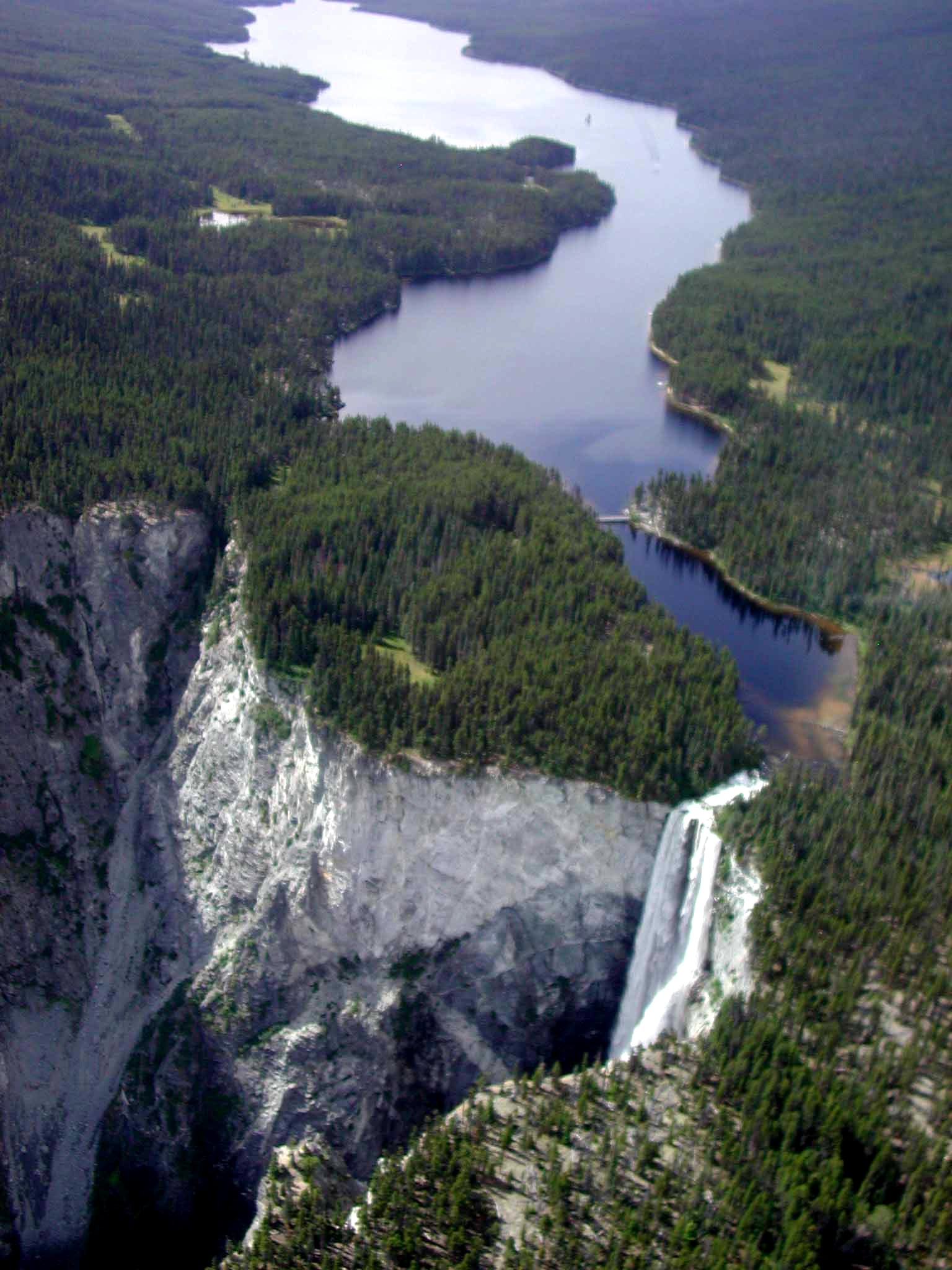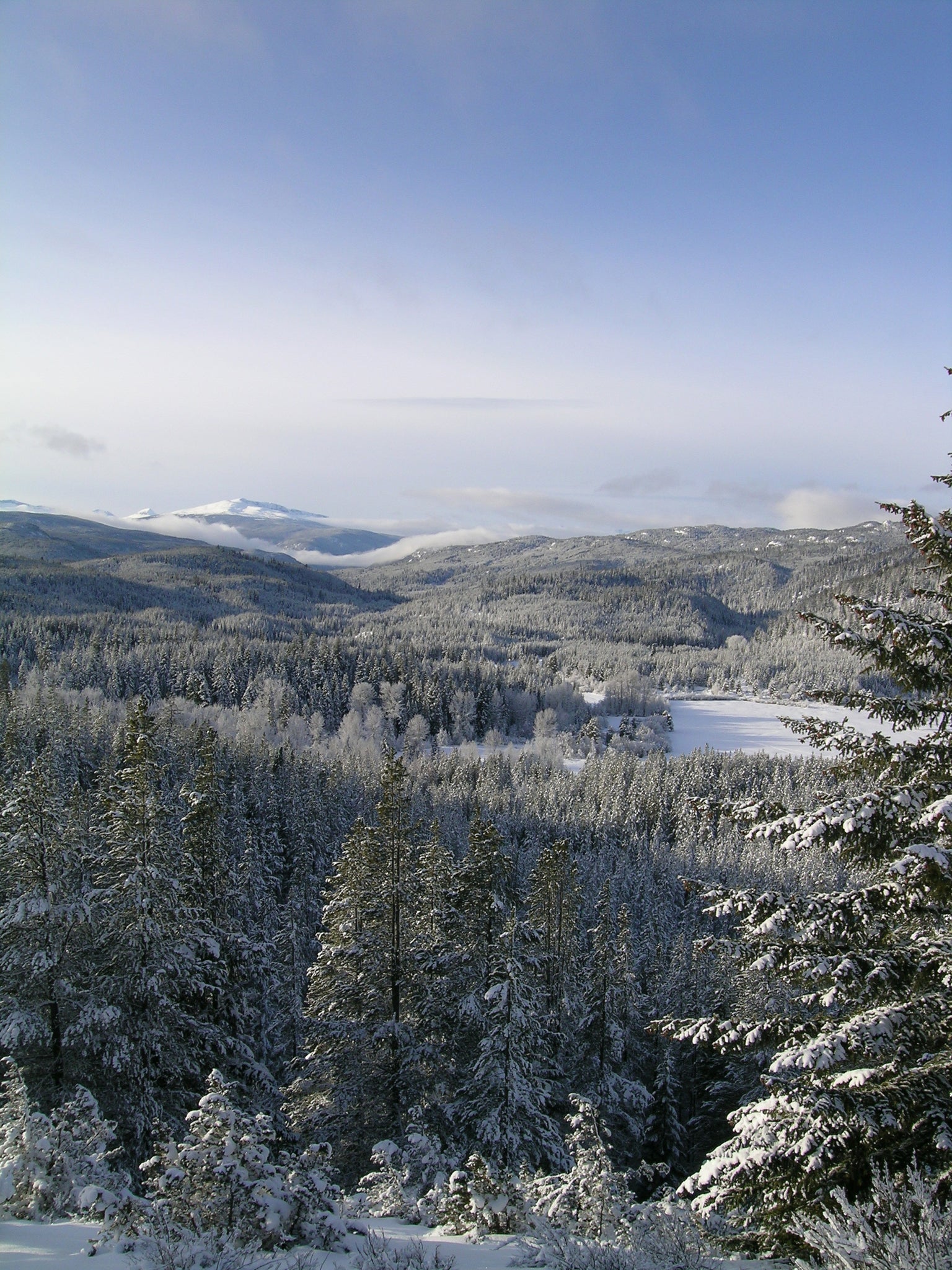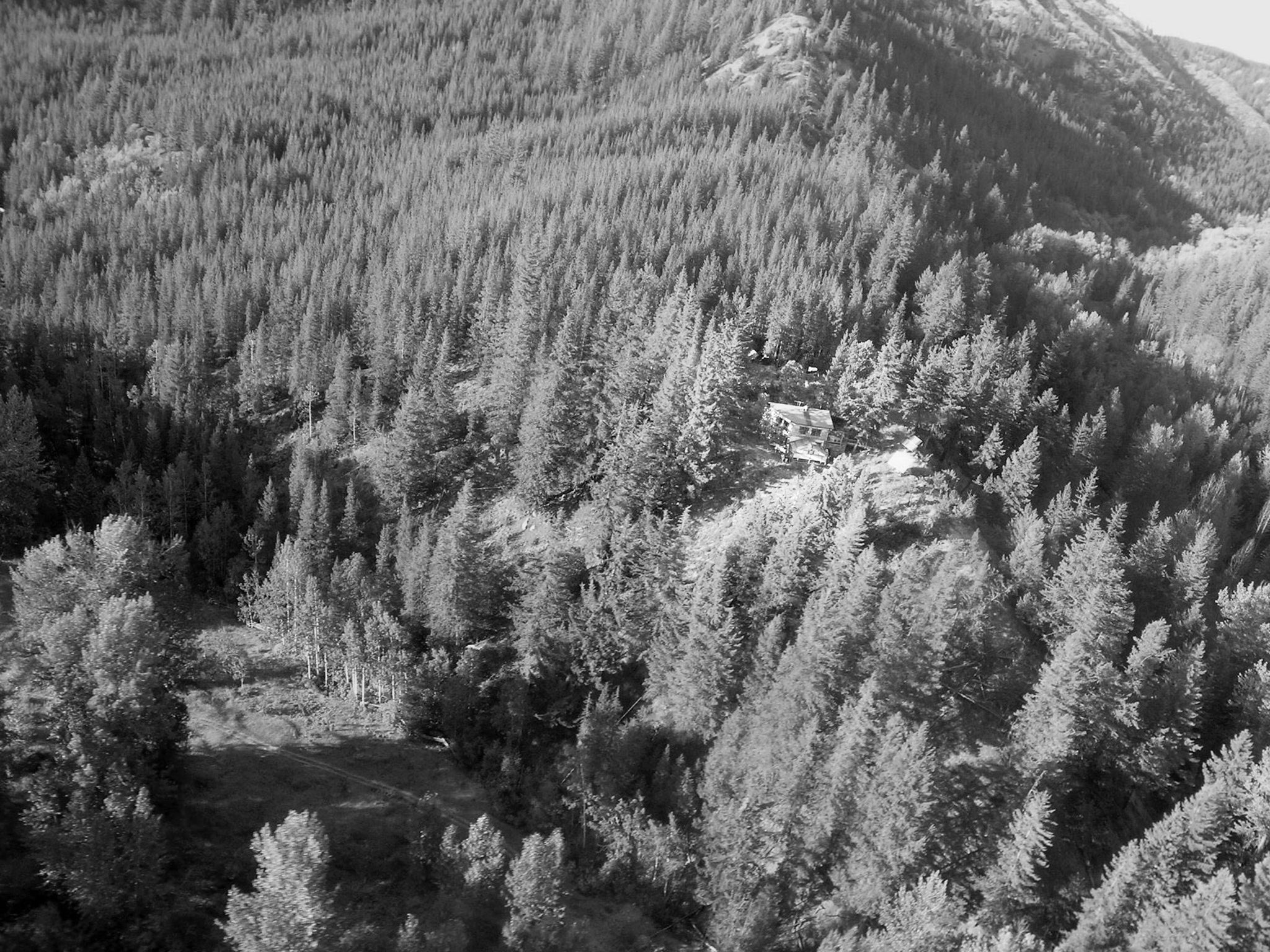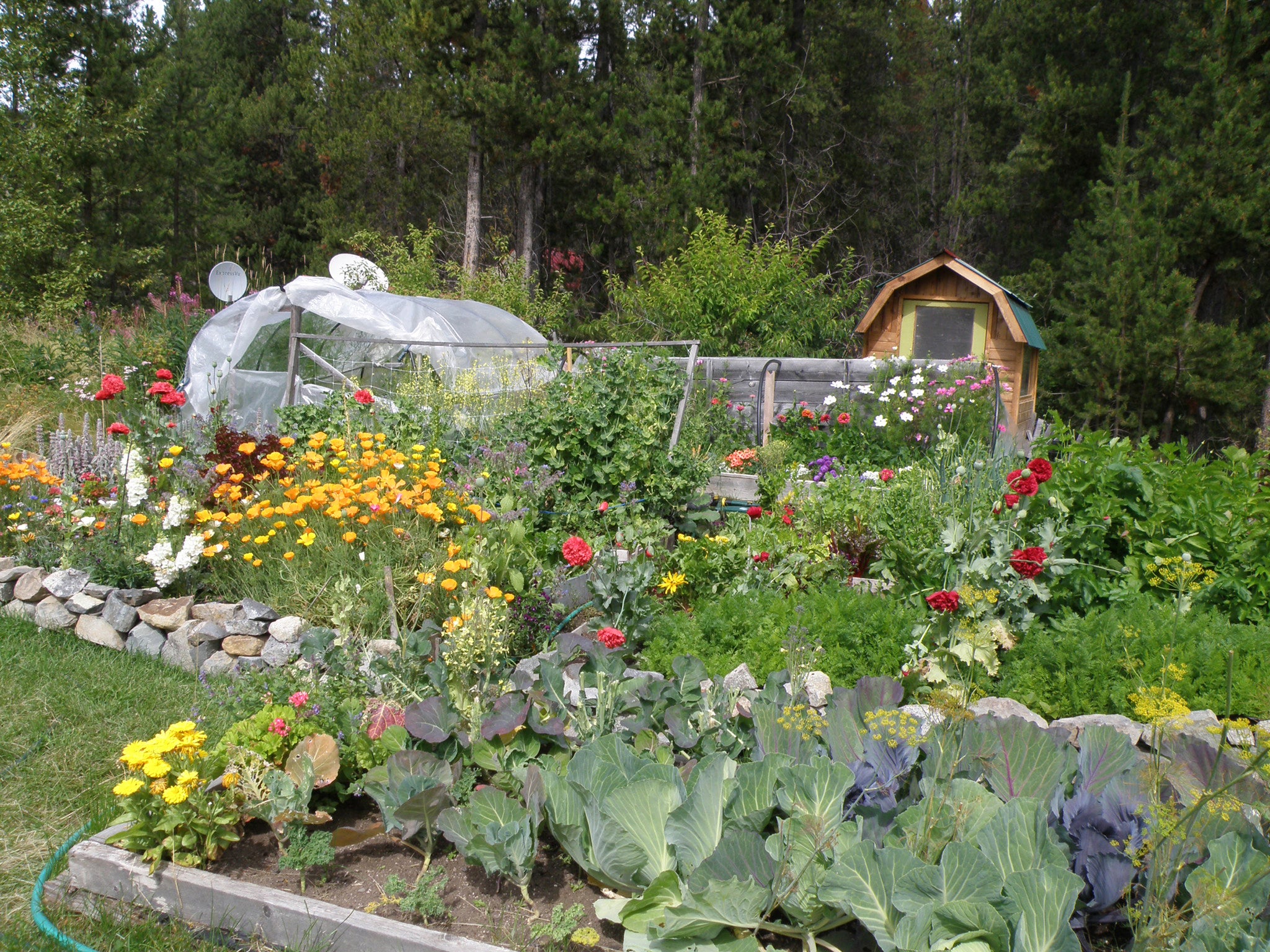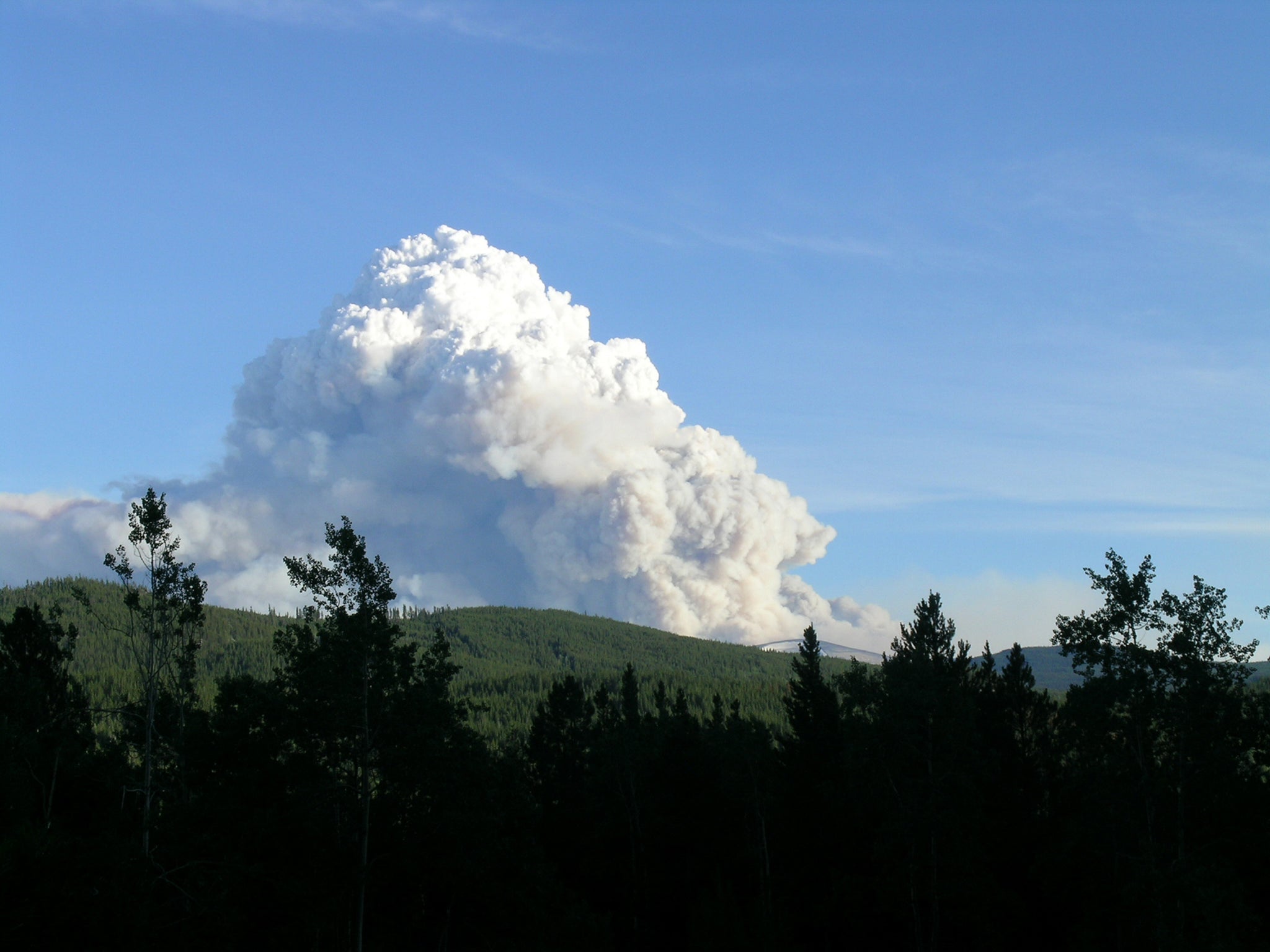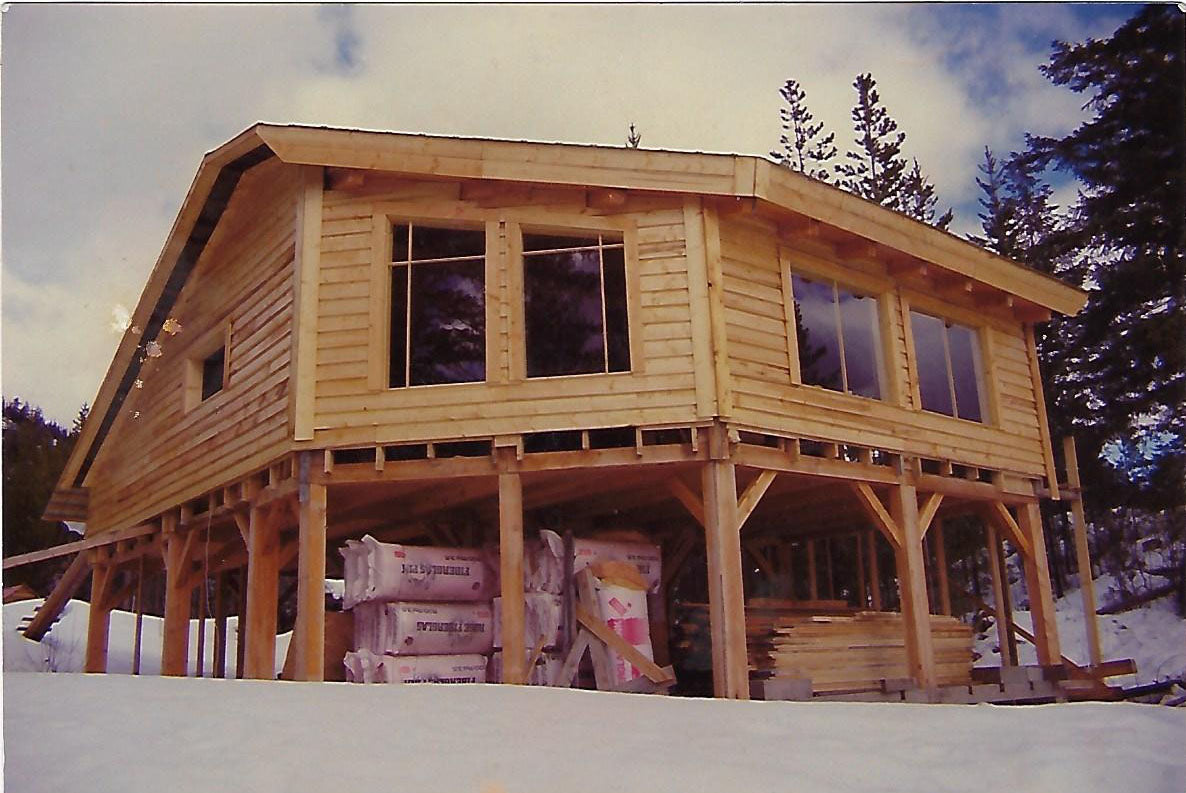 The Power of Dreams: 27 Years Off-grid in a Wilderness Valley
JUST RELEASED!
Details
By: Dave & Rosemary Neads
ISBN: 978-0-88839-718-8 [Trade Paperback]
ISBN: 978-0-88839-742-3 [eBook color]
Binding: Trade Paper
Size: 5.5" X 8.5"
Pages: 246
Illustrations/Photos: 66
Publication Date: 05 Dec 2022


Description
I was standing on our ridge during a clear December midnight, stinging cold biting my cheeks. Overhead, stars sparkled with sharp blue light sent from far Arcturus, mirroring the diamond crystals scattered on the crusty snow before me. The silence was absolute. All I could hear was my heartbeat.
And then it came. At first I felt, rather than heard it: a mournful vibration, gathering volume, breaking the silence and raising hackles on the nape of my neck. From deep within the shadows of the ancient fir forest, this first solo was joined by more voices to become a full choir of wolf song bursting across the frozen meadow.
As if cut by a sharp knife, the chorus stopped in mid-phrase. After a beat, there came an explosion of yips, yowls and yelps, announcing a second choir on the ridge above. The coyotes had joined the concert. In this moment, the verses of wolf and coyote song became an orchestrated wilderness anthem. The magic of such a moment never leaves your heart.
Exceptional experiences like these may last for a just a few moments or for hours. They redefine our sense of reality, challenging our perceptions, shifting us into a sharper, clearer definition of ourselves and our place in the cosmos. These events are not planned or even expected; they arrive in their own way, following ancient patterns established over an immense span of time.
The Power of Dreams tells the story of a couple, already in their 40's, who uprooted themselves from urban life to follow their dream of living in the wilderness. They settled in a remote mountain valley called Precipice Valley, part of the ancient trade route linking B.C.'s Chilcotin plateau to the Pacific Coast.

Surrounded by mountain vastness they lived there for nearly three decades, much of it in near-total isolation. Their dreams sustained them while they carved out a lifestyle that was both rewarding and challenging.

These are the stories of how the two of them designed and hand-built a solar-powered, two-storey post and beam house while learning to live off-grid and in harmony with nature. They share their experiences with you through vivid descriptions of the adventures, people, places and the ingenious solutions needed as they forged their Precipice lifestyle and explored the wild world of the west Chilcotin.

These vignettes will give you a feeling for life in the wilderness and perhaps inspire you to fulfill your own wilderness dream, helping you find a path through these challenging times when new ideas and insights are so desperately needed.

Author Biography

Dave moved into Precipice Valley in the West Chilcotin in 1986. With him were his wife Rosemary, two dogs, two cats, and 3 horses. Although the nearest village was 3 ½ hours away on a seasonal access road he first worked as a Park Ranger in Tweedsmuir Park and then became involved in environmental campaigns. He then worked extensively on conservation and wilderness tourism issues, both locally and provincially. As an activist he helped create several organizations to assist communities and First Nations in the creation of land use plans that reflected their conservation and tourism interests.

Dave also played a key role in several government land use planning processes. In this regard, he was instrumental in the creation of several Provincial Parks for protecting important biodiversity and endangered species.

During those years he wrote an environmental column for the Williams Lake Tribune and had articles in various publications. He also wrote a blog as a way to express his feelings and philosophies about wilderness living, along with the life and adventures he and Rosemary had during their 27 years in Precipice Valley. 


Dave and Rosemary now live on Gabriola Island where he continues his activism, designs and sells solar systems, and teaches the solar pioneers on the Gulf Islands how to do it themselves.

Rosemary spent years involved in advertising and public relations in Vancouver before realizing she was spending every spare moment escaping the city; either to do intensive scuba diving, hiking, skiing, or sailing. Seeking a new way to support herself she went to UBC where she met Dave. After doing 3 years of psychology, she understood that pursuing such a career would mean staying in an urban center, so she spent 2 more years to get a B Ed, thinking it would be more useful for living in a small town. Eventually, she and Dave married and started exploring together, ending up in the beautiful Chilcotin region of British Columbia. They discovered they shared a dream of wilderness living and eventually moved to Precipice Valley to realize this.

The years they spent there was a steep learning curve but so full of adventures and ongoing inspiration that they never faltered. When she and Dave became involved in conservation, she was a full-time partner in organization and marketing, happy to have yet another challenge. She also became a skilled stained glass artist and during winters accepted commissions for large panels, mostly themed by the nature around them.

When she was in her early 70's she and Dave realized it was time to move to an area with less physical work and more services, and after an emotional 3 years of decisions they sold their Precipice home and moved to Gabriola Island. There, she has been involved in various environmental issues and community events, while establishing food and flower gardens for their new home and lifestyle.


Book Reviews
"What a thorough and delightful account of latter-day back-to-the-landers Dave and Rosemary Neads, and their 27 years in the Precipice Valley where they built their home on the western edge of the Chilcotin Plateau. An important story told from a conservationist perspective giving the reader an intimate perspective of the natural world, seasons and wonders, and insight into the rigors of backwoods survival."
— Sage Birchwater, author of Chilcotin Chronicles and Chiwid.
"A stirring story, exquisitely told. Dave and Rosemary describe their ingenuity for survival and sensitivity to preserve the rhythms of nature. The Power of Dreams inspires courage and spirit."
— Chris Harris, author of Motherstone and Spirit in the Grass
"What happens when two reasonably talented, middle-aged people purchase a 15 hectare plot in the Chilcotin wilderness has the makings of a fairly reliable drama. And drama it becomes, as Firhome, the house that Rosemary and Dave Neads built, begins to take centre stage. In the wings lurks the continual protagonist, the weather, with its house-shaking thunderous storms that can cause flash fires and the rare moments when it smiles benignly during the brief 6 weeks that is suitable for veggie gardening. As a continual backdrop to this venture are the magnificent Chilcotin mountains. The book the Neads wrote about their experience, The Power of Dreams, is a page-turner- as problem after problem arises and are solved, often with startling ingenuity. But it is not just the progress of this 27-year enterprise that holds the reader, for the writing itself verges on the poetic as the description of say waking to a mountain view, or meditating at the end of a hard day, or just a musing around on the colour green become lyrical moments.Alchemically, it is not just the undertaking that develops, but the pair themselves. As Dave so aptly says, "You find out who you are." Rosemary becomes a master gardener, herbalist and calm fixer of problems and Dave develops into a well-known advocate for conservation. Their stupendous venture is not only a paeon to the pioneer spirit, but also a plea for conservancy, which is, of course, now beyond urgent. The Power of Dreams is a must inspirational read."
— Naomi Beth Wakan, Author of Wind on the Heath and Some Sort of Life.
"Perhaps we've all had dreams wherein we escape from perceived reality. Most of us, however, never seem to muster the fullness of courage to pursue a dream–to live that dream no matter the consequences. This is a book–an account in staccato tale form–of years of challenge, learning, success and sometimes fear associated with a passion to discover life to the fullest in a remote B.C. west Chilcotin valley. Overhanging the valley is the 400 metre basalt "precipice" that has overlooked a traditional route from the ocean to the interior. It is a place where one might imagine meeting indigenous peoples and those who came to explore and colonize.
It is also a place where two people chose to challenge themselves and discover what it can take to reach their respective most significant inner selves. Rosemary and Dave Neads walked in the footprints of true pioneers. They carved and constructed a lovely home on a hill and they serviced that remote home with both the basics and the technology so many suburban people depend upon. Rosemary applied her immense talent to hard work which included actually constructing gardens in an almost hostile environment so that they would have fresh produce. She has an artistic skill which she transformed both into house design and then, later, into her passion for stained glass art. Time and again in this remarkable account one learns of Rosemary's diverse skills supplemented by immense courage often a necessity when, for example, lightning attacked their fragile electrical system. Her pizzas for forest firefighters became legendary. Twice annually her grocery and necessities compiled list took them the many hours east to Williams Lake for twice-annual shopping expeditions. Dave the master of almost any skill or trade you can imagine–woodcutter, plumber, electrician, mechanic, bridge builder, carpenter also responded to the lure of the mountains and spent several seasons serving as a park ranger in Tweedsmuir provincial park. The book abounds with stories sometimes frightening, sometimes amusing. In the latter category is the tale of how some old PGE railway flatbed cars became the "Christmas whisky bridge" over the Hotnarko River. Or how the famous Ralph Edwards son John accidentally infused his famous tasty sticky buns with his own sweat. Of course, once you've traveled the "Tote Road" into the Precipice valley and encountered a fallen tree across that Tote Road and you are admonished by Rosemary for your lack of foresight "everybody carries a chain saw with them when you travel in this country!" "Sure Rosemary, every Budget rent a car comes with a chain saw!" you learn quickly how remarkable are the people who wrote this account.
They lived on the land. They enjoyed entirely Precipice sourced meals. They took the environment and environmental heritage extremely seriously. They also understood the context within which they often struggled and succeeded. The geology, the history, the weather and even the few new neighbours in their valley all became integral components of the truly remarkable account of 27 years of life "off-the-grid". Methinks their collective success enhanced the amazingly courageous personalities they have carried forward into a well-earned retirement on one of B.C.'s most delightful coastal islands, Gabriola. And, of course, they are still enchanted with nature and its potential to enrich and enhance humankind."

— Dr. Lloyd Brown-John,
(ret.) Professor emeritus and media consultant
The Power of Dreams
So far I really like it. I haven't gotten very far since gardening is interfering...lol But I will finish it! Thanks for asking. I really love how you wrapped the book again in brown paper. I have never seen this before. Thanks for the gift of 10% off of next order!
This book deserves to become a British Columbia classic!
The Power of Dreams was a difficult book to put down, as with each page I was transfixed into their amazing world and was able to vicariously experience their extraordinary lives through their compelling storytelling and magical imagery.
A Cosmic Gem
Still reading it. Oh. My. God. I am loving it so much. It's like this treat I get to have every single day. I'll be sad when it's finished. It's poetic, thoughtful, deep, articulate. It's delicious reading good grammar, accurate descriptions with real words (words that are the closest there are to describe a specific thing). But mostly I felt I was given special access to something very deep (binding and bonding both) for the two writers in that environment. They say a picture is worth a thousand words. However, "they" had no idea how Dave strings his words together! I've read good writers, story tellers, but I've never been captured, enchanted, like I have with Dave's descriptions and the stories both writers tell. It's about deep awareness--in a brilliant package of hardship, challenge, friendship, community, respect, being one with the wilderness. Highly recommend.
A Book to Delight and Inspire
This book is so much more than simply an account of Dave and Rosemary's adventures and triumphs of ingenuity and perseverance. There is is so much wisdom in its pages, wisdom gained from paying close attention to the natural world and reflecting on humanity's place in it. The section on "Energy Gods" has a meditation on the connection between routine, ritual and intuition that offers insight into an indigenous perspective worthy of a sensitive anthropologist. Part of the charm of the book is that it does not tell their story chronologically but in segments and thematic strings, which, however, all fit together by the end of the book to give a comprehensive account. The orchestration between pieces featuring technical and scientific information, Dave's lyrical flights and Rosemary's homespun humour is faultless and engaging. Most of all, this book is pure pleasure to read and leaves you feeling uplifted.
An accurate rendering of the challenges and rewards of a life in the wilderness told with wit and humor. The real world is a necessary antidote to the virtual world which is becoming an ever larger component of human experience, and this book is a window into that natural world. A cure for the disease of too much urban living.