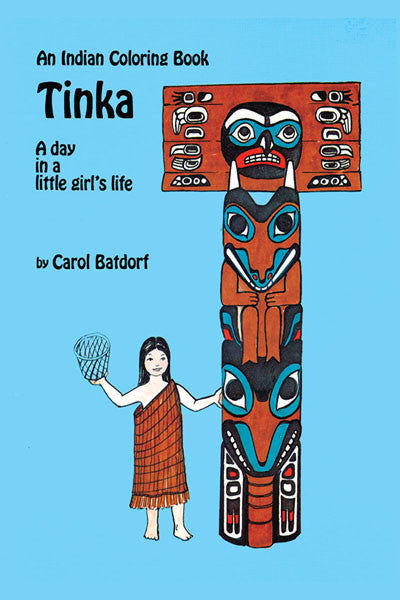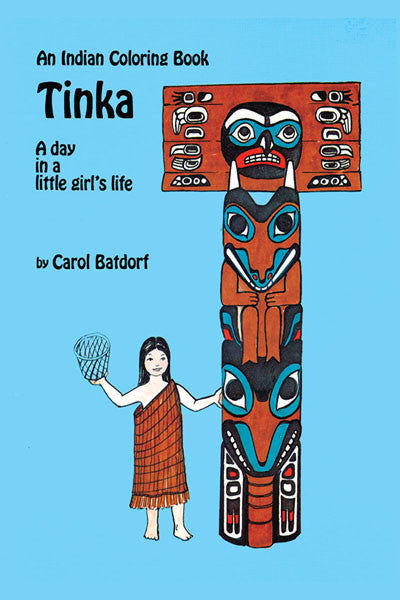 Tinka Indigenous Coloring Book: a day in a little girl's life
Details
By: Carol Batdorf
ISBN: 0-88839-249-4
Binding: Trade Paper
Size: 11" X 8.5"
Pages: 32
Photos: 0
Illustrations: 28
Publication Date: 2005
Description
A children's coloring book on the life of a young First Nations girl. With 32 illustrations to color, this title is suitable for ages 5 years & over.

This is the story about a little Indigenous girl who lived long ago in a village on the northwest coast of North America. Her people built houses of cedar wood. They gathered food from the sea, the beaches and the forests. The men made canoes big enough to sail on the rough ocean waters. They carved huge totem poles to record special events. The women wove baskets and made clothes of cedar bark, wool and leather.

Everyone had work to do.  Even the children had work, too. They needed to learn how all the things that their people used were made, and they had to find out how to get food to eat. There were no schools, so they learned by helping their elders and doing as they did.
Author Biography
Carol Batdorf has a long, close and caring association with the Coast Salish people. Apart from studying their culture, learning to carve totem poles and weave baskets, Carol has "become Indian". She has served on the staff of the Lummi Communicatee Action program on the Lummi Reserve in Washington State and she has been an instructor in First Nations Studies at Western Washington University.