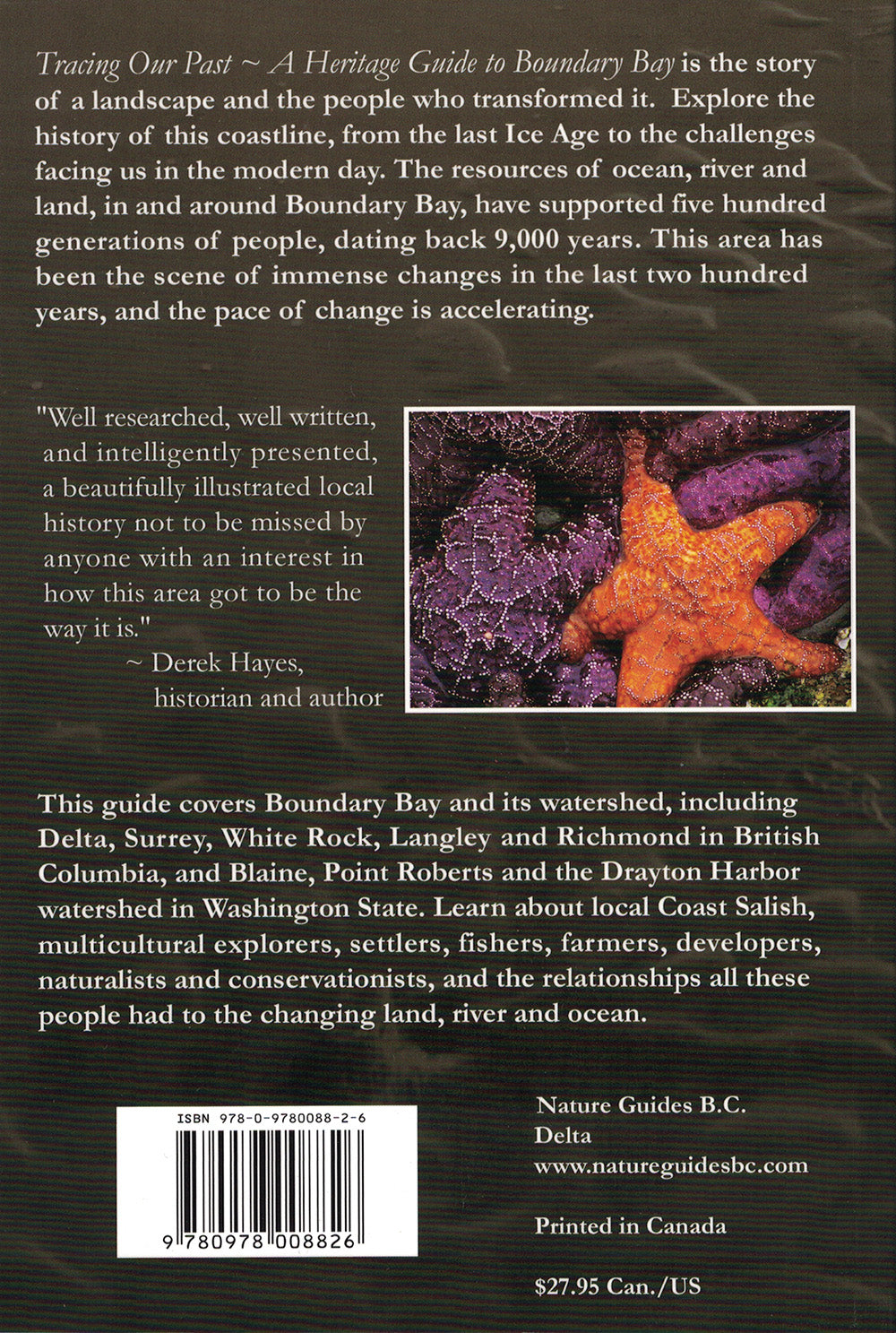 Tracing Our Past: a heritage guide to Boundary Bay
Details
By: Anne Murray (author) and David Blevins (photographer)
ISBN-13: 978-0-97800-882-6
Binding: Trade Paper 
Size: 6" x 9"
Pages: 230
Photos: 100+
Illustrations:
Publication Date: 2008 reprint (Orig 2006)
Description
Tracing our Past: a heritage guide to Boundary Bay is the story of a landscape and the people who transformed it. Explore the history of this coastline, from the last Ice Age to the challenges facing us in the modern day. The resources of the ocean, river, and land, in and around Boundary Bay, have supported five hundred generations of people, dating back 9,000 years. This area has been the scene of immense changes in the last two hundred years, and the pace of change is accelerating. This guide covers Boundary Bay and its watershed, including Delta, Surrey, White Rock, Langley and Richmond in British Columbia, and Blaine, Point Roberts and the Drayton Harbor watershed in Washington State. Learn about the local Coast Salish, multicultural explorers, settlers, fishers, farmers, developers, naturalists and conservationists and the relationships all these people had to the changing land, river, and ocean.
Author Biography
Anne Murray has had a lifelong interest in birds, nature, history and different cultures. Born and educated in England, where she received her BSc, she has taught mathematics and science to every age group. She has lived in Papua New Guinea, Thailand, Alberta and for the last two decades, in Tsawwassen, British Columbia. Anne volunteers with a number of nature organizations, including Nature Canada, B.C. Nature and the Delta Farmland and Wildlife Trust. Among other awards for her conservation work, she was a recipient of the Queen's Golden Jubilee medal. Anne is married with three daughters. She is the winner of several awards for nature conservation and a lifelong birder and naturalist.
David Blevins is a forest ecologist and award-winning nature photographer. His photographs have been published internationally in magazines, calendars, and books. His academic and photography work both come from an appreciation of the natural patterns that can be found in what at first seems to be a chaotic world. Wildlife behavior, the organization of a plant, or the natural patterns of landscapes are all sources of inspiration for his photography. David created most of the photographs for this book while completing a PhD. in forest ecology at UBC. he now lives in North Carolina where he continues to work on both science and photography projects. 
Book Reviews
"Tracing Our Past: A Heritage Guide to Boundary Bay is an outstanding collaboration by historian Anne Murray of Tsawwassen and photographer David Blevins. Their beautifully produced book explores the evolution of a "remarkable landscape and the people who transformed it"...[It is] a cogent exploration of what came before and a cautionary guide to
what is yet to be. This important book, graced with a fine collection of photographs is historically rich, anthropologically accurate and environmentally responsible. Put simply, it is a love song to the land we are privileged to call home."
~ Margot Griffiths in All Point Bulletin, June 2008
"This book should be in everyone's library. It provides the impetus for us to know and value this historic, important and unique region."
~ Andy Buhler, BC Nature, Spring 2009
"This is a fascinating, well-researched book that covers archaeology, historical accounts, biology and more to give a sweeping overview of how the area came to be how it is today, with a look forward to conservation efforts and the potential impacts of proposed
development." ~ Carolyn Cooke - Surrey Now Newspaper, July 1st 2008
"Well-researched, well written, and intelligently presented, a beautifully illustrated local history not to be missed by anyone with an interest in how this area got to be the way it is" ~ Historian and author, Derek Hayes