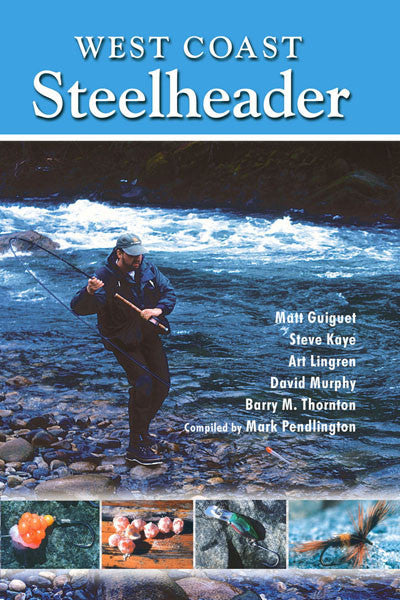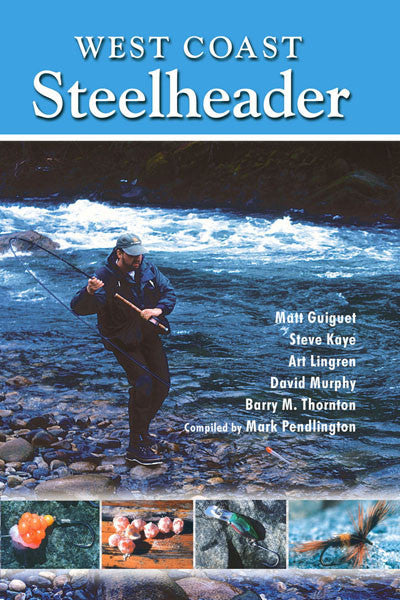 West Coast Steelheader: the best advice for catching steelhead with natural baits, plugs, spoons and flies
Details
By: Ocean West - Compiled by Mark Pendlington, Matt Guiguet, Steve Kaye, Art Lingren,, David Murphy, Barry M. Thornton
ISBN: 978-0-88839-459-0
Binding: Trade Paper
Size: 8.5" X 5.5"
Pages: 96
Photos: 81
Illustrations: 8
Publication Date: 2000
Description
PR Highlights: A Guide to Steelhead Fishing on the West Coast.
PHOTO Highlights: 32 page full-color photo section.

Description: West Coast Steelheader celebrates the sea-going species of rainbow trout. Sportfishing enthusiasts in the Pacific Northwest are blessed with the opportunity to fish for one of the world's most powerful and awesome sport fish. West Coast Steelheader celebrates this sea-going species of rainbow trout. The contributing authors draw upon their years of experience and offer readers suggestions and recommendations to truly enjoy and appreciate fishing for winter and summer steelhead.
The first fifteen minutes were spent getting comfortable with the pristine surroundings. Steelhead green water passed through some of the nicest steelhead runs I had ever seen - walking-pace flow with large boulders tapering out to baseball-sized rocks at the tailout - totaling about a 75 foot piece of fishable water. My fishing partner was the first to touch a steelhead. It was a chrome-bright doe that weighed about five pounds. Within about half a minute the tail-slashing, water-boiling dance was over. I positioned myself a little further up the river on the next run. This run was a narrow section separated by boulders that divided the river into fishable water and a truly spectacular 300 ft. run that hugged a tree-strewn bank, The river ranged from 2 to 5 foot depths with a number of obvious steelhead-holding waters. I climbed over fallen old-growth cedars and thick brush to reach the head of the run. I adjusted my float length to about six feet, hooked a spawn sac onto my #2 hook and threw my offering in the first fishable part of the run. As I held back slightly on the float, the spawn sac bounced within inches of the bottom. As the bait floated further away, I began to contemplate the difficulties of trying to land a steelhead here. I was perched on an old cedar stump, surrounded by branches about 10 feet above the water. What! That's when I felt the strike totally unprepared, I felt the line tighten, and the rod pounded into a perfect arc. I curved the rod to the side and held the fish out of the debris and branches that were all along the bank. The fish held fast in the current. It appeared to be a male steelhead of about 12 pounds. As the rose color on the side of the steelhead disappeared into the whitewater, the line ripped against my thumb as he went though a series of quick runs and acrobatic, rolling jumps. Snap! I looked around helplessly, somewhere between steelhead heaven and total exasperation. I vividly remember every steelhead I have seen; no two are exactly alike, each having slightly different colorations or markings. I am still in awe of the majestic summer and winter steelhead and the West Coast rivers that the call home. After five seasons of filming the Sportsfishing British Columbia television series I have had the extreme privilege of steelheading with some of the most successful summer and winter steelhead anglers on the West Coast. Professional guide David Murphy has led his clients to more steelhead than any guide in BC - at last count it was over four thousand. In his chapter Natural Baits for Winter and Summer Steelhead Dave shares his practical guiding techniques covering all aspects of natural baits, floats and weight systems, curing roe and river fishing strategies to get you steelheading with the pros. In the chapter Artificials for Winter and Summer Steelhead professional South Coast guide Steve Kaye knows of what he speaks. I have had some incredible steelheading days on some of the most heavily fished steelhead rivers on the West Coast with him. Steve narrows down the infinite number of possibilities that you will need to adapt to for success on the river. He covers all aspects of artificial baits: what to use, where steelhead hold in a river, float fishing, bottom bouncing, weight systems, lines, short float systems and covering water. In Plug Fishing for Steelhead professional guide Matt Guiguet shares his lifelong obsession with steelheading on West Coast rivers. Matt discusses everything you need to know to effectively plug for steelhead: where to fish in a river, back trolling techniques, how fish approach the plug, drift boats, tuning, distancing, strike zones, when to fish plugs, plug sizes and colors and the rods that are best for plugging. One of the most difficult challenges in angling on the West Coast would have to be taking a winter or summer run steelhead on a fly. In his chapter Fly Fishing for Winter and Summer Steelhead author Art Lingren has written, in my opinion, five thousand of the most concise and unbiased words written on the subject of steelhead to the fly on the West Coast. Every fly angler will develop their own favorite flies and techniques in time, but Art provides a foundation for understanding the rich history of steelhead flyfishers on the West Coast, the rivers, flies, techniques and equipment. I felt Art Lingren's chapter was worthy of being reprinted from the West Coast Fly Fisher book. It forms the basis for a larger understanding of the steelhead obsession that you will no doubt develop all by yourself. Barry Thornton wrote the introduction to summer and winter steelhead which includes background discussion of the steelhead ranging from the steelhead's migrating paths to its biological importance. Ian Forbes rounds out the title with beautiful pencil illustrations of summer and winter steelhead and Harry Nilsson provided specific attention to detail in the knot illustrations. It is my hope that the following pages of this book will make you a better steelheader and give you the most important element in the evolution of becoming a West Coast steelheader, realizing that summer and winter steelhead are much more than just another fish - thy are a barometer of a river system's health. With some rivers of the Pacific Northwest at dangerously low steelhead population levels, learning the right time and correct way to use natural bait, flies or artificials will drastically improve your success in catching and releasing these magnificent fish unharmed to complete their incredible life cycle. This book is filled with concise information and beautiful full color pictures that truly are a celebration of the steehead and the rivers of the West Coast with exacting descriptions from the authors you will want to read it again and again. This book removes the mystery and informs and motivates you to know steelhead better.
Author Biographies
ARTHUR LINGREN
Through most of his adult life, Art Lingren has been involved in the fishing community. He is a member and past president of the Totem Flyfishers, an honorary member of the Loons Fly Fishing Club, a long-time member of the BC Federation of Fly Fisher (BCFFF) acting as their historian and vice-chair, and has served many years as a director of the Steelhead Society of BC. He has been awarded the BCFFF's Angul Award, given to BC fly fishers who show an appreciation for the ancestry of fly fishing and its development. Art's books include Fly Patterns of Roderick Haig-Brown, River Journal: Thompson River, Fly Patterns of British Columbia, Irresistible Waters: Fly Fishing in BC Throughout the Year and River Journal: Dean River.

BARRY THORNTON
Barry Thornton is one of BC's best known and respected fishing authors, having earned the Outdoor Writers of Canada Award of Merit, as well as the Roderick Haig-Brown Memorial Award. He has been involved with fishing and the outdoors for most of his life, as a professional educator, and as an outdoors writer and photographer. Founding chairman and tree-time president of the Steelhead Society of BC, he is a devoted and knowledgeable angler who has much to share with his fellow fishermen.

KELLY DAVISON
Kelly Davison has been guiding and teaching fly fishing on the south coast of BC most of his adult life. Hi is an active member of the Steelhead Society of BC, and the BC Federation of Fly Fisher. Kelly is well known for his active television career, completing five primetime programs for the Sportsfishing British Columbia series.