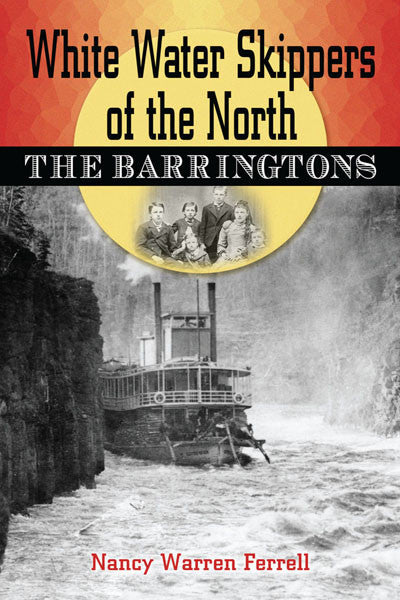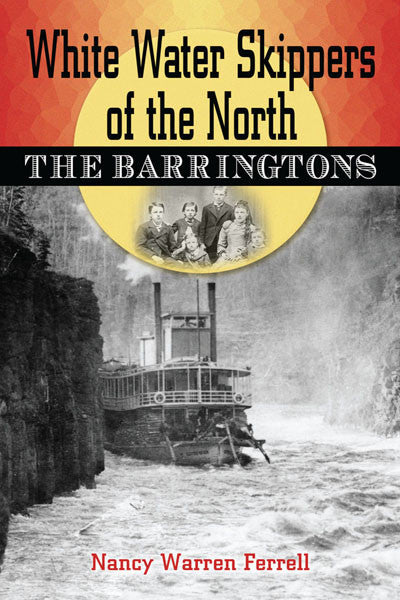 White Water Skippers of the North: the Barringtons
Details
By: Nancy Warren Ferrell
ISBN: 978-0-88839-616-7
Binding: Trade Paper
Size: 8.5" X 5.5"
Pages: 216
Photos: 80
Illustrations: 0
Publication Date: Dec 01 2008
Description
Occasionally, a family and its place in history are right for each other, and such was the case with the Barringtons. Two generations of mariners, fueled by gambling blood and gold fever, wove their own unique stories in an era of exploration and adventure.

White Water Skippers of the North: The Barringtons delivers an exciting taste of commercial riverboating in Canada and Alaska during the gold rush and into the 1900s.
Author Nancy Warren Ferrell recreates the exploits of the day as she chronicles the lives and livelihoods of the Barrington boys. Storytellers, gamblers, men of reckless daring, these adventurers, like their vessels, experienced a lusty existence marked with optimism, triumph and tragedy. They thought nothing of gambling with their own lives, and did it with the same ease as they gambled with their fortunes.
A time of daring and a time of hustle, readers can almost feel the cool air and hear the whistles, bells, throb and swish of the paddle-wheel in tune with every pounding heart, the shouting of voices thrilling through the air, "Steamboat's a' coming! Here she comes!"
Author Biography
Nancy Warren Ferrell is an accomplished author of a dozen adult and children's books,
and is the recipient of several writing awards. A longtime history buff, she lives in Juneau, Alaska, with her husband and enjoys traveling, experiencing the world's many different people and places.