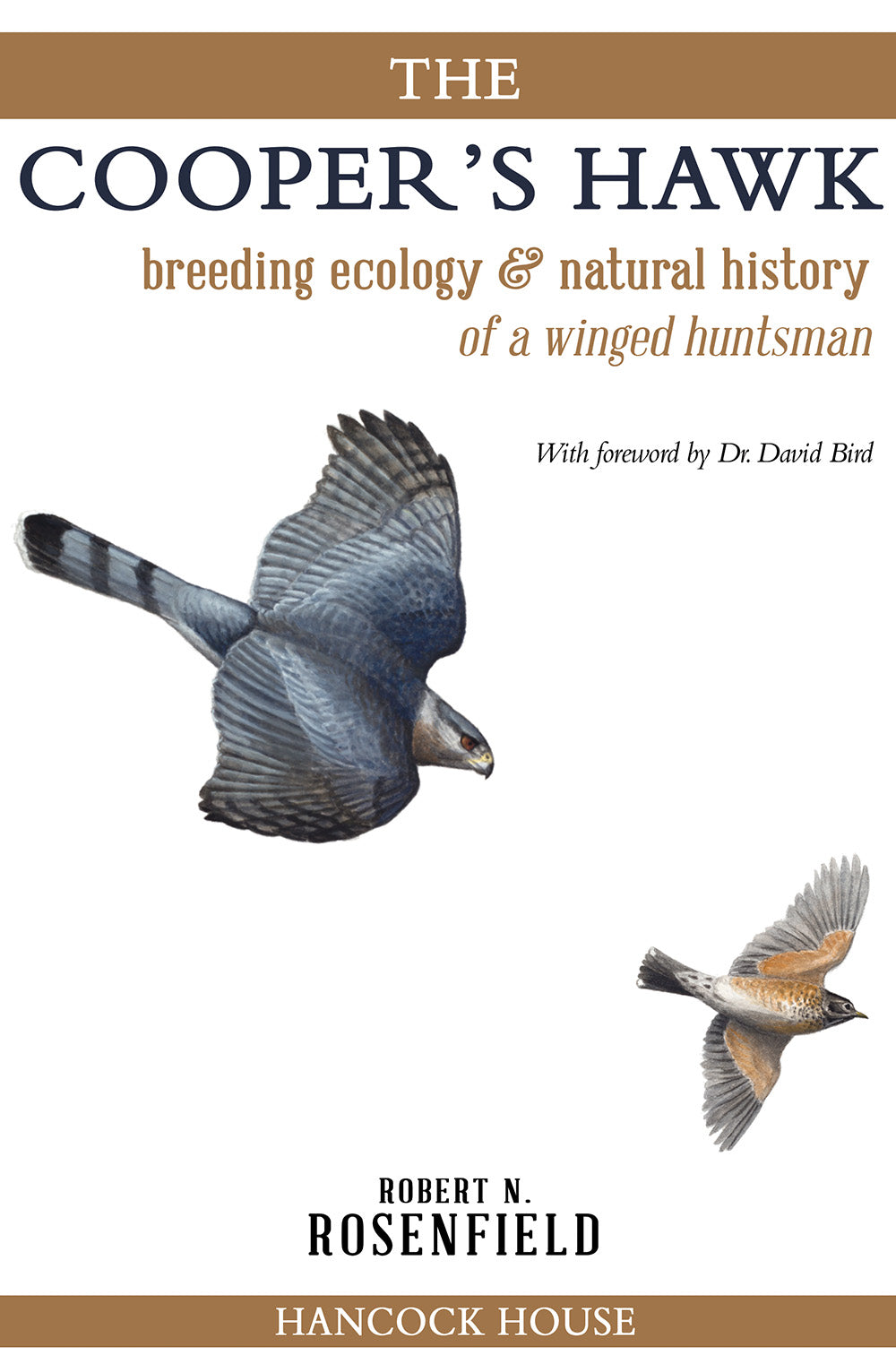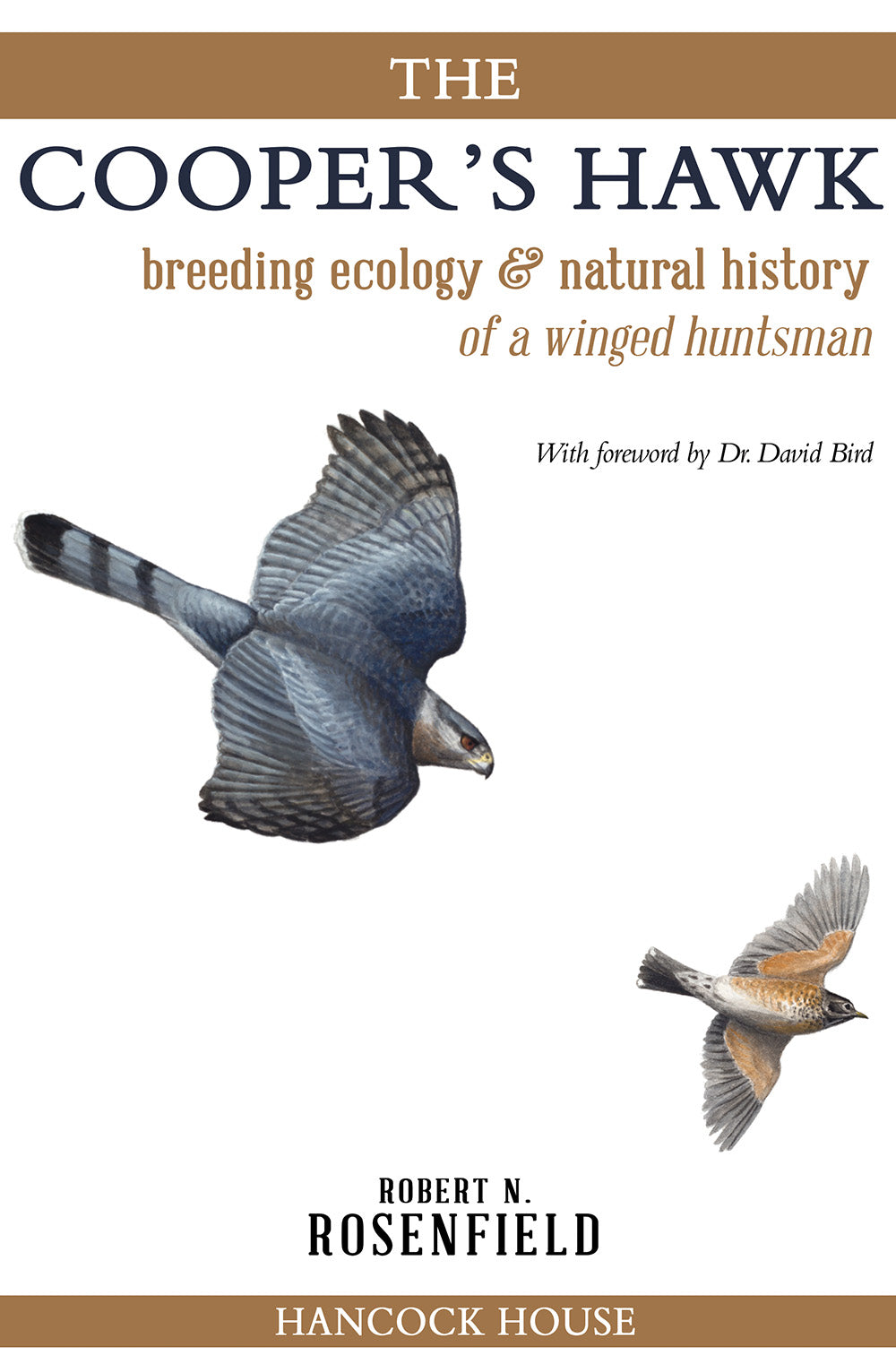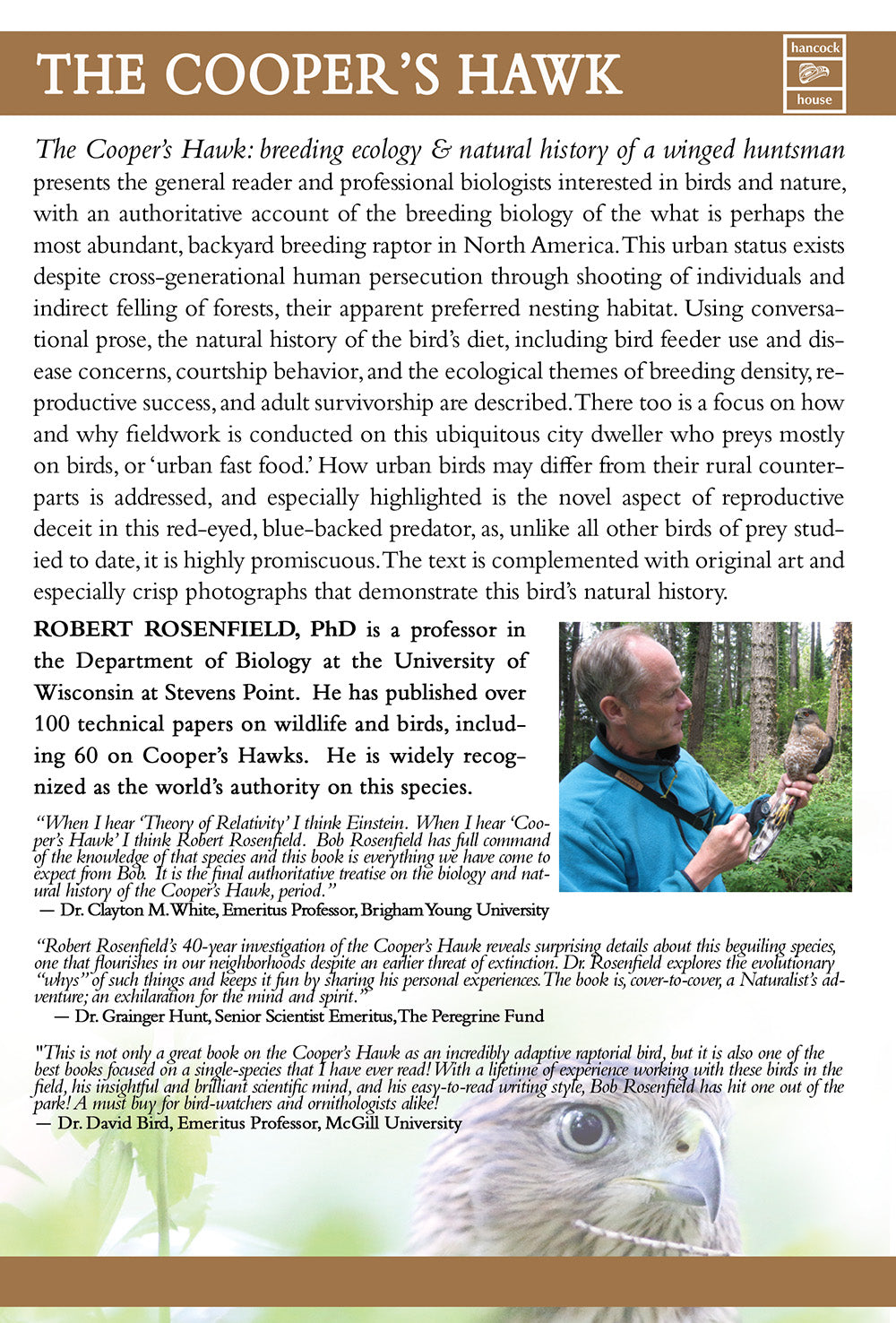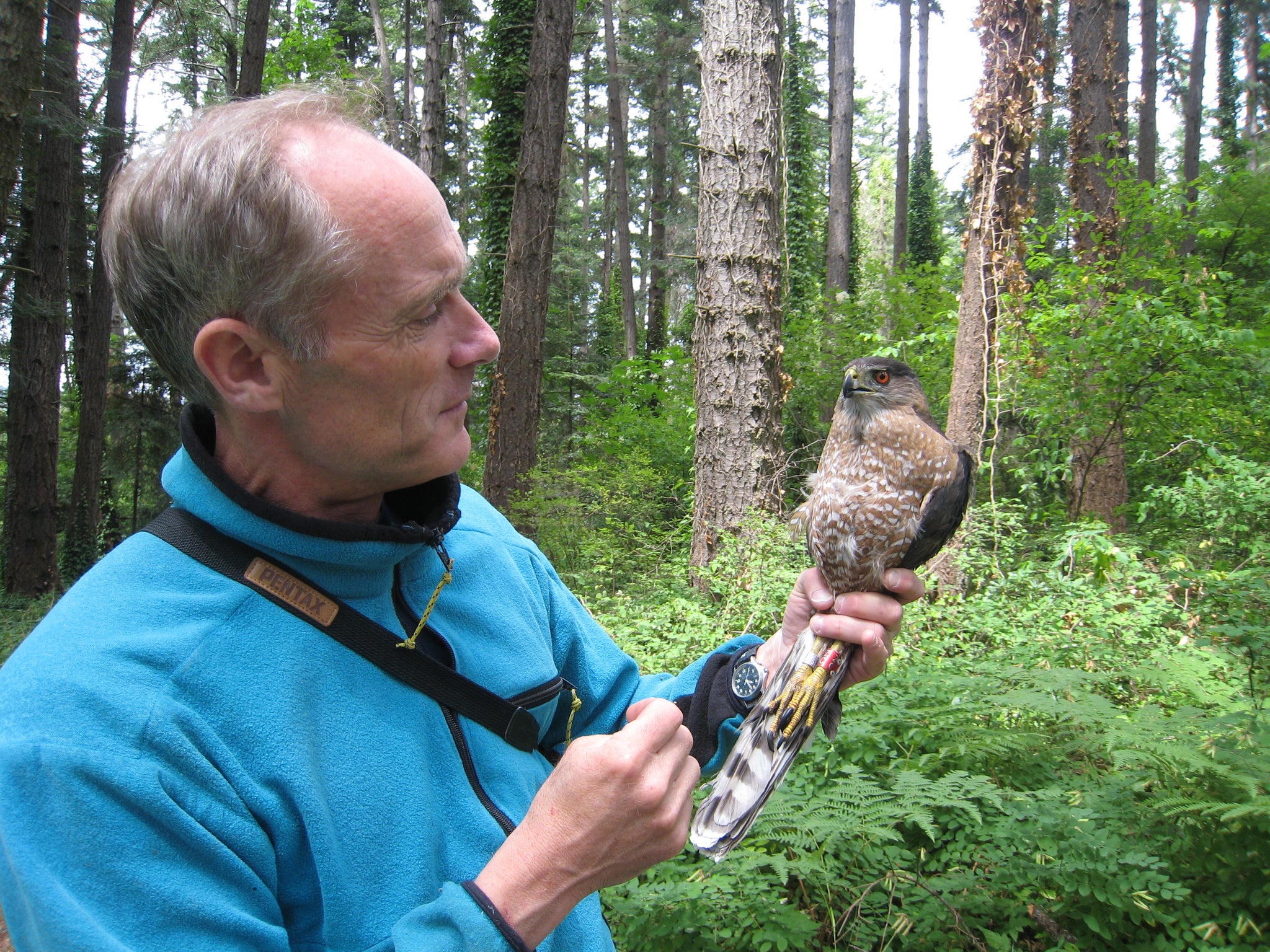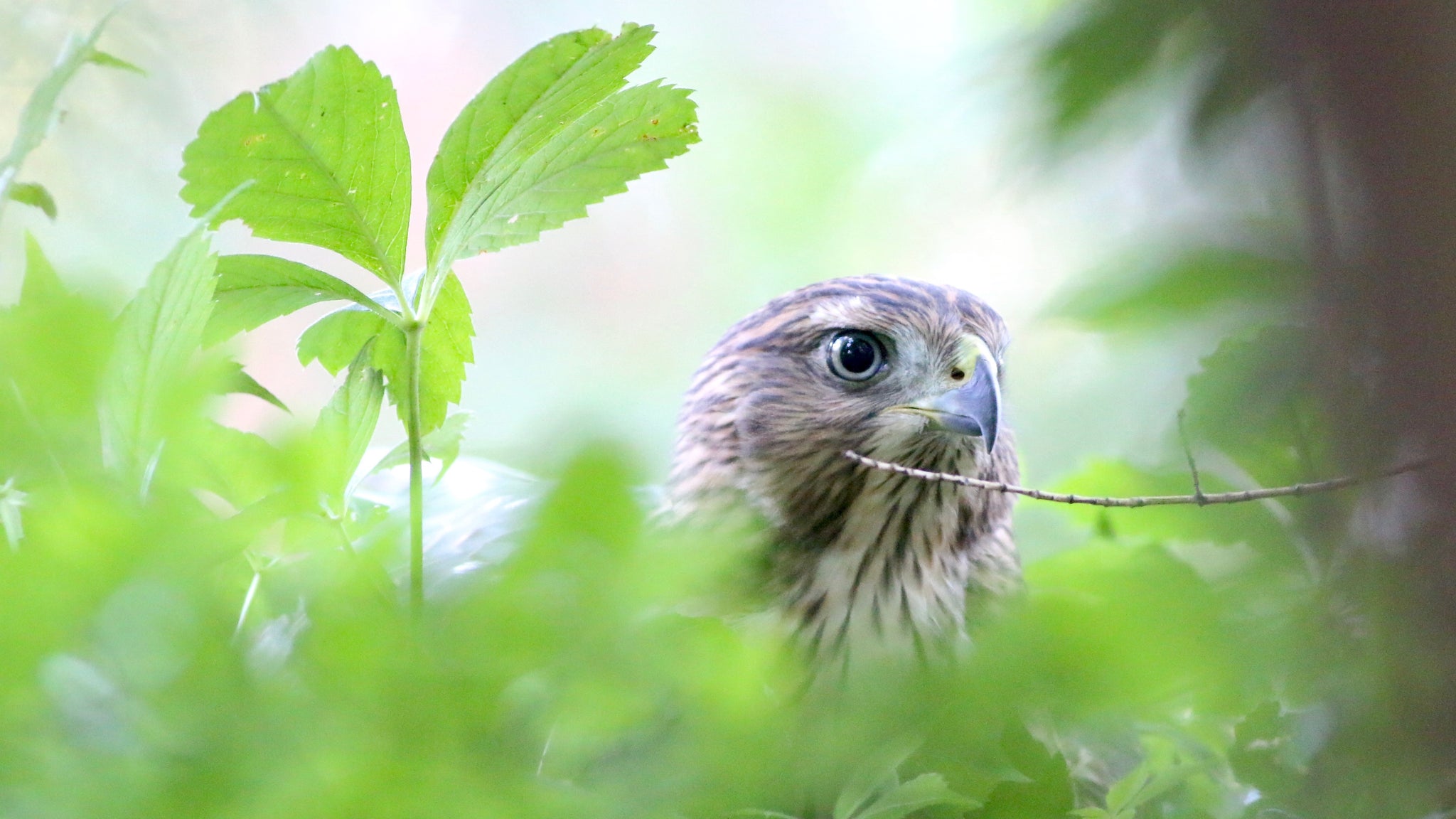 The Cooper's Hawk: breeding ecology & natural history of a winged huntsman
Details
By:
 Robert N. Rosenfield
ISBN-13: 978-0-88839-082-0 [trade softcover]
ISBN-13: 978-0-88839-116-2 [trade hardcover]
Binding:
 Trade Paper 
Size:
 6" X 9"
Pages:
 164
Photos:
 73
Illustrations:
 5
Publication Date:
 01 November 2018
Description
Sample Chapter- Courtship & Nesting
The Cooper's Hawk presents the general reader and professional biologists interested in birds and nature, with an authoritative account of the breeding biology of the what is perhaps the most abundant, backyard breeding raptor in North America. This urban status exists despite cross-generational human persecution through shooting of individuals and indirect felling of forests, their apparent preferred nesting habitat. Using conversational prose, the natural history of the bird's diet, including bird feeder use and disease concerns, courtship behavior, and the ecological themes of breeding density, reproductive success, and adult survivorship are described. There too is a focus on how and why fieldwork is conducted on this ubiquitous city dweller who preys mostly on birds, or 'urban fast food.' How urban birds may differ from their rural counterparts is addressed, and especially highlighted is the novel aspect of reproductive deceit in this red-eyed, blue-backed predator, as, unlike all other birds of prey studied to date, it is highly promiscuous. The text is complemented with original art and especially crisp photographs that demonstrate this bird's natural history.
Author Biography
Robert N. Rosenfield is Professor of Ecology at the Department of Biology, University of Wisconsin-Stevens Point, where he teaches Ecology, Ornithology, and Raptor Ecology. His courses highlight experiential, hands-on fieldwork for undergraduate students with Cooper's Hawks, including two field-courses in tundra settings, Subarctic Ecology and Survey of Gyrfalcons in Alaska, and Arctic Ecology and Survey of Peregrine Falcons in Greenland. He has made 20 trips to Greenland to study Peregrine Falcons.
His research with raptors began with capture and banding of migratory hawks, falcons, and owls at the Hawk Ridge Bird Observatory in his home town of Duluth, Minnesota in 1973. This experience sparked his M.S. research at UWSP on the nesting biology of Broad-winged Hawks in Wisconsin during 1976-1981. Concurrent with this thesis work he was invited by the state of Wisconsin in 1980 to investigate the breeding status of the Cooper's Hawk, a bird deemed at the time to be in population peril. This work led to the discovery of a thriving nesting population, and launched a 38-year, ongoing research of population, behavioral, and molecular aspects of nesting Cooper's Hawks. Some of this research was used to complete his Ph.D. in Zoology at North Dakota State University in 1990. His Wisconsin investigations expanded to the prairies of North Dakota and to British Columbia to collaborate on other populations of Cooper's Hawks. He has also conducted research on the possible effects of forest fragmentation on breeding songbirds.
Bob has served as a Board Member of the Raptor Research Foundation, and represented this international organization on committees that evaluated the validity of delisting the American Peregrine Falcon, and the proposed listing of the Northern Goshawk, both under the U.S. Endangered Species Act. Rosenfield has published over 110 scientific journal articles, monographs, and technical reports on birds, including over 60 on Cooper's Hawks. His work has been covered in numerous media outlets for the public, including Discovery Channel, National Wildlife, Smithsonian Institute, Birder's World, National Geographic, and Sports Afield. He received the William A. Burnham Memorial Award for Arctic Research, and has also been honored with 12 awards at his campus for distinguished service, and excellence in teaching and scholarship. He is widely recognized as the world's authority on the Cooper's Hawk.
.
Book Reviews
"When I hear 'Theory of Relativity', I think Einstein. When I hear 'Cooper's Hawk' I think Robert Rosenfield. Of 47 or so global members of the genus Accipiter, Cooper's Hawk is the only endemic member north of Mexico. Bob Rosenfield has full command of the knowledge of that species and this book is everything we have come to expect from Bob. It is the final authoritative treatise on the biology and natural history of the Cooper's Hawk, period."
        -- Dr. Clayton M. White, Emeritus Professor of Vertebrate Zoology, Brigham Young University
"Robert Rosenfield's 40-year investigation of the Cooper's Hawk reveals surprising details about this beguiling species, one that flourishes in our neighborhoods despite an earlier threat of extinction. Imagine the diminutive breadwinner male slipping silently through his woodland territory, accelerating in a burst of agile pursuit while his larger, stronger spouse guards her nestlings. This is the risky world of forbidden romance, mortal combat between rivals, and the nuances of habitat selection and territorial partitioning. Dr. Rosenfield explores the evolutionary "whys" of such things and keeps it fun by sharing his personal experiences. The book is, cover-to-cover, a Naturalist's adventure, an exhilaration for the mind and spirit."
-- Dr. Grainger Hunt, Senior Scientist Emeritus, The Peregrine Fund 
"This is not only a great book on the Cooper's Hawk as an incredibly adaptive raptorial bird, but it is also one of the best books focused on a single-species that I have ever read! With a lifetime of experience working with these birds in the field, his insightful and brilliant scientific mind, and his easy-to-read writing style, Bob Rosenfield has hit one out of the park! A must buy for bird-watchers and ornithologists alike!"
-- Dr. David Bird, Emeritus Professor of Wildlife Biology, McGill University
"The Cooper's Hawk is a North American wildlife success story and a species which likely inhabits a city near you. I had the good fortune to spend several field seasons with Bob Rosenfield studying this hawk. From the moment I first observed him handle one of these birds, I knew I was in the presence of a true expert. Bob's passion and enthusiasm for this winged huntsman is infectious and in evidence on every page of this book. I have no doubt this well written and fully illustrated treatise will inspire others to study this intriguing raptor. Whether you are a scientist, a student, a naturalist, or just plain fascinated with birds of prey, this is a must-have book for your library."
-- Andrew C. Stewart, Retired Wildlife Biologist, Victoria, BC
"Long-term studies are the gold standard for understanding the natural history of birds, especially birds of prey. This study is about as long-term (38 years) as it gets in the raptor world, and it also neatly integrates the findings of Cooper's Hawk researchers in widely separated parts of North America. It will be a very useful introduction to students entering the fascinating world of the natural history of raptorial birds. In addition, it is presented in an enthusiastic style ("plain, conversational language") that is accessible to any bird enthusiast or other aficionado of the natural world."
-- Lloyd Kiff, Retired Ornithologist, Clinton, WA
"Full disclosure, the book under review was published by Hancock House, with whom I have published in the past, and with whom I am currently working with on another project. As always, I will strive for objectivity.

Having flown a couple of Cooper's Hawks, albeit briefly, in my distant past and more recently having spent hundreds of hours searching for their nests, observing and photographing them in the "wild", I feel reasonably well-versed regarding Accipiter cooperii. After reading, The Cooper's Hawk, written by Robert N. Rosenfield, PhD, I have a deeper, and somewhat altered, understanding of this unique species.
The subtitle of the book, breeding ecology & natural history of a winged huntsman, hints of a data/research-driven text, written, however, by not just a scientist, but, ala the "winged huntsman" terminology, a devotee of the species. Rosenfield, AKA Mr. Cooper's Hawk (and professor from the University of Wisconsin), has largely dedicated his lengthy career (nearly four decades, and still ongoing) to studying Cooper's Hawks.

To date, the author has published some 60 papers on this singular species. Clearly the man is enamored, if not obsessed, with these slick little predators…And understandably so. Older bird guidebooks described Cooper's Hawks as shy, reclusive hawks of the forest. They were also as scarce as they were sketchy in those days, suffering population declines likely related to habitat loss, shootings, and ultimately chemical contamination. While peregrine falcons and bald eagles caught most of the media attention during the dark days of DDT, Cooper's Hawk numbers were plummeting too: So much so that, as Rosenfield points out, "…scientists predicted that Cooper's Hawk populations, especially in the eastern United States, were heading for extinction in the 1960's and early '70's". Which is why many of our states listed Cooper's Hawks as endangered or threatened. Some of you may recall the National Geographic article that surfaced during that era wherein falconers were somehow implicated in the demise of Cooper's Hawks. As if. Yes, their numbers were tanking, and no, falconers were not responsible.

My, how things have changed. In case you have not been outdoors in, say, the last decade or so, you may not have noticed the veritable explosion in Cooper's Hawk numbers in this post-DDT (banned in 1972) era. Equally, no, more-so mind-blowing, has been the massive urbanization of the species. If you have not yet seen them nesting in your neighborhood, you may want to adjust the lens prescription in your glasses. I have two breeding pairs of Coop's within easy walking distance of my house, and roughly thirty pairs within easy bicycling distance. Cooper's Hawks are currently the most common urban nesting raptor in the United States. Considering the unprecedented access urban masses now have to this ferocious little predator (can you say hawk-watching du jour?), I'd say Rosenfield's book is well-timed.

With approximately 130 pages of text, the book is a relatively short, and highly concise, read. While there are interesting pictures sprinkled throughout the text (many of which depict actual field work), my paperback edition is more working manual rather than coffee table picture book. Nonetheless, thumbing through the book for the first time, the way one does before actually committing to reading the text, I was drawn to a particular photo on of a red-eyed tiercel Cooper's. What made the picture so captivating was that the otherwise normal-looking hawk had no tail…none at all, nada, zip, nothing. Additionally, what could be seen of one foot looked pretty janky. The author does not speculate as to what happened to the poor bedraggled looking bastard (I have two theories; arced its ass on a power-pole, or had it shot off), but what the author does do, is tell the much richer story of the, not so poor after-all, hawk's life in the aftermath of such ginormous adversity.
Rosenfield's detailed research is multi-generational, and it is here, by virtue of the mountain of research upon which this book resides, that we can get some solid data/answers. In fact, Rosenfield knew quite a bit about this particular hawk, and I will let him take it from here, fleshing out the facts that the mere picture, taken just after untangling this recaptured tiercel from the mist net, can't convey.
"He had no tail feathers! I have never seen such a condition in handling hundreds of breeding male and female Cooper's Hawks. In fact, he was similarly unadorned in the next four years. In each of his first two years, he had his full complement of 12 tail feathers, that is, minus some moult of the innermost tail feathers, which is normal among some breeding males in the nestling stage. Regardless of what caused this condition, without tail feathers, how was he able to maneuver with the agility supposedly needed to overcome the evasive tactics of his prey? Further, in his seventh year in his usual territory when he was at least 8 years of age, he had only three full-length, normal talons, two on one foot and one on another. So how could he effectively fight with other males for this territory? It, too, is puzzling why a female—in fact different females in different years—would be attracted to what seemingly appeared to be an inferior or poor quality male. I note that this site did not, on an annual basis, either comparatively out- or under-produce other territories in the city. Alternatively, this 'bad-boy' was apparently some catch, as evidenced by his long life, a trait that reveals a high degree of individual quality in breeding Cooper's Hawks".
This FUBAR tiercel was not only one of the oldest birds in the study, not only holding his territory and getting laid, he was skillfully providing sufficient kills in order to fledge his babies, just like the rest of the not-so physically challenged males. Bam! The implication here from a falconry standpoint is significant, in terms of the X factor. You may have noticed, as did Ronald Stevens, gamehawks exhibit a broad spectrum of potential; some of them are duds, some so-so, some good…and some are stars. If only we could all spare ourselves the duds and exclusively fly the stars--life on the other side of 50 is fleeting, after all.
Rosenfield alludes to said star quality summing things up this way, "I further note that the reproductive success of Wisconsin Cooper's Hawks was apparently related, in contrast to many other avian ecology studies, to the intrinsic qualities of individuals (Newton 1986, Millsap et al. 2013, Rosenfield et al. 2016a, c)." Gamehawk genetics are crucial, and I am not talking about size, color, or build, but rather something deeper, more core to the individual, think X factor, star power. As we move forward in our understanding of the role's genetics play in the captive-bred hawks we fly, I suspect greater emphasis on identifying those genes associated with star quality will come to the fore.
Speaking of genetics, forget what you think you know Cooper's Hawk monogamy, Rosenfield's genetic research of nesting Cooper's Hawk, specifically paternity, has unveiled some truly startling social structures.
Think you can reliably age a Coop's using eye-color? Not so fast, it is not as cut and dry as once thought, as outlined in the text. From start to finish, the text dissects and describes the book's premise, the breeding ecology & natural history of the Cooper's Hawk, hitting on foraging behavior, courtship/nesting, populations/nesting densities, survival of breeding adults, individual traits, natural history variation, etc. Simply put, if you want to better understand Cooper's Hawks, this book is definitely for you.
I will give the author the last word here with excerpts from the last section titled, Final Thoughts. "I believe the natural history of breeding Cooper's Hawks provides ample fascinating phenomena for the public to marvel at and ponder, to better understand and possibly heighten their appreciation of this winged, apex predator…But much work yet remains for researchers, particularly as to predicting the long-term effects of both urbanization and climate change on breeding birds. More information is needed to better understand and disseminate natural history knowledge of breeding Cooper's Hawks. Such knowledge may be the most powerful tool overall for engaging society with nature, and my hope is that this text contributes to that connection". Amen.
-- Reviewed by Joe Roy III for American Falconry, Jan 2020
and author of Duck Hawking and Dirt Hawking